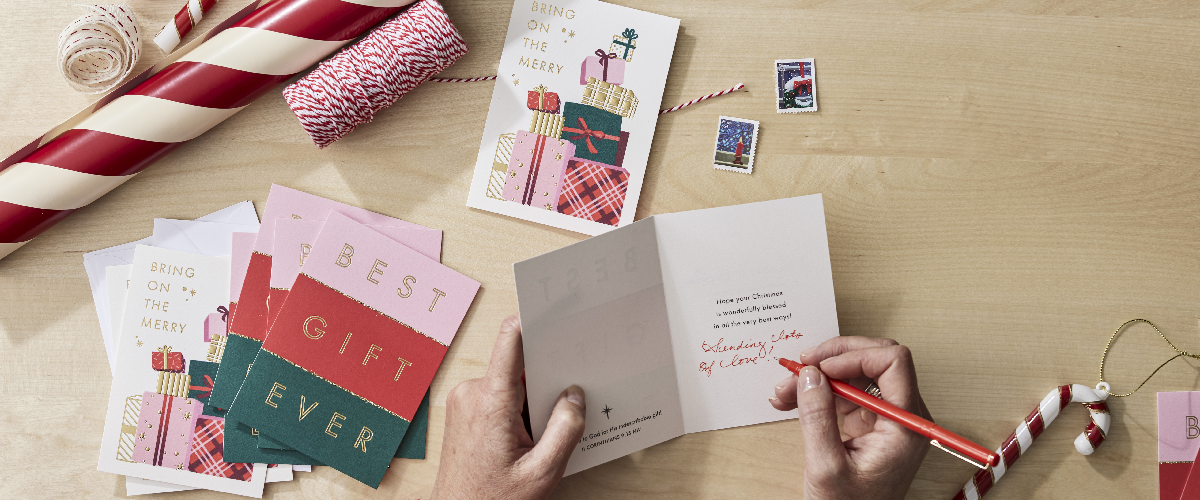 Another Christmas season is quickly approaching. In the rush of holiday shopping, it's easy to get lost and overwhelmed. There are so many products to choose from and gifts to buy — how do you find one that's truly special for each person on your list?
We know it's sometimes difficult to come up with unique Christmas gifts for adults, but we are here to help. To find a perfect faith-based gift, consider what your loved one enjoys doing. How do they spend their days? What is their favorite part of the Christmas season? Here, we offer some ideas for your friends and family members that let you show you appreciate them for who they are.
Gifts For The Christmas Party Hostess
We all have that aunt, sister, or best friend who can hardly wait until December begins to start making Christmas cookies. By the time her Christmas party rolls around, she has gingerbread men, chocolate chip cookies, sugar cookies with icing, and more!
Surprise her with an early present this season: the Candace Cameron Bure Christmas Hostess Gift Set. This festive set includes a Fair Isle style Christmas tea towel, a striped oven mitt, and a gold wire basket — plus five of Candace's favorite cookie recipes! Your loved one will be grateful for these fresh recipes to add to her collection and for the cute baking accessories, too.
The Aarti Sequeira "My Family Recipe Journal: With Prayers & Scriptures" is also a wonderful gift for this star baker or anyone else who loves to be in the kitchen. This beautiful hardcover recipe journal is filled with blank pages to write down favorite family recipes. Whether passing down cookie recipes featuring that "secret ingredient" or ensuring you never lose Grandma's tomato sauce recipe, this journal is the perfect keepsake and heirloom. Plus, each page features a blessing to pray with your family before you eat.
Hostesses are known for bringing friends and family together to share a meal. Our "We Have Shared Together" boxed Christmas cards are the perfect cards for her to send out this year! These Christmas cards express gratitude for the time spent together enjoying God's blessings. They come packed in a box of 18 cards with envelopes.
Find even more hostess gifts that she will appreciate in our blog!
Trendy Gifts for Your Friends
If you have a friend or family member who loves posting her #hauls on her TikTok or outfits of the day on Instagram — or someone who just values aesthetics, we have some ideas for unique gifts for these Christian women!
Your friend who is always wearing the latest accessories will love the "You Are Free" Necklace and Promise Box Gift Set from Studio 71. Not only is this necklace a stylish piece of jewelry, but it also provides a daily reminder of the freedom we have in Christ! The gift box also includes 26 beautifully illustrated scripture cards perfect for daily inspiration. She can display these cards around her home, tuck them into mirrors, or choose one each morning to set the tone for her day.
For those who are devoted to their Bible study, treat them to a stylish Bible that's sure to appeal to their design aesthetic: the One Step Closer NLT Bible & Bible Tabs from Candace Cameron Bure. This New Living Translation Bible has a hand-stitched navy faux leather cover with gold foil designs and includes chic index tabs that correspond to the books of the Bible. Your recipient will be proud to read and study from this Bible, plus she'll appreciate the tabs for easy navigation. Plus, the One Step Closer Bible is filled with notes that help you understand and apply God's truths and callouts that highlight God's promises.
Anyone who is fun and stylish is sure to love these "Bring On The Merry" Christmas cards from Candace Cameron Bure. Sold in a pack of 12 cards that say "Bring On The Merry" and 12 cards that say "Best Gift Ever," these greeting cards are not only adorable, but they are sure to put a smile on the face of any recipient.
If your loved one prefers classic and elegant design, she'll love the Heavenly Peace Christmas cards from Studio 71. These cards are a lush emerald green and feature an illustrated dove with gold accents, and they are perfect for sharing blessings of peace and love. They come in a box of 18.
Need more inspiration for gifts for Christian women? Check out our list of the best gifts for the woman who has everything — you're bound to find something she doesn't have yet!
Christmas Gifts For Your Parents
If there's anyone you want to show your gratitude to every year, it's your parents. Mom and Dad have been with you for your whole life, through the good and the bad, helping to guide you on your journey. Take the time to find a gift and a card that expresses your love right from the heart.
Thank Mom and Dad for their love with the Heart Of Christmas greeting card. This premium Christmas card features a die-cut wreath illustration held in place with festive cords, and there is plenty of space inside to add your own heartfelt message to the already-written thanks.
Want to share a blessing with your Mom? Our You're a Blessing Christmas card features beautiful artwork, scripture, and a prayer. Let your mother know how thankful you are for her love and guidance by adding your own handwritten message. If you need inspiration to come up with just the right words, read our advice for what to write in a Christmas card.
When shopping for a gift for your parents, we recommend treating them to something thoughtful that reflects your love and appreciation. Add a photo of a happy memory together as a family to the Grateful For You clip photo frame from Studio 71. Pick out a pair of inspirational mugs and make them a gift basket with some favorite local coffee beans or tea bags. Give them a beautiful enamel serving tray (perfect for Christmas dinner!) that includes a family blessing. Whatever you choose, ensure it's from the heart.
More Christmas Gift Ideas
Need more help finding the right gift? Get inspired by reading our other gift guides, including Inspiring Christian Gifts for Everyone on Your Christmas List and Faith-Filled Gifts For Kids. Or simply browse our gift collections sorted by price range and interest. You're sure to find the perfect present for everyone on your list. Don't forget to pick out some Christmas cards, too!