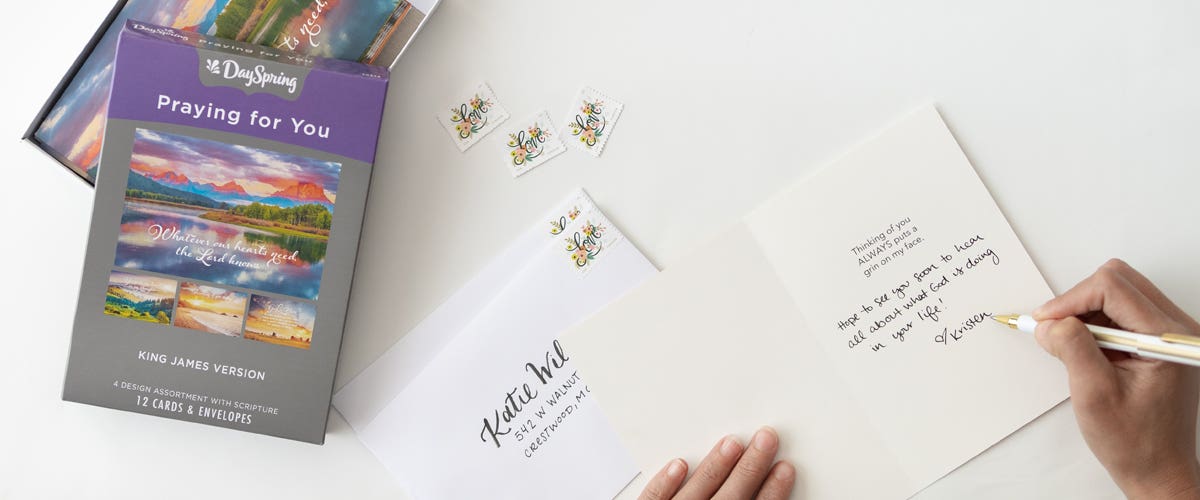 "In the same way, let your light shine before others, so that they may see your good works and give glory to your Father in heaven. (Matthew 5:16 CSB)"


Let your light shine. This is the calling that we receive from Jesus in Matthew, and a reminder that we probably all need often. How easy it is to forget that we are called to shine our light, love others well, and be an encourager always! Encouraging others can be as easy as sending a simple card – my favorite way! You can write paragraphs of words of affirmation or you can let the message in the card do all the talking for you. Either way, you can almost guarantee that the gesture will be met with delight and gratitude by the receiver.


Finding the words to say is usually the trickiest part, which is why sometimes going back to the basics is the best option. I know I'm not alone in saying that at times opening a brand new, empty greeting card can be downright intimidating! Today we're sharing five scriptures of encouragement that are PERFECT to write in a card – to uplift and encourage anyone, no matter what they're going through in their lives.


When our own words fail us, let the true Word speak for you.


I lift my eyes toward the mountains. Where will my help come from? My help comes from the Lord, the Maker of heaven and earth. He will not allow your foot to slip; your Protector will not slumber. (Psalm 121:1-3 CSB)


"Behold, God is my salvation; I will trust, and will not be afraid; for the Lord God is my strength and my song, and he has become my salvation." (Isaiah 12:2 ESV)


Have I not commanded you? Be strong and courageous. Do not be frightened, and do not be dismayed, for the Lord your God is with you wherever you go. (Joshua 1:9 ESV)


Trust in the Lord with all your heart; do not depend on your own understanding. Seek his will in all you do, and he will show you which path to take. (Proverbs 3:5-6)


Cast your burden on the Lord, and he will sustain you; he will never allow the righteous to be shaken. (Psalm 55:22)


Start with these scriptures, and the words will be more than enough. Find the perfect card in our Encouragement Card Shop. You can find more Card Ideas & Inspiration in our Article Library, with ideas for how to make cards special on every holiday and occasion.
Looking for more inspiration? Browse our entire Devotional Library and sign up for our e-newsletter to receive free articles, updates from our Ecard Studio as well as exclusive deals.