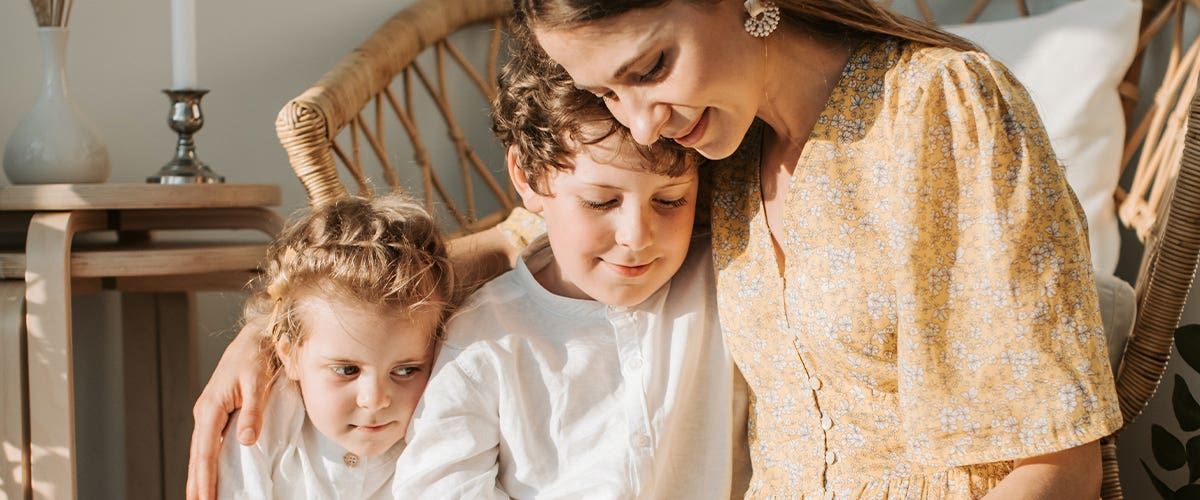 Motherhood is hard work. You start out cradling this tiny, amazing human that is completely your responsibility. Then you find yourself running after little chubby toddler legs as they sprint as fast as they can toward the most dangerous thing in the room. This stage is soon followed by the "I can do it myself" phase, where you find yourself constantly cleaning up spilled milk and scraping glue off the floor. And, that's only the beginning! Because, then the little tiny human decides to keep growing and growing until eventually he or she becomes a grown man or woman - and how are we supposed to handle it when all of a sudden we have no say in their lives? It's just hard.
That's why, at DaySpring, we want to encourage you to lift up all the moms in your life - from the one you call "mom" to your friends, co-workers, sisters, neighbors and so on and so on. To help, we asked several DaySpring staffers to let us know how they encourage the moms in their lives. We hope these questions and answers will give you some ideas on how to lift up your friends during each season of motherhood.
What is your favorite way to bless a new Mom?
A meal in week 6. This is the week where all the help is gone, the meal train ends and sleep deprivation sets in. I also tell a brand new mom to trust her own instincts. She knows her baby better than an author, a blogger, even the pediatrician. Those are great resources, but she is the expert when it comes to her baby. - Kim
Have you found a good way to comfort the overwhelmed mothers in your life?
Many times my friends who are mothers are not taking time for themselves, they are so involved with their children. I try to focus on things that are for them only. Pay for a babysitter. Give a service-oriented gift certificate for a manicure or pedicure or facial. Take them to a no-kids lunch. Greeting cards are always appreciated with notes about how much you are thinking of them.- Brenda
How would you comfort a friend who recently lost her Mom?
One of the best ways I've found to encourage someone who's lost their Mom is to listen. Let them tell you stories about their Mom and how they're feeling today. Grief takes so many different forms. Your friend may be able to talk about her loss and she may not. Just follow her lead and listen well. - Katie
(View DaySpring's selection of sympathy cards and giftsto find just the right message to comfort your grieving friend.)
Do you have a friend who has felt the pains of empty nest syndrome? How have you encouraged them?
I encourage them to start a new hobby. I try to help them dream and let them know they are not finished yet. There is still so much to be done and there is still parenting to be done! I have found for me personally, moving focus from self to others is the quickest road to adapting to a new season. - Tricia
Do you have any friends who have strong feelings of mother's guilt? How have you encouraged them? If not, how would you encourage them?
I tell them what my mentor told me. "We do the best we can with what we have." We know from Romans 3:23 CSB that we "all have sinned and fall short of the glory of God." Nobody on earth is perfect. But, we learn from our mistakes and as long as we are inviting God into the messy parts of our lives, our children will also learn Who to turn to when the going gets tough. Pray, spend quiet time with God, ask Him to release you from the chains of guilt. - Virginia
Do you have any friends who have symptoms of Perfect Mom Syndrome, feeling as if they'll never be worthy enough to parent? How have you encouraged them? If not, how would you encourage them?
I tell all moms that there is one thing they can count on…you will make mistakes. Everyone does, but the truth of the matter is your kids learn from you and your mistakes. They learn how to say sorry, they learn that no one is perfect, they learn what it means to forgive someone and they learn that God desires a humble heart not perfection. - Sarah
It is our hope that you will take a little time today and think through some ways to encourage all the super moms out there - lift up the young mothers in your church group, help the mom of three struggling in the grocery store or simply send an encouraging Ecard to let your friend know she's doing a good job. After all, God calls us to reach out, even when it's uncomfortable, to lift each other up and to "carry one another's burdens" (Galatians 6:2). And since we know that motherhood is a hard job, let's make sure to lean on each other and God's Word throughout the joyous, amazing, yet sometimes difficult journey called motherhood.
Looking for more ways to encourage? For even more ideas on how to encouraging the moms in your life, read these related articles:
Why Are We Called to Encourage?
Mom's Night Out with Illustrated Faith
Looking for more inspiration? Check out our Devotional Library and be sure to sign up for our e-newsletter to receive free articles, updates from our Ecard Studio as well as exclusive deals.