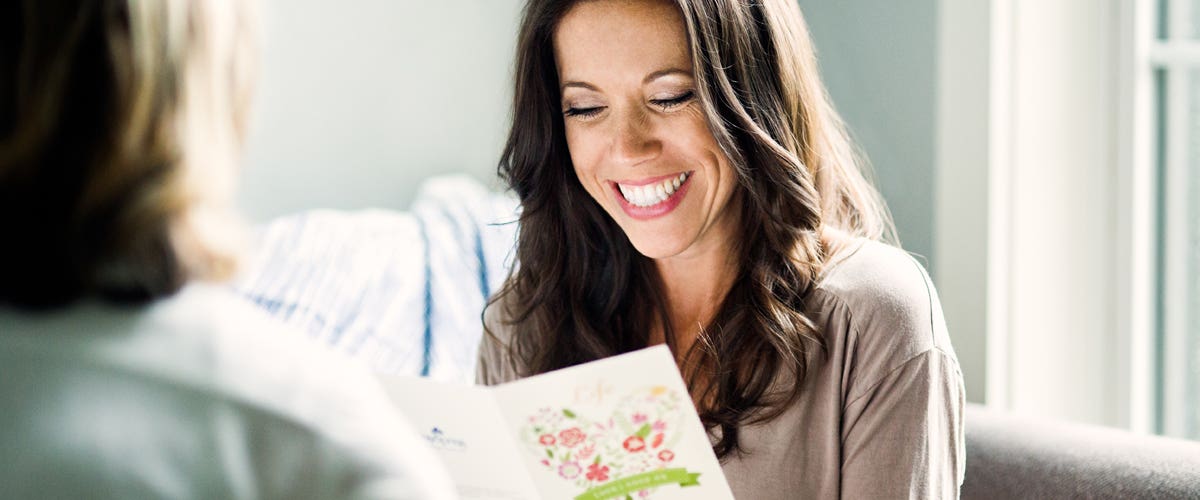 Do you ever find yourself totally at a loss as to what to write in a greeting card?! You're not alone. I have no idea who gave greeting cards this intimidating reputation, but we want to calm your nerves next time a blank card stares back at you. For the times you can't think of a thing to write in a greeting card besides your name, we have a few ideas to help. Follow these steps to write the perfect card:


What to Write in a Card


1. Bring out the gold.
Call out your favorite things about the person you're writing a card to. Many of us find it much easier to see the things we don't like about ourselves than the beautiful things God put on the inside of us. One of the most uplifting things you can do for someone is to call out those things they may not see in themselves, recognize the gifts God has placed in their lives, or mention something that makes them special. Help them see the great things you see in them that they may not have known you see in them and bring out the gold inside of them!


2. Take a little stroll down memory lane.
Recalling a special memory, moment, or inside joke you shared in the past is a great way to reconnect. It's easy for us to forget fun and great times from previous years with the business of today, but taking a little time to reminisce and remember those moments can bring joy to your recipient. Did you share a hilarious time in college? Did you have a heart-to-heart at a women's conference? Did you learn to do something together? Bring back those touching moments and relive them together!


3. Look back to the future.
Depending on how often you're able to keep in touch with this person, you may have some future plans together or simply an exciting season coming up. Write down something you look forward to doing together in the next year or something you're excited to see God do in her life. Show that you look forward to your continued relationship and the new things it will bring.


4. Make a joyful declaration!
Nothing says you care about someone more than praying for and talking to God about them. Speak blessings into their life or offer up a prayer for the year to come! It's great to hear you're being prayed for, but reading the actual prayer makes it extra special and memorable! The most powerful way to encourage people is through God's Word. Try asking God for a Scripture your recipient will be encouraged by and write it down!


The best thing about receiving a greeting card is knowing you were in someone's mind and they cared enough to send a personal message that took a little more time than sending an email or text message. You don't have to be eloquent or lengthy, but you will encourage someone with God's love through your heartfelt sentiment. Take the first step to brightening their day when you find the perfect inspirational greeting card for any occasion.


Looking for more inspiration? Check out our Devotional Library and be sure to sign up for our e-newsletter to receive free articles, updates from our Ecard Studio as well as exclusive deals.