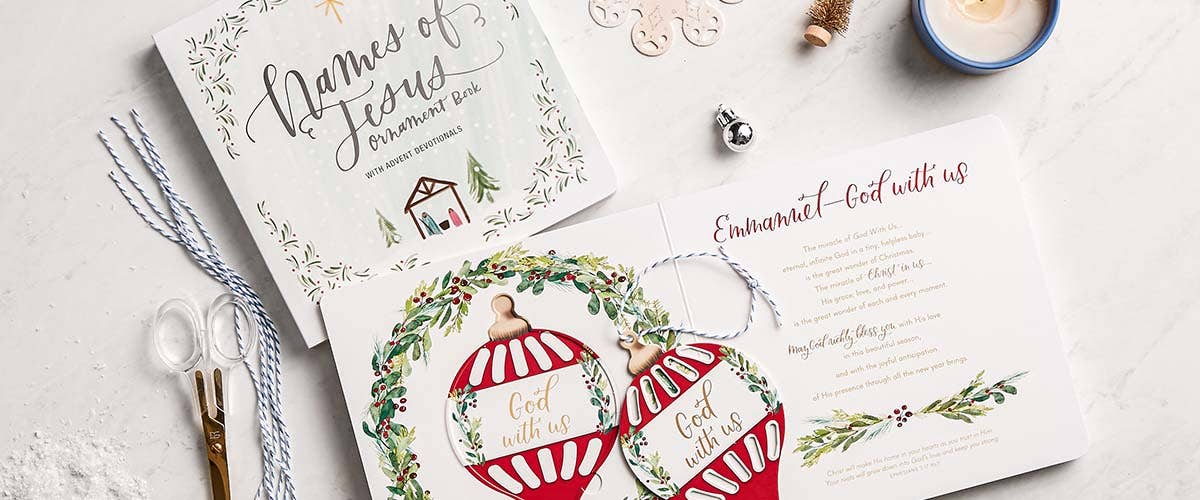 The four weeks leading up to Christmas make up the season of Advent. Advent marks the beginning of the liturgical year for Christians. It is our new start, a time of beginnings as we prepare for the celebration of Jesus' birth. It is a time to renew your focus on God.
While the fast-approaching Christmas season typically means lots of running around to parties, shopping for Christmas presents, and preparing your home for holiday celebrations, it's important to remember to slow down and make time for God.
Here at DaySpring, we have a wide selection of resources for the Advent season. Prepare your heart and home for the coming of Christ with books, activities, calendars, and more.
Reflecting On Your Faith During Advent
Candace Cameron Bure's book Bring On The Merry has a section for each day of December leading up to Christmas. Each of the 25 sections includes a devotion, an interactive activity, and a coordinating classic Christmas story. This book is sure to get you in the holiday spirit while keeping your Advent centered around the true reason for the season.
Dive deep into your faith this Advent with Sherri Gragg's 31-day devotional Advent: The Story Of Christmas. This book takes you through pivotal moments of the Bible that lead to Jesus' birth. Sherri's retellings of these stories put you right into the scene so you can truly experience God's promise and hope — and help you reflect on God's presence in your life today.
Elevate your Advent calendar with Candace Cameron Bure's Geometric Countdown Calendar in gold (also available in silver). This stylish decor piece includes reversible number tiles to count down the days until Christmas. Plus, additional message tiles let you use this calendar all year long to build anticipation for any special day. Make each day count (Psalm 23:6) with this countdown calendar!
Celebrating Advent With Kids
There's no better way to prepare your children for Christmas than with "The Shepherd On The Search" by Josh Helms. This book includes 25 days of interactive activities, readings, and prayers that explore the wonder and joy of the first Christmas. Plus, you can start your own family tradition with the plush shepherd included in the activity set! Secretly hide the shepherd around your home overnight and, in the morning, let your children find him in his new location "on the search" — until he finds his way to the manger on Christmas Day. If your family already has your own shepherd, check out the other fun Shepherd On The Search accessories like the kids' Advent calendar, coloring placemats, and more!
If your kids are a bit older, take an idea from DaySpring's Tricia Coleman for Introducing Advent to the Next Generation. She and her daughter spent time reflecting on their faith together during Advent with Shanna Noel's The Wonder Of Christmas Advent Journal for Girls. Not only are these Advent readings for kids helpful in guiding their faith, but they are also a wonderful way to grow together as a family.
Find even more ideas for your little ones in our article about the Best Faith-Filled Gifts For Kids!
Preparing For Christmas Joy
One of the most fun parts of Advent is that it means Christmas is coming! Kick off the season by decorating your tree with ornaments from one of our Advent ornament books. These books feature reusable, pop-out ornaments alongside coordinating devotions. Reflect, pray, and decorate your tree!
A few we recommend:
Of course, Christmas always means gift-giving. If you need help finding the right gifts for your loved ones, check out our Gift Guide with ideas for hostess gifts, friend gifts, parent gifts, and more. You can also browse our Christmas Shop by category for inspiration. Don't forget your Christmas cards and gift wrap, too!
Wishing you and your family a blessed Advent and a joyous Christmas season — from all of us here at DaySpring.