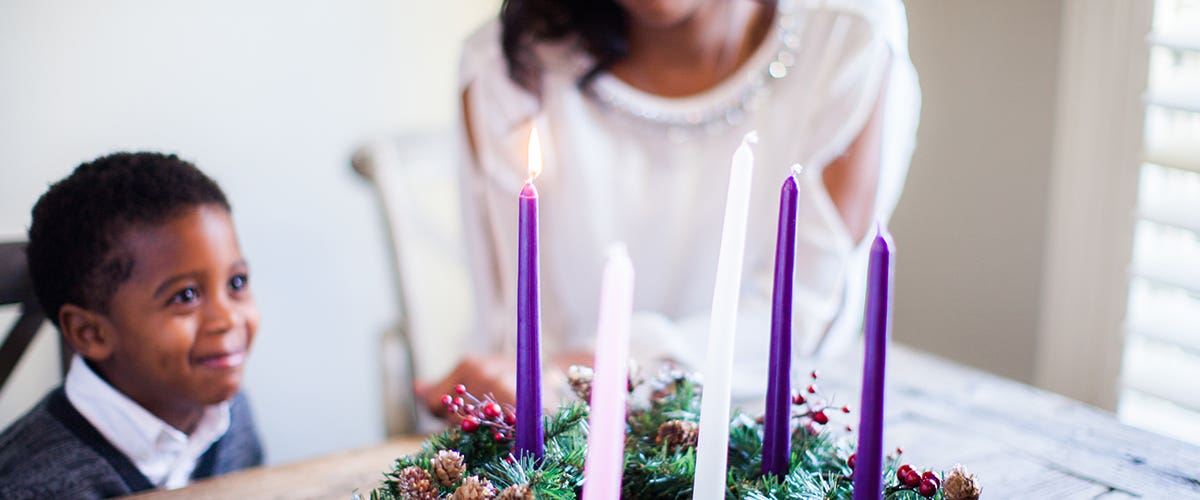 Advent is such a season of anticipation. Diving into the story of Jesus and the miracle of His birth reminds me of the awe and wonder I had as a child learning about Him. Growing up in a Baptist church, Advent was talked about, but we just didn't observe it in the way I know other churches do. I have read the Gospels and knew the story of Jesus' birth, but to really dedicate the season of Advent to spending time with God and feeling the awe and wonder that come from this incredible story is such a sweet time. As an adult, this season of anticipation has become near and dear to my heart, and I'm so glad I was able to lean into that with my youngest daughter last year when she was twelve years old.


I bought each of us a copy of The Wonder of Christmas: 25 Days of Advent Journaling for Girls. We sat together each evening after dinner, taking turns reading the Scripture, devotion and prayer. This was such a special time for us to not only connect on a deeper level, but to spend time in the Word together, learning more and more about the story of Jesus. I loved watching her underline the parts that stood out to her and getting to help explain to her the importance of different parts of the story. But, my favorite part was the creative aspect of this - watching her journal what God had put on her heart as we went through each day. I loved seeing her inquisitive mind working, seeing the wonderful words she said about her own family members and seeing her love of Jesus shine through.


I have been into Bible Journaling for the last couple of years and this was something she also loved to do with me, so when this devotional journal came out last year, it just made sense for us to do it together! What makes this book so great is that you don't have to be creative at all, just willing to let God speak to you, using the journaling spaces to remind you of what He has taught you through this story. I will keep these books and be able to look back each year, letting Him speak to me all over again, and remind myself of the amazing time we had together during that season.


I am hopeful that celebrating and learning even more about the story of Jesus coming as a baby is a tradition we will keep doing year after year. My daughter is getting older, and she may not want to spend as much time with her mom as she grows up, so I will always treasure the time with her last year in the days leading up to Christmas. It added so much meaning to our Christmas celebration. It was awesome to sit and listen to her tell my husband and her older sisters (who live on their own) all about what we had learned about Jesus and how this day was so much more than giving and receiving presents. That is something our family has all known to be true, but to listen to the wisdom of a twelve year old on a new journey like this was priceless.


I encourage those who have children in their lives to make a tradition of this, whether it's with The Wonder of Christmas or another way that helps celebrate this special time. Teaching the next generation is something that I have a passion for, making sure they really know Jesus and love Him, but also helping them to understand what He did for us so many years ago. I am amazed at the new things that stick out to me each year when I dive into this story and enjoy even more seeing the impact it can make on the next generation. I can't wait to see what He continues to teach me about His love for me and the sacrifice He made to come to earth like He did.


Looking for more inspiration? Be sure to check out our entire Advent selection to find activities, devotionals, wreaths, ornaments and more. Also check out our Devotional Library and be sure to sign up for our e-newsletter to receive free articles, updates from our Ecard Studio as well as exclusive deals.