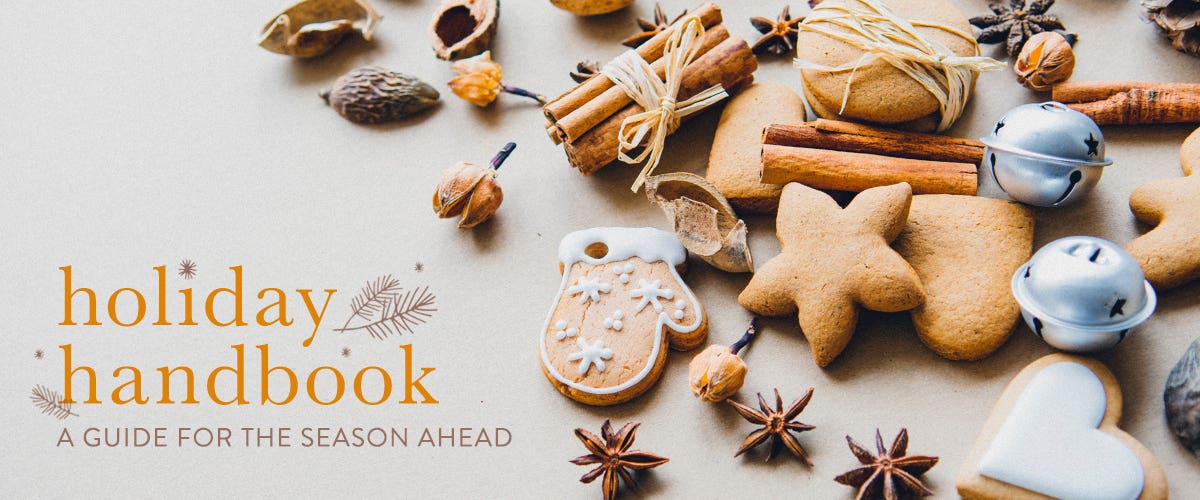 For many, fall and winter are the busiest seasons of the year. Why? Well, it's the time when after-school activities start to pick up, small groups are in full swing, churches begin to plan potlucks and little festivals with hayrides, pumpkins and candy apples start to pop up everywhere. And, while many are still trying to figure out when picture day is at school, and what to do with all the pumpkins on their front porch, all of sudden it's Thanksgiving (which by the way usually means traveling or entertaining). Just when you think you can sit down to breathe, you remember… Christmas is only three weeks away.
At DaySpring, we know how easy it is to let the busyness take your focus away from the true joy of the holidays. That's why, we've put together Your DaySpring Holiday Handbook. We want to come alongside you this season and provide you with holiday tips, tools, resources, inspiration, and ideas on how we can continue to shine His light (Matthew 5:16) in the midst of our ever-growing holiday to-do lists. Here is what you can expect:
Season of Hospitality
» Spark Unity in Your Home (1 Peter 4:9)
Fall is a great time to practice hospitality. While many holiday gatherings and community-wide events are already taking place, we encourage you to look up from all the tasks and duties that usually are associated with "hospitality." Let's view this next set of fall get-togethers and potlucks as opportunities to share God's love on a personal level. Sound a little uncomfortable? Don't worry, we will have tons of ideas and tips on how to go about reaching through the uncomfortableness to shine His light in your home and around any table. Read inspirational hosting "how to" articles and learn more about hostess gift ideas and Christian home décor solutions for creating a comfortable environment for your guests.
Thanksgiving Season
» Radiate with Thankfulness & Gratitude (2 Corinthians 4:15-16)
Why not do Thanksgiving a little different this year? While some traditions are worth keeping such as family togetherness, turkey and grandmother's amazing chocolate pie, how about this year, we focus more on praising God for His gifts more than we do on making the perfect sweet potato casserole? We invite you to join us this season as we strive to praise God with genuine thankfulness for His indescribable peace and amazing joy, not to mention His life-giving message of grace and unfailing love. Let's praise Him for the lives that have been placed in our paths, for the moments He has given us as a family and even for the trails He placed before us. And, if we can do this, His light will radiate from us, reminding others to also slow down, count their blessings, and live in His light. We have beautiful Thanksgiving cards, décor pieces and inspirational articles full of ideas on how to rejoice in the face of family stress. Plus, you can send beautiful online greetings wishing all your friends and family a Happy Thanksgiving in a matter of seconds.
Christmas
» Shine God's Light this Holiday Season (Matthew 5:16)
Okay, let's all take a deep breath. We gave all our stress over to God, made it through the season of hospitality, and remained focused on His blessings during Thanksgiving. We've come so far! Let's not allow the holiday stress or busyness of the season to take over!
Christmas is beautiful. Think about it: It is the celebration of our Lord and Savior Jesus Christ coming to Earth to show us how to love others, how to walk in His path, and how to be still in His loving arms. He came to life on Christmas day to give us life so that we may be free of sin. Christmas. Is. Beautiful.
Please join us this Christmas season as we pull together new and exciting resources to help you and your family focus on the true beauty of this most-precious holiday. For example:
» Advent. Be on the lookout for ideas on how to unpack the Advent season in preparation for the celebration of the birth of Jesus. Check out our many Advent resources, as well as the Shepherd on the Search, and our online Advent devotionals!
» Inspirational Articles. Continue to check our articles page to find new, updated pieces on how to create a Christ-centered Christmas, rediscovering the joy of the holiday, as well as ways to teach your family about the graciousness of giving.
» Difficult Times. While many view the holiday season as a fun time with friends and family, we all know there are some who are facing a difficult Christmas or holiday season. Whether that be the recent loss of a loved one, a divorce in the family or financial distress, we want to come alongside you as you reach out to those experiencing such a holiday. We have sympathy cards, free encouragement Ecards, ideas and tips on how to reach out, as well as several comforting gifts and sentiments.
» Gift-giving. Don't worry, we haven't forgotten about your gift checklist. For the best gift-giving inspiration and ideas, you can browse the Gift-Giving category in our Article Library. Check out our new Christmas Boxed Cards designs—and of course, we plan to help you find just the right heartfelt gift for your friends and loved ones during our annual Black Friday & Cyber Monday Sales. (so stay tuned…)
While DaySpring is focusing in on how to shine His light during the upcoming holiday season, we are also dedicated to providing you with ways to Live Your Faith throughout the entire year. We hope that through this exercise of slowing down and focusing on Him during what some call the busiest time of year, that together, we can continue to let His love radiate from our hearts all year long.
Looking for more inspiration? Check out our Devotional Library and be sure to sign up for our e-newsletter to receive free articles, updates from our Ecard Studio as well as exclusive deals.