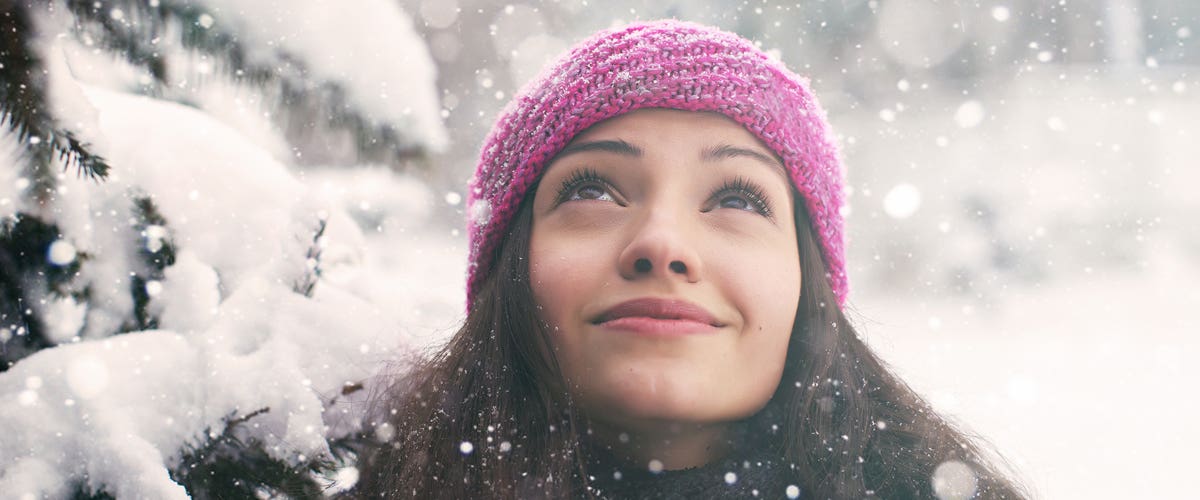 Winter is one of my favorite seasons, and I look forward to its arrival every year just as much as my little seven-year-old self did. I anxiously await the falling snow, the crisp air, the warm clothes, the hearty meals, the slower pace, the crackling fires, and snuggling under the blankets. All of it.
I still love everything winter has to offer, even as an adult. Until about February.
That's when too much of a good thing turns into an ugly thing. I wake up one day, and discover that everything feels slow and heavy. Some days it's all I can do to drag myself out of bed and get dressed. At first I think I might be getting sick, but after repeatedly experiencing the same recurring struggle without any other symptoms, the light bulb finally comes on. My All-Things-Winter joy has escaped quietly in the night and thoughtlessly left me in a cold, dark Winter Wander-land.
It's in this place that I am regularly greeted with unexplained sadness followed by a lack of motivation and direction. The Winter Blues have come for a visit. Again.
Can I just hibernate already?
I know I'm not alone here. Have you noticed similar feelings, similar patterns? Let's commit to being proactive this year and prevent this ice-cold funk from catching us off-guard.
I'm not saying we won't be challenged by these feelings anymore. I am absolutely convinced we will, which is exactly why we need to do something new and do something now.
If we want to overcome our challenges, we have to care for our whole being.
The following list is full of ideas on how we can do just that.
Overcoming the Winter Blues by Caring for Your Body
* Grab your bestie and head to the gym.
* Turn up the music and dance!
* Download a workout app.
* Build a snowman or have a snowball fight.
* Go sledding or ice skating.
Overcoming the Winter Blues by Caring for Your Soul
* Read a new inspirational book.
* Write in your favorite journal.
* Boost your creativity with an old or new hobby.
* Sing, sing, sing!
* Organize your closets.
Overcoming the Winter Blues by Caring for Your Spirit
* Turn on your favorite worship music.
* Pick a cozy spot for winter, and spend regular time there in prayer. See Prayer Articles here.
* Memorize and meditate on one Scripture each week until spring.
* Start a new devotional with a group of friends.
* Read the book of Proverbs; one chapter a day for a month.
Other fun ways to find joy on cold, dark winter days.
* Do something kind for someone else.
* Host a friends and family game night. (Read here on How to Host a Bible Journaling Girls' Night!)

* Plan a summer vacation.
* Try a new recipe, and share it with someone you love.
* Design a flower garden to plant in the spring.
This is a long list of ways we can combat the winter blues, but it's not exhaustive by any means. God has ideas that are perfect for each one of us. Why not spend some time with Him this week and work out your own plan?
The LORD hears his people when they call to him for help. He rescues them from all their troubles. Psalm 34:17 NLT
Know someone who struggles with the winter blues? Send them a quick encouraging Ecard today, or an uplifting gift this season. Or, share this list with them, and ask them to join you in taking a proactive approach this season. And remember to reach out more over the next few months.
Looking for more inspiration? Browse our entire Devotional Library and sign up for our e-newsletter to receive free articles, updates from our Ecard Studio as well as exclusive deals.
(The Winter Blues is notably different than Seasonal Affective Disorder (SAD). If you think you or someone you know is suffering from SAD, please seek professional help. For more information on the symptoms and treatment of SAD, visit the National Institute of Mental Health site here.)