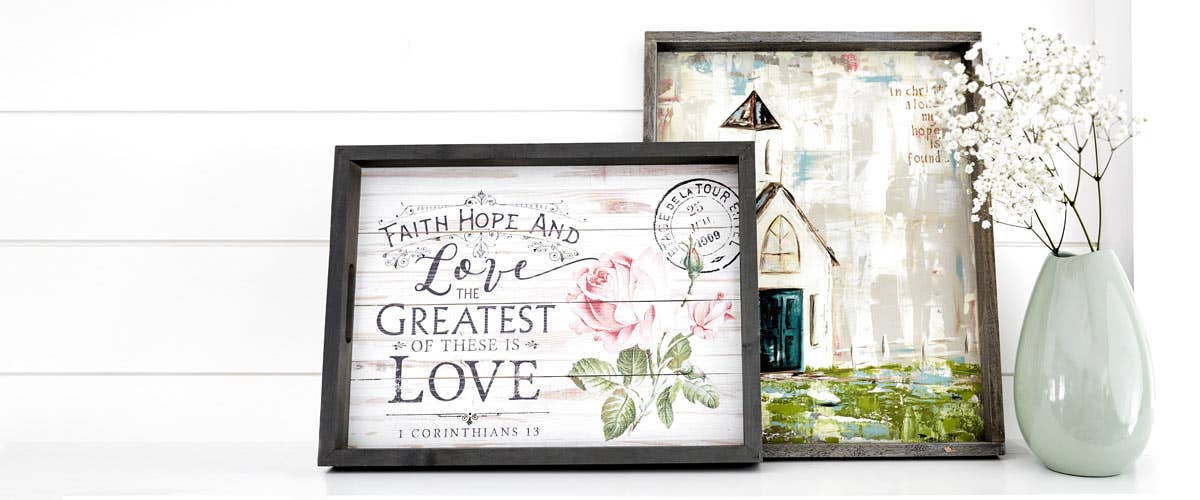 Don't you just love the freshness of spring? After what seems to be an endless winter, you open your window to see flowers blooming and a nest of baby birds chirping while a nice, warm breeze sweeps across your face. What a fun, beautiful, refreshing time of year! But how best to celebrate spring? One way to glorify this delightful season is by redecorating your living space with spring home décor that sparks uplifting sentiments—proclamations that "Spring is Here… Praise the Lord!"
Here are four easy spring decorating ideas to help you bring the joy of the season indoors:
1. Pick fresh flowers to use as spring table decorations. Simply adding some fresh flowers to your table can lighten the air in the room. This Pour On The Blessings Ceramic Pitcher is perfect for displaying your favorite blooms or any beautiful spring arrangements.
2. Change up the color palette. Now's the time to change out the dark browns and muted colors in your home décor for some more popping colors, such as the bright colors of the flowers blooming outside. Our inspirational wall decor is a beautiful reminder that God has a plan for each and every one of us.
3. Rearrange your furniture. Think about how you could rearrange your living area to better capture the essence of spring. Is your sofa parked right in front of the fireplace? It might be time to move it closer to a window to enjoy the sun.
4. Add small accents. You may not have time to completely start from scratch with more elaborate spring décor ideas, but how about adding a few accents here and there? This Our Nest is Blessed Door Banner is perfect for decorating your front door - and its meaningful message reminds us that Jesus came to give us abundant life.
Above all else, let us rejoice in this new season! As the Song of Solomon 2:11-12 ESVtell us, "For behold, the winter is past; the rain is over and gone. The flowers appear on the earth, the time of singing has come, and the voice of the turtledove is heard in our land." What a time to celebrate! So this year, let's commit to welcoming the fresh spring air, stopping and smelling the flowers and praising God for His beautiful creation. For another spring celebration idea, go ahead and share a free Ecard celebrating the spring season with a friend or loved one right now!
Read these related articles:
Creating an Outdoor Worship Space
Looking for more inspiration? Browse our entire Devotional Library and sign up for our e-newsletter to receive free articles, updates from our Ecard Studio as well as exclusive deals.