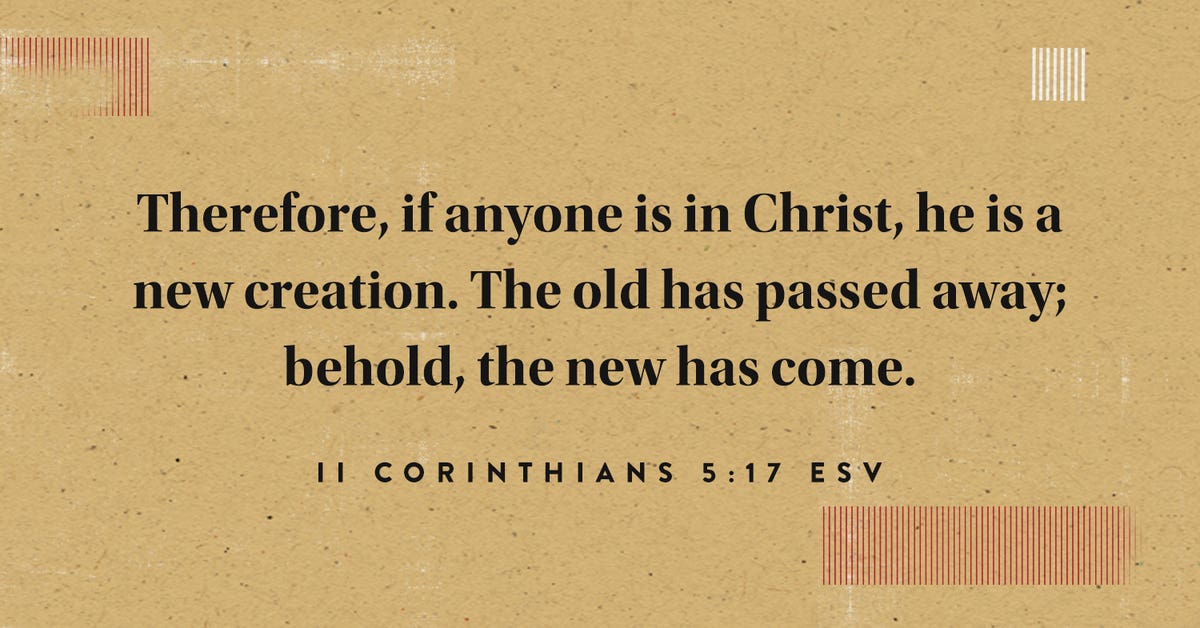 If you're going to be a Christian, you're going to change. You're going to lose some old friends, not because you want to, but because you need to. You can't compromise some things. You have to draw the line daily—the line between what you were and what you're trying to be now—or you lose even their respect. —Johnny Cash
Therefore, if anyone is in Christ, he is a new creation. The old has passed away; behold, the new has come. —II Corinthians 5:17 ESV
Imagine going back to high school—or, better yet, grade school—in the same body you had back in the day, but with all the wisdom, knowledge, life experience, and maturity you have now. If you've seen the movie Freaky Friday, you already have a pretty good idea of the comic potential of the setup.
But what about the serious stuff? Imagine trying to pick up old friendships where you left off. Imagine trying to find common ground with people who hadn't changed at all—and who couldn't understand the changes in you. Imagine trying to enjoy things that used to seem fun but now hold little interest for you.
The only way to make the situation work would be to pretend that you hadn't changed. That you didn't have a whole new perspective on life. That you're still the same person you used to be.
Of course, even a great actor would have a hard time pulling that off. The differences between the old you and the new you would be too obvious to disguise.
The same holds true for someone who chooses to follow Christ. As the apostle Paul points out in II Corinthians 5, when we embrace Jesus as our Savior and Lord, we are transformed and made completely new. Our old self passes away.
Though the transformation occurs inside us, the results are so profound and so undeniable that other people can't help but notice. And not everyone will be happy with the results. Some people will resent our new outlook and attitude. Some will accuse us as being hypocrites or thinking we're better than others. Some will make it clear that they liked the old version of us better. These are the reactions Johnny Cash warned about.
Pretending to be our old self isn't an option. The change inside us is too enormous to keep under wraps. Besides, no one really benefits when we try to be someone we're not.
The better option, as Johnny Cash points out, is to "draw the line daily" between who we are now and who we used to be. He urges us to lean into our new creation and embrace the transformation, for all to see.
Some old friends may cut ties with us, and that's heartbreaking. But if we remain true to our new nature, we may eventually win their grudging respect. Most people appreciate genuine integrity when they see it.
When we become a new creation, things can never be like they were before. But that's a good thing. Being a new creation opens a world of new opportunities. Our goal is to help others see that. We can be ambassadors for the new— even if it means ultimately sacrificing the old.
Dear God, thank You for transforming my life. Thank You for giving me a whole new way of looking at the world. Give me the strength and courage to embrace being a new person, regardless of the fallout. Please help me be a light to others so that they can see Your truth. In Jesus' name. Amen.
This is an excerpt from Walking the Line: 90 Devotions of Truth and Hope Based on the Faith of Johnny Cash – a new devotional now available on DaySpring.com. Shop all books, journals, and devotions from DaySpring here.