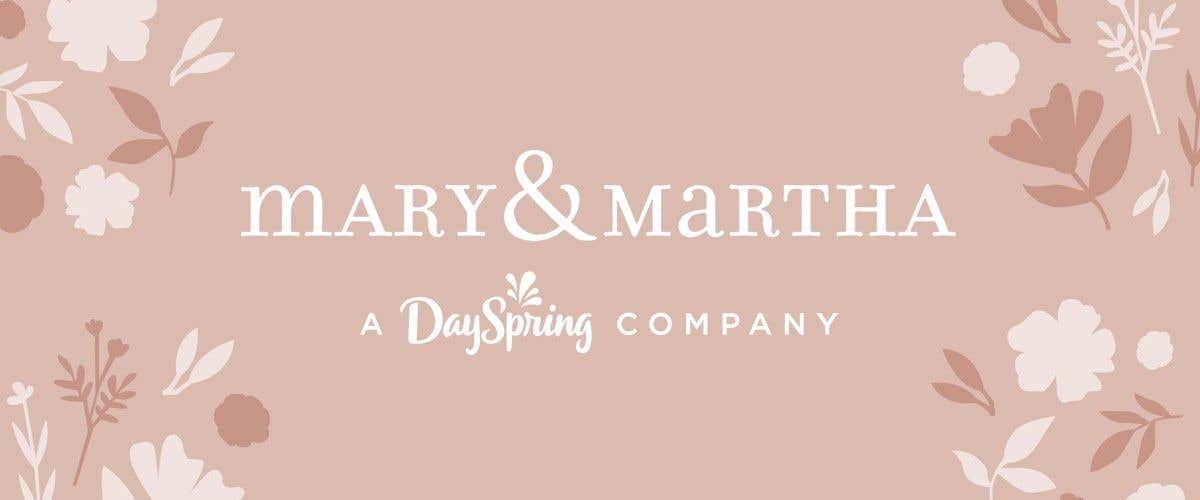 Mary & Martha is a place where women build each other up in faith and in business. Founded by DaySpring, Mary & Martha is a vibrant faith-based company with the goal of bringing eternal hope and encouragement to every home, every day.
In addition to daily encouragement through their social media channels and email newsletters full of resources, Mary & Martha offers stunning home décor, tableware, seasonal items, books, products for kids, and so much more.
Mary & Martha also offers you the opportunity to be part of a faith-based company where you create your own schedule, share inspirational products, earn unlimited income, and belong to a sisterhood of women just like you. Mary & Martha is so much more than beautiful products and teams – they gather in homes and live life together. They laugh hard together and encourage one another through life. The Mary & Martha sisterhood is a tight knit community and there is a place there for you!
Mary & Martha offers YOU a business opportunity, a place where you can build a business and a team.
Mary & Martha offers YOU an opportunity to earn FREE products by hosting a Gathering.
LISA GOOSSEN BRUNNETTE, SR. EXECUTIVE DIRECTOR
For me, Mary & Martha is about empowering and encouraging women to be all that they can be. This is a unique Business that combines work and faith, and we can really make a difference. I have been blessed not only by this source of income, but by the lives we can touch and the hearts we help! Really, this is my job? I am Living in the &!
ERICA STIDHAM, NATIONAL SR. EXECUTIVE DIRECTOR
What inspires me most in my business is motivating others to accomplish what they never dreamed possible. Financially, Mary & Martha has exponentially increased our family's ability to give and save. Mary & Martha provides me an opportunity to be a part of an amazing group of female entrepreneurs that all love the Lord. It's important to show my daughters that they can live in the &: wife, mom, daughter, sister, friend, & entrepreneur!
JERRI SARGENT, SR. TEAM LEADER
I've been in direct sales for over sixteen years and have never been a part of a company like Mary and Martha. This isn't just my business, it's my family. Mary & Martha offers the perfect blend of business and ministry. It doesn't matter if you want to earn a little extra money or make this your career, if you BELIEVE in God's plan for you, you will be amazed by what can happen!
Interested in learning more? You can browse the Mary & Martha catalog and find out more about joining in business or hosting a gathering!
Looking for more inspiration? Browse our entire Devotional Library and sign up for our e-newsletter to receive free articles, updates from our Ecard Studio as well as exclusive deals.