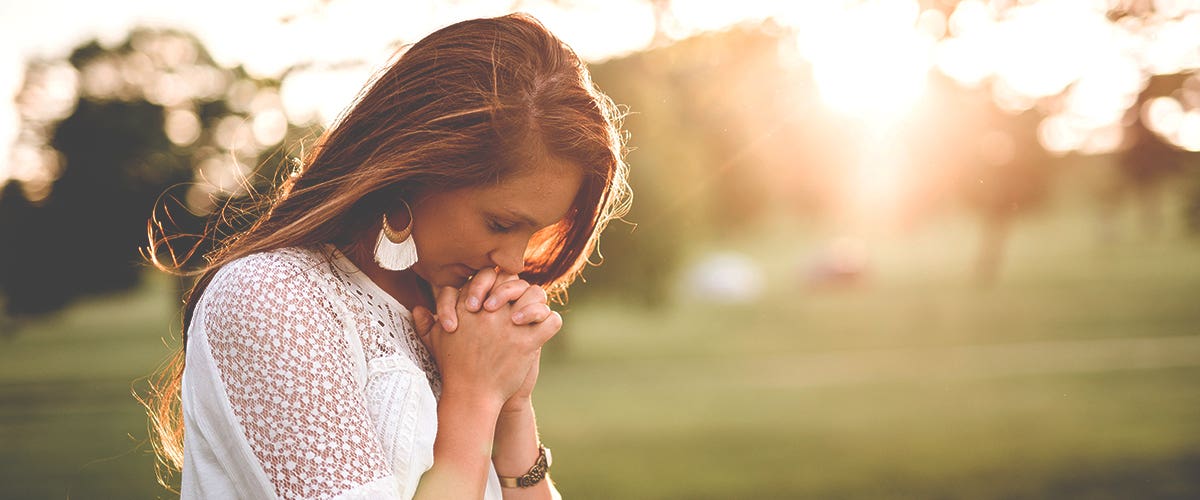 Long after the kids are bathed and put to bed, the single mom stares at the bills and checkbook balance. Too many of the first, not much in the second. She's called on all her friends. She's cashed in all her favors. There aren't enough hours in the day to earn more money. She stares out the window of the small apartment and wonders where to turn.
Then there is the weary man in the ICU standing at the bedside of his only love. He can scarcely remember a day without her. They married so young. He has never known anything as pure as this woman's heart. He leans over her face and strokes her white hair. No response. The doctor has told him to say goodbye. The husband is all out of hope.
And what about the executive who sits behind the big desk in the corner office? His handshake is firm; his voice sounds confident. But don't let his demeanor fool you. If solvency were a jet, his is in a tailspin. His banker wants to meet. His accountant wants to quit. And hope? Hope boarded a train for the coast and hasn't been seen for a week.
You know the feeling. We all do. Even the cup- is- half- full, sanguine souls who use the lyric "the sun will come out tomorrow" as their cell- phone ring. Sometimes we just run out of hope. When we do, where can we turn?
I suggest we turn to this great and precious promise: "We have this hope as an anchor for the soul, firm and secure. It enters the inner sanctuary behind the curtain, where our forerunner, Jesus, has entered on our behalf" (Heb. 6:19–20 CSB).
Look at the key terms of the first phrase: anchor and soul.
You don't need to be told what an anchor is. You've held those iron castings with the pointed edges. Perhaps you've thrown one from a boat into the water and felt the yank as the tool found its lodging place. The anchor has one purpose— to steady the boat. To weather a blast of bad weather, you need a good anchor. You need one like the tattoo on Popeye's forearm— strong and double pointed. You need one that can hook securely to an object that is stronger than the storm. You need a good anchor.
Why? Because you have a valuable vessel. You have a soul. When God breathed into Adam, he gave him more than oxygen; he gave him an eternal being. He gave him a soul.
The presence of a soul separates you from your pet goldfish. Both of you eat. Both of you have eyes and scales— his on his skin, yours on the bathroom floor. Though the two of you are much alike, there is one huge difference— the soul.
Because of your soul, you wonder why you are here. Because of your soul, you wonder where you are going. Because of your soul, you wrestle with right and wrong, you value the lives of others, and you get choked up at the singing of the national anthem and teary eyed at the sight of your baby. Goldfish don't do these things.
Your soul separates you from animals and unites you to God. And your soul needs an anchor. Your soul is fragile. It feels the pain of death and knows the questions of disease. Your liver may suffer from the tumor, but your soul suffers from the questions. Hence, your soul needs an anchor, a hooking point that is sturdier than the storm.
This anchor is set, not on a boat or person or possession. No, this anchor is set in "the inner sanctuary behind the curtain, where our forerunner, Jesus, has entered on our behalf" (vv. 19–20). Our anchor, in other words, is set in the very throne room of God. We might imagine the anchor attached to the throne itself. It will never break free. The rope will never snap. The anchor is set, and the rope is strong. Why? Because it is beyond the reach of the devil and under the care of Christ. Since no one can take your Christ, no one can take your hope.
Do critics define your identity? No, because God said, "Let us make human beings in our image" (Gen. 1:26 NCV). That includes you.
Can challenges deplete your strength? No, because "we are heirs— heirs of God and co- heirs with Christ" (Rom. 8:17). You have access to the family fortune.
Are you a victim of circumstances? Not in the least. "When a believing person prays, great things happen" (James 5:16 NCV).
Does God have a place for the small people of the world? You bet he does. "God resists the proud, but gives grace to the humble" (1 Peter 5:5 NKJV).
Can anyone understand what it is like to lead your life? Jesus can. "Our high priest is able to understand our weaknesses" (Heb. 4:15 NCV).
Do you feel all alone with your problems? You aren't. Jesus "is at the right hand of God and is also interceding for us" (Rom. 8:34 ESV).
Can God ever forgive your failures? He already has. "There is now no condemnation for those who are in Christ Jesus" (Rom. 8:1 ESV).
Is the grave a dead end? Just the opposite. "Death has been swallowed up in victory" (1 Cor. 15:54 ESV).
Will the sorrow ever end? Sometimes it feels as if it won't. But God has assured us: "Weeping may last through the night, but joy comes with the morning" (Ps. 30:5 NLT).
Will you have the wisdom and energy for the remainder of your life? No, you won't. But the Holy Spirit does. "You will receive power when the Holy Spirit comes on you" (Acts 1:8).
Life isn't fair! But it will be, "For [God] has set a day when he will judge the world" (Acts 17:31).
Death, failure, betrayal, sickness, disappointment— they cannot take your hope, because they cannot take your Jesus.
This is an excerpt from Unshakable Hope: Building Our Lives on the Promises of God written by Max Lucado. Find more inspiration on Hope and the Word of the Year in our Article Library.
Looking for more inspiration? Browse our entire Devotional Library and sign up for our e-newsletter to receive free articles, updates from our Ecard Studio as well as exclusive deals.