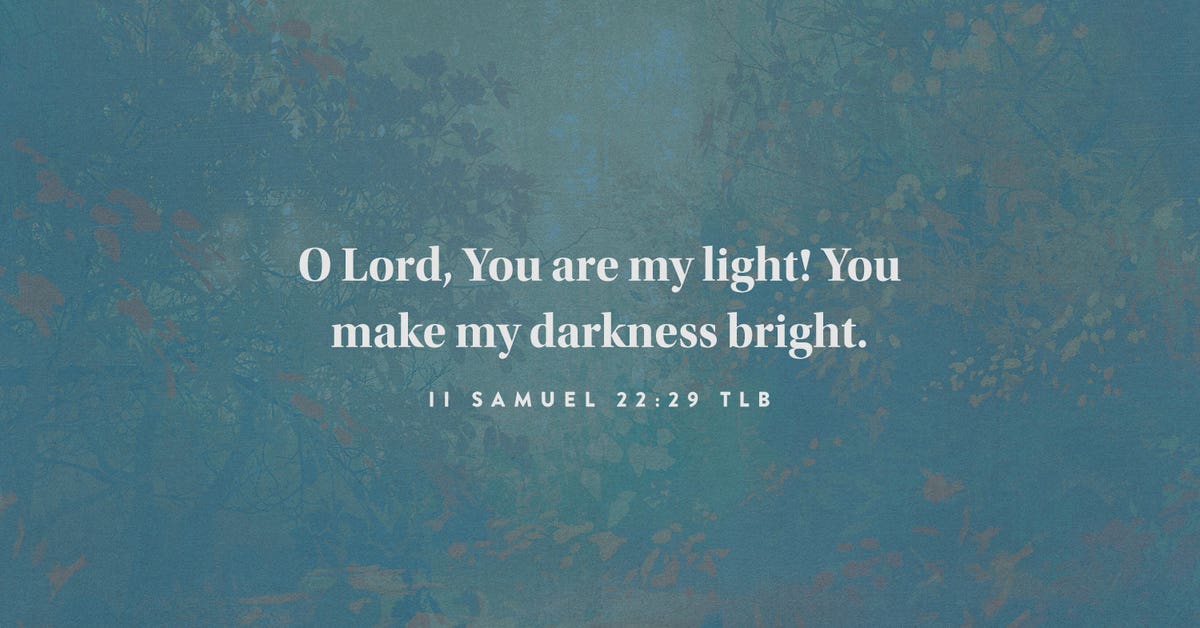 O Lord, You are my light! You make my darkness bright. II SAMUEL 22:29 TLB
Light draws attention. Love brings warmth. In us, they work together to point to their source. Our lives are like transmitters that bring God's light and love into the world—to those we meet, to the people in our lives, and to the family we're given. Being human, we're not going to get it right all the time. There will be some short-circuiting in the transmission because we're imperfect. We'll lose our tempers, say harsh words, act selfishly, and sometimes feel like giving up. God understands. His compassion for us in our weaknesses and failures led to the grace that covers us. Because of His incredible love we have a clean slate and a new start every morning.
When we have dark days, there are simple ways to brighten them. A bouquet of flowers, fresh air, our favorite comfort food, a funny movie, or a good book can lighten the heaviness. To be a steady reflection of God's light and love, we have to stay aware of how He wired us. What makes us feel alive and energetic? What makes us smile and feel a deep-down thankfulness for the grace we're given? We get recharged when we identify and do those things. We're better at showing God's love to others when we take time to bask in a few restorative, simple joys. They're all connected to the way God knit us together, and it's good to go back to them when we can.
Today we might feel like jumping out of bed, or we might want to pull the blankets over our heads, hoping the daylight and the demands that come with it disappear. But demands aren't all that come with the sunrise. Fathomless love comes with it. Endless compassion comes with it. Grace for the day comes with it. And God is in it—bringing all the strength you're going to need.
Dear God, Thank You for the unique way I'm wired and the simple joys You give that restore my soul. I see Your love in each one.
This is an excerpt from The Campfire is Calling: 90 Warming Devotions for the Simple Life – a devotional now available on DaySpring.com. Shop all books, journals, and devotions from DaySpring here.