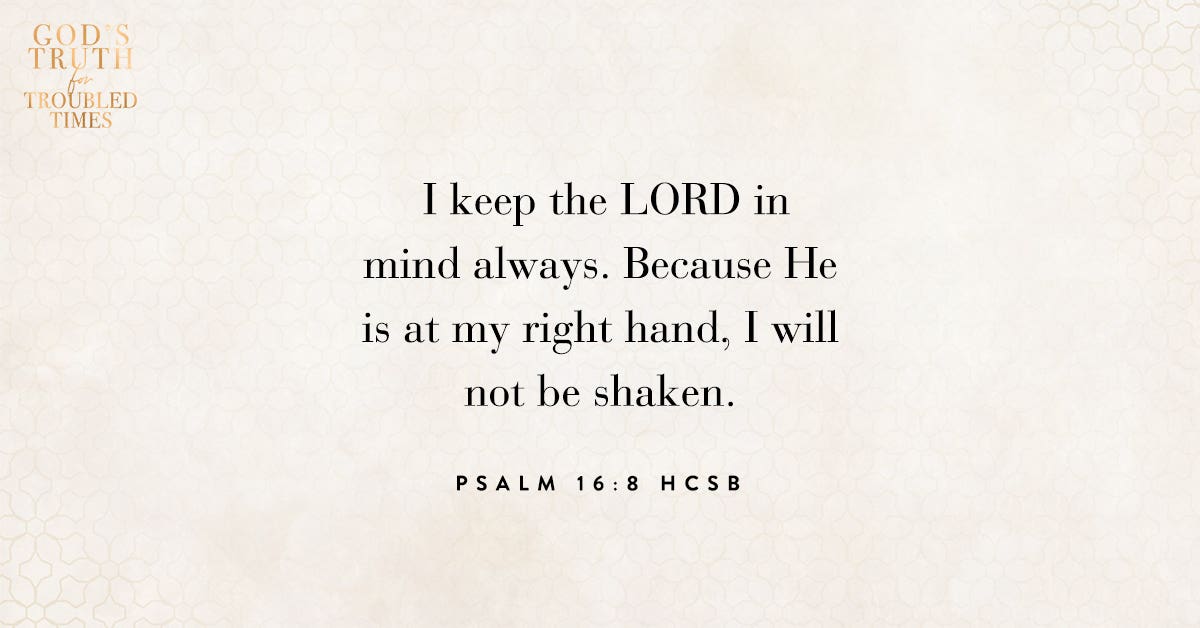 I keep the LORD in mind always. Because He is at my right hand, I will not be shaken. (PSALM 16:8 HCSB)
Whenever I see the word shaken, I think of those beautiful snow globes you see at Christmastime. They are made for shaking, and when they are, fake snow swirls around in the liquid that's inside and gently falls to the manger scene or snowman or other Christmas display. You can shake it and shake it and the item at the bottom never moves – it remains fixed. Only the snow unsettles and swirls around.
I liken this to what happens when our faith is grounded in the Lord and His Word. Even a small amount of faith is enough to adhere us to the solid ground beneath our feet – it won't move or change. When we keep our minds fixed on God and keep our trust in Him, our outward circumstances can be wreaking havoc while our inward condition remains steadfast and quiet. And once the storm is over, we can look outside to evaluate the physical damage knowing that, no matter how bat it is, our spiritual state lies secure, oftentimes stronger than before.
It's no accident that Jesus – our Light of the world – was born during winter solstice, the darkest time of the year. His life and death shook the forces of darkness to a whole new level. But His resurrection is our stronghold – it is the anchor we have for standing forever strong. Through His Spirit in us, we have His power and strength to endure the worst of outer conditions yet remain standing. We can claim the same words King David wrote in Psalm 16:8 and proclaimed again by Luke in Acts 2:25: We will not be shaken!
Lord, Your Spirit is alive and powerful, and it resides in me. I want to live each day fixed on You, anchored to the promises of Your Word, and living them out in faith. You are my hope and my deliverer through all the storms I face. I trust in you and You alone.
In Jesus' great name. Amen.
This is an excerpt from God's Truth for Troubled Times by Lisa Stilwell - a devotional book now available from DaySpring publishing. Learn more about this book, or shop other books & devotionals from DaySpring.