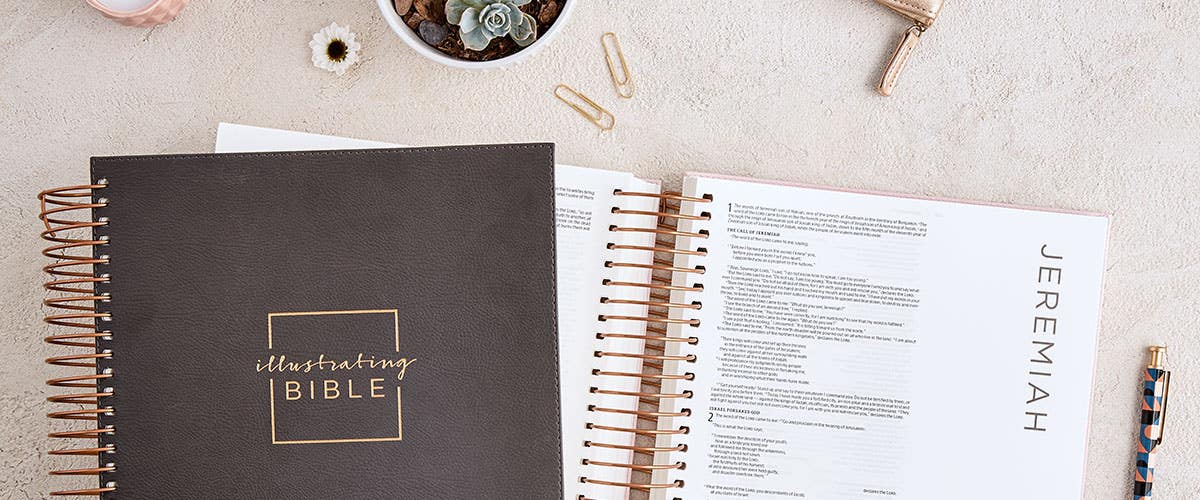 The Illustrating Bible was created with YOU in mind – the person who is striving to grow in faith and learn more about God, the person who wants to document life in the pages of your Bible, the person who maybe has a creative streak that loves to create beautiful art in tandem with your Bible studies. Maybe you're not a Bible journaler, so you think this Bible isn't for you. But the Illustrating Bible is so much more than a Bible journaling tool – it's for anyone who wants to grow deeper in their faith. There are so many different ways to use this beautiful Bible in your own life, so we've listed out a few for you below, but get creative, and the possibilities are endless!
Bible Journaling or Study Bible
Of course, Bible journaling is a favorite way to use the Illustrating Bible – with its thicker paper for less bleed-through and extra-large margins, there's plenty of space for getting creative with what the Lord is teaching you through His Word. The Illustrating Bible was actually created with Bible journalers in mind, but that's definitely not the only way to use this beautiful format. Because of all the extra space in the margins, it's actually perfect for those of us who like to underline, highlight, and make notes in the margins. If you find yourself constantly running out of space in a normal journaling Bible, then this is for you! Whether you're a creative, artistic person or strictly a note-taker, you'll be able to use this Bible to linger longer in God's Word and grow deeper in your faith.
For ideas and inspiration on how to start Bible journaling, you can read the articles below:
7 Easy Steps to Start Bible Journaling
Bible Journaling Ideas for Not-So-Creative People
Wedding Guest Book
Incorporating the Illustrating Bible into your wedding day festivities can turn a guest book into an item to be read and re-read and genuinely treasured after the big day. Ask your guests to share their favorite scripture with you – maybe it's their life verse, what God is teaching them right now, or even their favorite scripture on the topic of marriage. Have them highlight or underline the passage and then share a little message for the bride and groom beside it explaining why they chose that passage and signing their name! You'll be able to go back and read the blessings and encouragement that your loved ones shared with you through God's Word during that special time in your life, and you'll probably even learn some new things about God and His heart for you during the process.
Family Legacy Bible
Using the Bible to create a lasting legacy for your family can be so impactful for generations to come. Use the front or back pages to create a family tree and list all the important dates that have happened in your family thus far: marriages, births, spiritual birthdays, etc. Whenever you're all together for holidays, have everyone in the family highlight a verse that's speaking to them in their current stage of life and write a little bit about where they are and what God is teaching them. You can include family photos of special events like births, reunions, holidays, etc. in the margins, tape in yearly updates, and include any other special mementos. The possibilities are endless for what you can include, but the idea is to incorporate your family history into the pages in a way that is a reflection of God's abundant love in your family that can be cherished for years to come.
Letters to a Loved One
Similar to the family legacy Bible, creating a "book of letters" for a loved one using the Illustrating Bible transforms it into a keepsake that will be cherished forever. Fill the pages with heartfelt letters and prayers around your favorite scriptures – prayers for your child as they grow up, prayers for your spouse as you grow together in faith and love, prayers for a graduate as they near huge life transition. There's even a presentation page in the front where you can write your loved ones name when you're gifting it to them. Showering someone with God's Word and your love and prayers is something that can be such a blessing to those around you.
Looking for more inspiration? Check out our Devotional Library and be sure to sign up for our e-newsletter to receive free articles, updates from our Ecard Studio as well as exclusive deals.