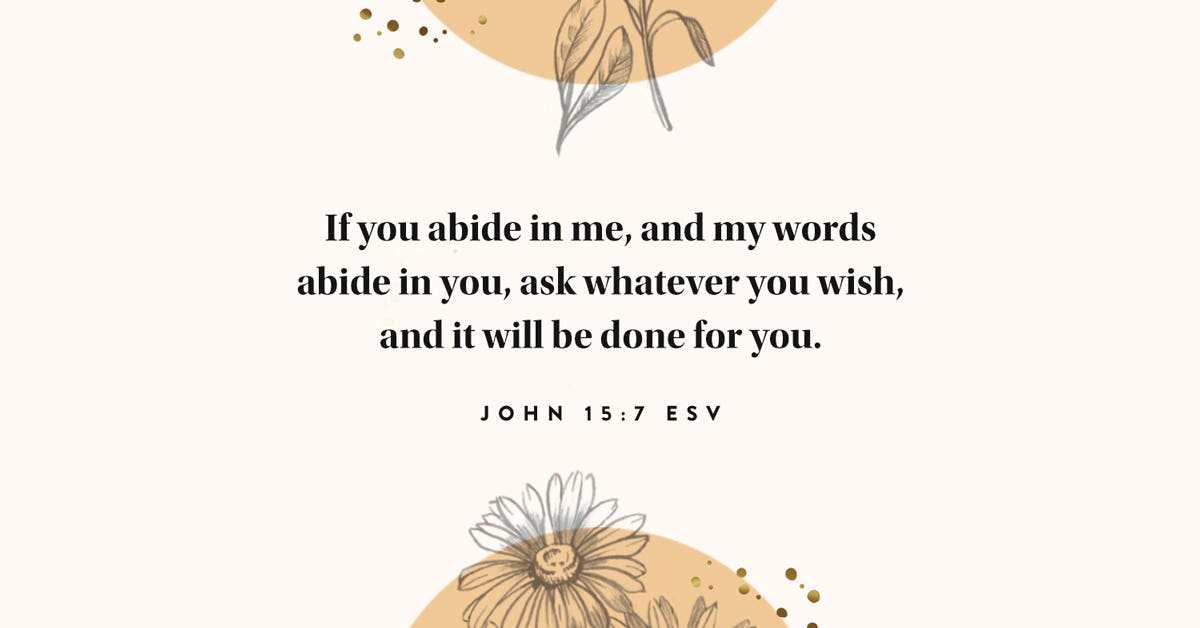 May you stay close to Him as you continue to allow Him to lead you. May you know that His presence is constant, and He has His very best planned for you. Although His timing may not be convenient for you, just know He's got something way better planned. Please don't mistake His patience for His absence. He hears you. He sees you. He's doing things that are seen and unseen. Your prayers are not in vain. Sometimes it's hard to focus on those things because—life. I want to encourage you today to meditate on this verse: "You will seek Me and find Me when you seek Me with all your heart" (Jeremiah 29:13 NIV). I challenge you to ask yourself, What can I do while I'm waiting? As I am preparing for what's to come? For it's known that His perfect timing is everything, and you can fully rest in Him, knowing you have the Best walking alongside you.
If you abide in me, and my words abide in you, ask whatever you wish, and it will be done for you. JOHN 15:7 ESV
God, thank You for growing me in ways I didn't know I needed. You've stretched me and taken me out of my comfort zone. When I started to get complacent, You began preparing me for a shift. A new beginning with new opportunities. You couldn't leave me the same, and for that I'm thankful.
This is an excerpt from 100 Days of Living Deeply Rooted by Sopha Rush – a new devotional journal now available on DaySpring.com. Shop all books, journals, and devotions from DaySpring here.