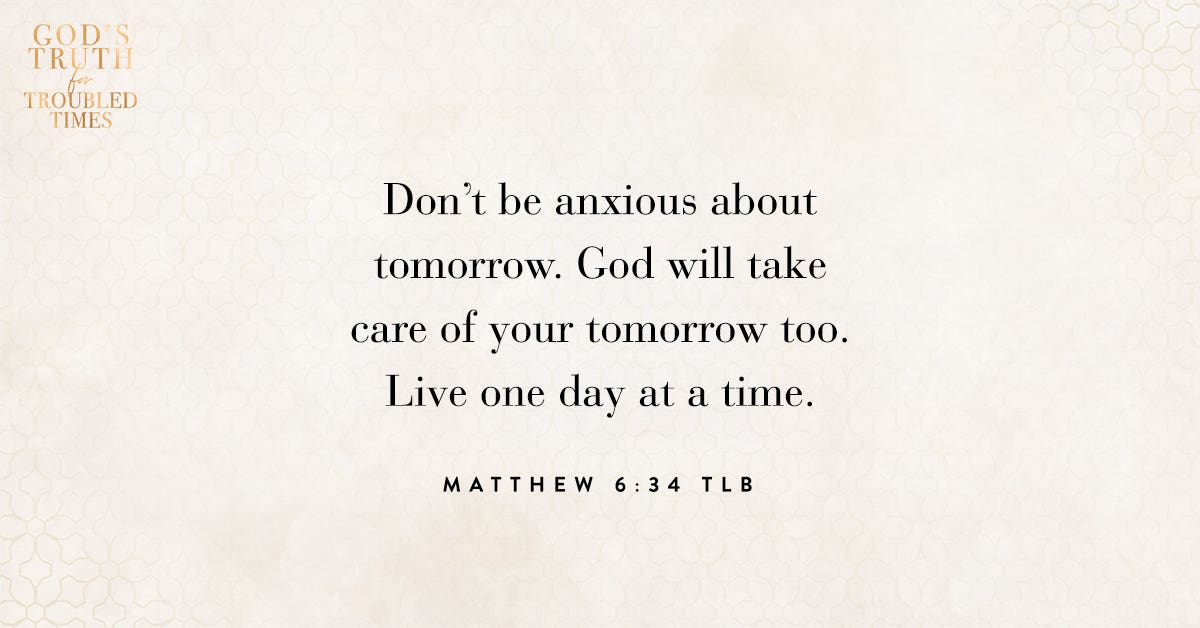 Don't be anxious about tomorrow. God will take care of your tomorrow too. Live one day at a time. (MATTHEW 6:34 TLB)
One morning I received a very large and unexpected bill that completely rocked my world. I quickly sat down, melted down, and broke down into tears. I imagine most of you reading this can identify. We all come to times and circumstances when the words don't be anxious don't register very well – it seems impossible not to be. Personally, I don't rush into panic mode often or easily, but even I have my moments. And even though I'm very familiar with Jesus' words saying not to be anxious about tomorrow, what do you do when a bill you can't pay or a need you can't fulfill is in a not-so-distant tomorrow?
Well, the answer plainly lies in the words that follow: Live one day at a time. Even better, live on step at a time. I like the way Thomas Carlyle puts it: "Our main business is not to see what lies dimly at a distance, but to do what lies clearly at hand." Tomorrow is a distance just far enough away that we can't see between where we are to keep our steps, keep our thoughts, keep our actions, and keep our belief in God, with the hope and faith that what we do today will benefit into the next. Then, if anything more is needed for tomorrow, God promises to provide it (see Isaiah 58:11 CSB).
So, what does living in today mean? It means making a list of what you do have control over and committing to doing it. Then making a list of what you don't have control over and entrusting it to the One who does. That "entrusting" part may have to be done numerous times a day, but I don't think God minds. He just wants us to keep trying and keep believing one day at a time.
Lord,
I trust You, and I entrust all that I can't control to Your loving hands. You make a way when there is no way, and I believe You will do this for me now. I love You and thank You for peace that comes when I rest and trust In You.
In the power of Your name I pray. Amen.
This is an excerpt from God's Truth for Troubled Times by Lisa Stilwell - a devotional book now available from DaySpring publishing. Learn more about this book, or shop other books & devotionals from DaySpring.