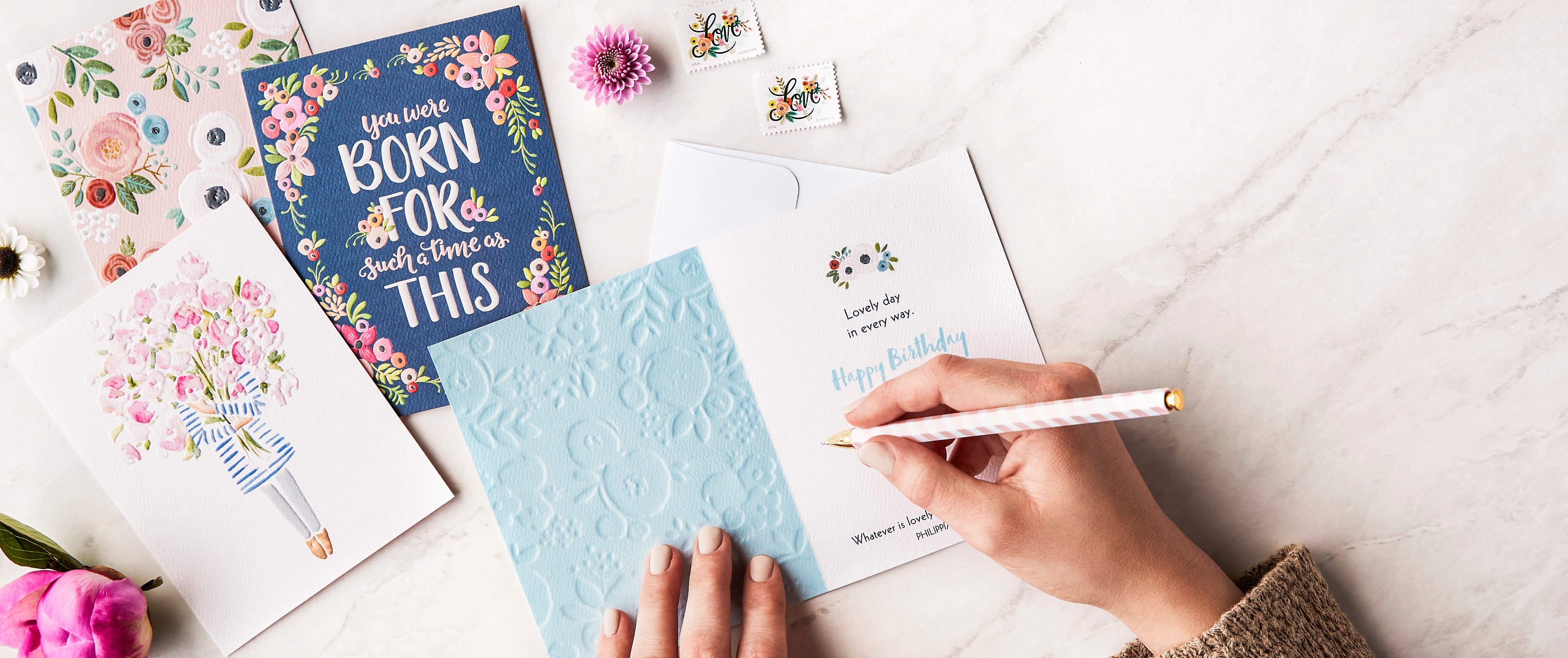 In the age of emails, texts, and DMs, everyone truly appreciates receiving a handwritten letter. That feeling of connection, of holding a card sent to you from a loved one, is irreplaceable by technology.
April is National Card and Letter Writing Month — which makes it the perfect opportunity to reach out to someone by mail! Share a smile with an old friend, celebrate a loved one's accomplishment, or spread God's good word.
How To Write A Letter
To format your card, start with writing the date or just the year on the top right corner. That way, if your recipient keeps your card, they'll remember when it was from when they revisit it.
Then, add your salutation on the left side of the right panel — the edge along the card's crease. If your card opens bottom-to-top as opposed to right-to-left, you can either start your letter all the way at the top if you have a lot to say, or you can start on the bottom half right below the crease.
Your salutation can be traditional, as in "Dear Friend," or it can be more casual and begin with a "Hi" or "Hey." You can also simply start with your recipient's name or nickname.
Then, just write! Writing out a card or a letter can seem intimidating. But writing the perfect card isn't that difficult when you follow your heart! Whoever you're writing to, think about what you love about them and what would make that person smile. Share a piece of scripture, draw a picture, or add stickers. Remember your goal: to spread joy!
Finally, be sure to sign off. This goes at the bottom right of your letter. Your closing can be anything from "Love," to "Warmly," to "Sincerely," — whatever feels right based on your relationship. Then, sign your name.
Put your card into an envelope and address it to your recipient right in the middle of the front. Add your return address (in case it's undeliverable) on the top left, and don't forget a stamp for the top right!
Letters For Sharing God's Word And Prayers
As Christians, we are called to share God's Word and His love with our friends, family, and neighbors. One great way to do this is in a card or a letter!
When you send a friend a letter, include a prayer for them. Let them know what you're praying God will bring to them or how you're asking God to support them, and tell them that you thank God they're a part of your life.
You can also share scripture passages that either remind you of the person or you think will speak to their needs. Perhaps your loved one could use some advice and you know just the right Bible passage to share. Or maybe a certain psalm brings you joy, and you want to pass that feeling along. A letter is the perfect place to share these.
Make sharing God's word even easier with one of our Prayers To Share books. These themed collections feature beautifully decorated tear-out pages, each with its own prayer, Bible verse, or meaningful quote. Find the perfect one for your loved one and include it in your card. When they receive it, they can hang the Prayers To Share page on their fridge, their desk, or another place to keep it on their mind.
Sending Cards To Strangers To Spread Joy
If you feel inspired to send even more letters and cards this month, there are many organizations that collect and pass along cards to those in need. Thousands of people around the world sadly don't have a community of support, so something like a handwritten letter that shows someone cares is sure to warm their hearts. Order a book of encouragement postcards or choose an assortment of boxed cards and be prepared to write!
Here are a few organizations for which you can volunteer to write letters:
The Letter Project

is a faith-based non-profit that sends "letters to girls around the world who are in need of extra love and support."

Love For Our Elders

is on a mission to "fight loneliness with love" by sending letters to senior citizens feeling isolated in senior communities.

The World Needs More Love Letters

is a global organization "using the power behind social media to handwrite + mail love letters to people in need around the world."

The Braid Mission's Cards of Hope

sends cards to children in foster care "to make sure they know they are remembered and loved."

A Million Thanks is a non-profit organization that "provides support and appreciation to our active and veteran military men and women."
You can also write to a member of your church who needs support and love. Ask your pastor, priest, or someone in your church office if there's someone you can encourage with a letter. If there is a church member who is homebound, lonely, sick, or hospitalized, they're sure to appreciate a thoughtful note.
Greeting Cards For Every Month
Once you get into the habit of writing cards and letters this month, keep it up! There's always a good reason to send a card. From holidays like Mother's Day and Christmas to occasions like birthdays and graduations, DaySpring has the perfect card for every celebration.
Be prepared for any time you need a card with the DaySpring Greeting Card Organizer Box. The box includes 24 individually-wrapped DaySpring cards for eight different occasions and space to store more, along with dividers to keep your card collection organized. Plus, you can choose from three stylish prints on the cute envelope-shaped box!
DaySpring Boxed Cards are a great way to stock up on bundles of greeting cards for all sentiments, joyous and sympathetic. We also offer blank note cards and stationery so you can send a note for any and every reason.
Whenever you'd like to send a care package, a holiday card, or a simple hello to a friend or family member, you can be sure you'll find the perfect card and thoughtful gift from the wide selection at DaySpring.