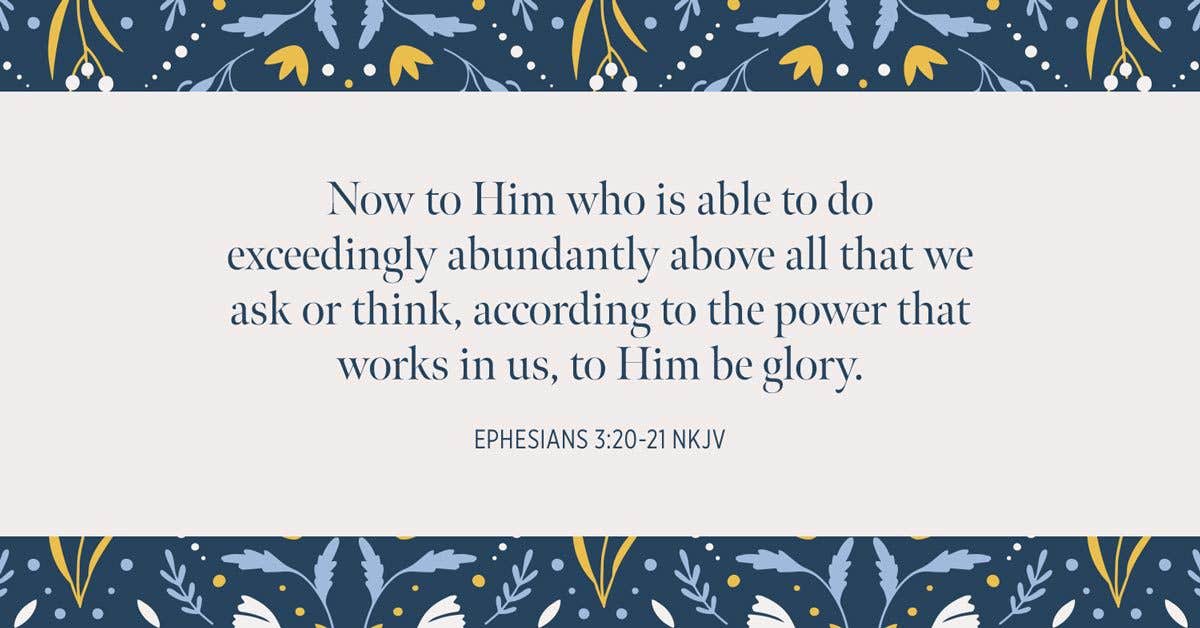 Now to Him who is able to do exceedingly abundantly above all that we ask or think, according to the power that works in us, to Him be glory. EPHESIANS 3:20-21 NKJV
What would we ask God to do through us, being confident that His life-giving power is actively working in our lives? The thing we should want exceedingly, abundantly above all else is to make a difference in the lives of others. Eternal blessings infinitely outweigh material ones, and there's nothing more fulfilling than turning our attention from ourselves to another person. Looking outward keeps us leaning on our Source of strength and provision. Being a continuous channel of love pouring into the lives of others is the surest way to experience every heavenly blessing we've been given in Christ. While in this world, He became our example of being constantly aware of the needs around us.
Going through life with tunnel vision and blinders on is the surest way to miss the greatest blessings God puts in our path. His most beautiful gifts come to us to flow through us. The more we give, the more we're given. "What happens when we live God's way? He brings gifts into our lives, much the same way that fruit appears in an orchard—things like affection for others, exuberance about life, serenity" (Galatians 5:22 The Message).
Make my life a wealth of love for people, Lord. Let me always be a useful, willing vessel.
This is an excerpt from In This Together: 90 Devotions on the Book of Ephesians – a devotional now available for pre-order on DaySpring.com. Shop all books, journals, and devotions from DaySpring here.