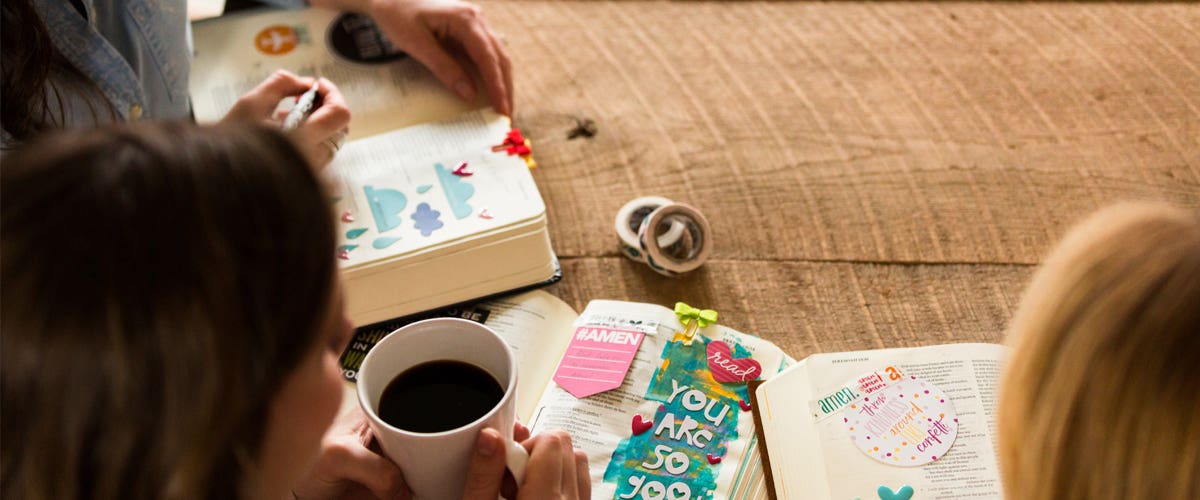 Quick question: when is the last time you felt like you? It's so easy to get caught up in all the responsibilities of being of a mother, wife, aunt, grandmother, children's church leader, home room volunteer, bake sale coordinator, co-worker, tutor and mentor. So easy, in fact, that many times we moms find ourselves spending every last drop of energy we have on the people around us...it leaves little room for self-reflective activities for moms themselves. We tend to lose sight of who we are, what makes us laugh, what makes us happy, what brings us joy and Who fills us up.
Now picture this—a simple Mom's Night Out or Mom's Day Out—four hours, no kids, your closest mom friends, stickers, paint, stamps, pens, washi tape, clips and most importantly - the beautiful, loving Words of our Father in heaven. It's a time to breathe, to be you, to finally feel understood, to rest at the feet of God while soaking in His Word.
At DaySpring, we want to help you experience this much-needed down time. Why not reach out to your mom friends and ask them to join you for a monthly Bible journaling night? Or as you meet local moms through church events, form new bonds by extending simple invitations. You can also have a girl's night out with your adult or teenage daughters. Bible journaling makes for wonderful mother-daughter bonding activities. You just never know what can come from a fun night with special women who are studying the Word of God while letting their creative juices flow. It could be exactly what your group needs.
So, set the date, invite your friends and get started on your Bible journaling journey. You won't regret it.
Want to learn more about Bible journaling and Illustrated Faith? Check out these related articles:
7 Bible Verses Perfect for Journaling
How to Host a Bible Journaling Girls' Night
Looking for more inspiration? Check out our Devotional Library and be sure to sign up for our e-newsletter to receive free articles, updates from our Ecard Studio as well as exclusive deals.