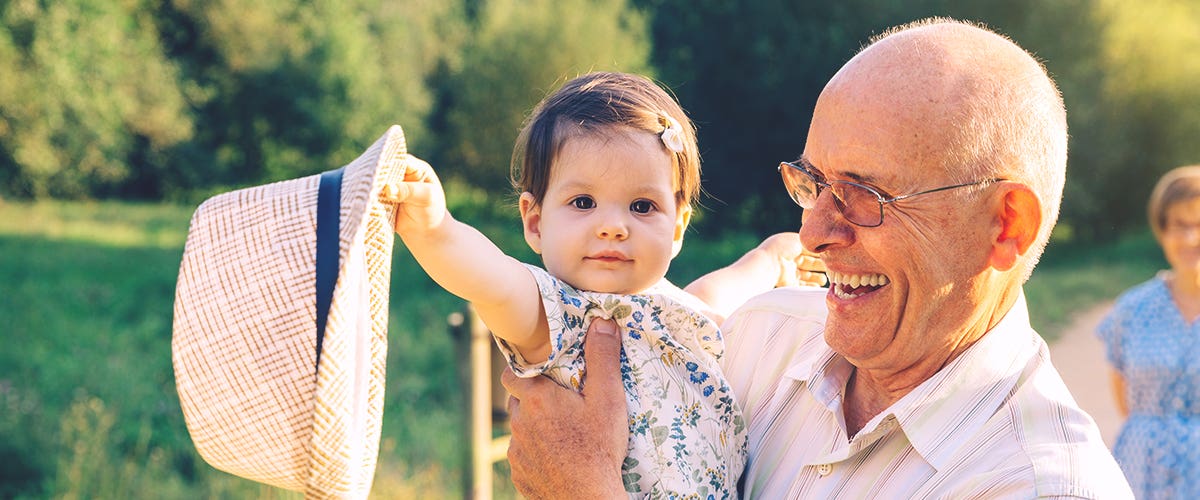 God blessed me with two very different grandmothers. One whimsical, affectionate, with an instinctive understanding of how to manage children. The other a poised professional woman who encouraged me to take pride in my work. One taught me to live for the moment; the other to plan strategically. One instilled in me the ability to dream big; the other the discipline to achieve great things. I loved them both dearly.


My mother's mother had 29 grandchildren and yet, she was able to make each of us feel special. She approached altercations with a smile. To one she would say, "You're much too kind to treat anyone badly so I know you didn't mean to hurt your cousin." To the other, "You're such a beautiful, strong girl. I'm sure you can find it in your heart to forgive your cousin." When we arrived in large groups for cousin weekends, we knew we were going to have fun—even doing chores. Grandma's approach was quite effective. "When it comes to dusting," she would say to me with a kiss and hug, "you're the best." Who wouldn't be eager to do her bidding?


My father's mother lived too far away to visit regularly. When we did spend time at her house, we were expected to be on our best behavior. Grandmother wrote beautiful letters for our birthdays. Her handwriting was long and elegant; her words filled with praise for each accomplishment. "There is no limit to what you can do, what you can be, if you work hard," she would tell me.


Grandparents hold a special place in the lives of their grandchildren. And, this unique connection allows grandparents the opportunity to impact the lives of their grandchildren in a positive and long-lasting way. Deuteronomy 4:9 CSB gives us this command, "Only be on your guard and diligently watch yourselves, so that you don't forget the things your eyes have seen and so that they don't slip from your mind as long as you live. Teach them to your children and your grandchildren." This year, Grandparents Day falls on September 12, which also happens to be the National Day of Encouragement - how fitting! As this special time approaches, let's take a moment to consider some "teaching" opportunities to foster that one-of-a-kind bond that only takes place between grandparent and grandchild.


1. Be yourself. There is no boilerplate for grandparenting. Just keep it real; do what comes naturally.


2. Share your hobbies and passions. If you're a gardener, show them how to plant seeds and pull weeds. If you're a knitter, loan them some needles and demonstrate. They won't all be interested, but it can become a wonderful shared activity for those who do.


3. Tell stories. As a grandparent, you're in a perfect position to share family history and traditions. Stories create a captivating way to do that. For example, you can portray great-aunt Lucille as the character she was rather than simply a name on a family tree. Stories also lend themselves to valuable life lessons. As you recall them, write your stories in a journal. When Grandparents Day comes along, not only will you be ready to share but you will have created a permanent record to be treasured for generations.


4. Invest your time. Children need a lot of attention as they grow, but parents are often so busy covering the necessities they don't have time to give. It doesn't have to include a big expense. Just being together is enough. Showing interest and listening are the keys. You'll enjoy it just as much as your grandchild does.


Being a grandparent is a great privilege and a source of endless joy and satisfaction. Let's pray this prayer together, a prayer of blessing for grandparents everywhere and the grandchildren they love so dearly.


Dear Father God, thank You for the blessings that come along with being a grandparent. It's a bond of enormous strength, binding together multiple generations. Show us how to relax and enjoy our time together. Thank You for showing us how to respect boundaries, dispense wisdom, and express our love in a creative way to each of our grandchildren. We praise You, Heavenly Father, for Your promise in Proverbs 17:6 CSB, "Grandchildren are the crown of the elderly." Amen.


Check out these related articles:
5 Ways to Celebrate Grandparents Day
Watching My Granddaughter Walk Down the Aisle
Cousin Camp: Making Memories for Your Grandchildren
Looking for more inspiration? Browse our entire Devotional Library and sign up for our e-newsletter to receive free articles, updates from our Ecard Studio as well as exclusive deals.