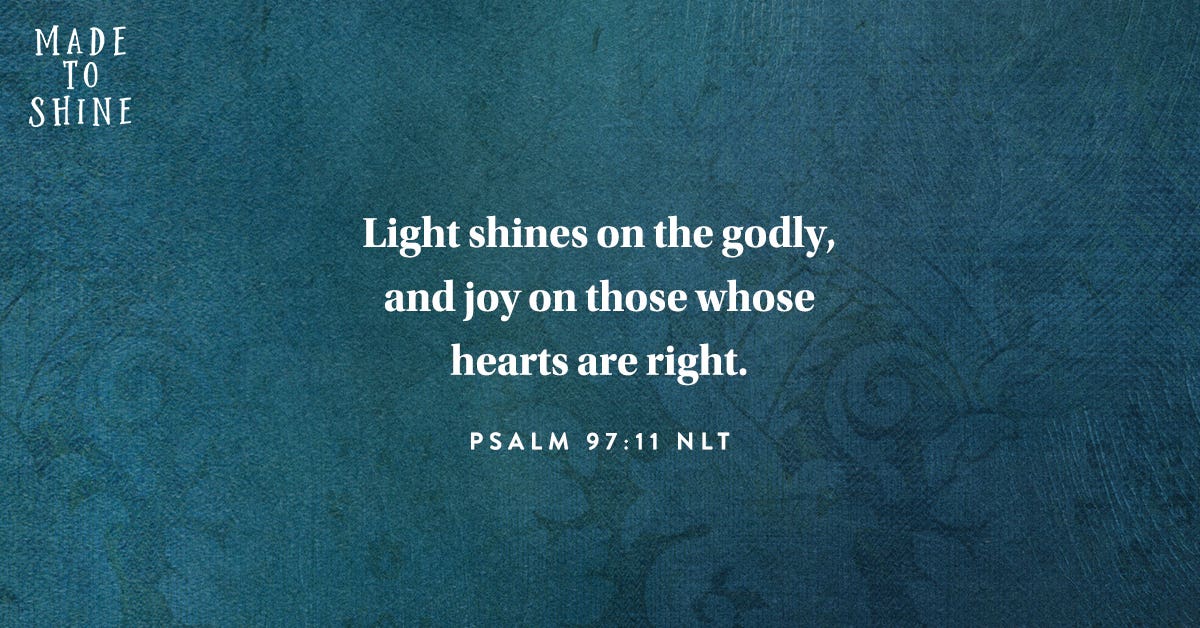 She had read a vast number of the parenting books on the market but was still struggling with getting her strong-willed son to obey with a joyful heart. More often than not he would consent and eventually obey the command given to him, but there was a permanent scowl attached to his small face. She exhaled deeply and wondered what to do. She knew that in his underdeveloped mind he was thinking: I'm technically doing what you asked of me, so why does it matter what my attitude is? But to her it mattered a great deal. It was a heart issue.
Days later she was meeting with her Bible study group. The conversation turned to the importance of our attitude as we follow Christ. The Shepherd said that He would lead us in paths of righteousness, but He never said He intended for us to come along with our arms crossed and our lips turned out in a pout.
A light bulb went off in her heart in that moment as she remembered the Scripture in Psalm 97:11 NLT:
Light shines on the godly, and joy on those whose hearts are right.
She both surrendered her attitude and asked for guidance on how to better lead her son into obedience.
Just as she would prefer that her son have a joyful heart as he follows her instruction, Jesus prefers the same from us. He wants our hearts to be right first and foremost, knowing that only then are we in a position to receive His blessings.
That doesn't mean that the path will be easy. In fact, living a godly life takes a lot of self-sacrifice. But along that path we find a life of joy and light.
Jesus, You are the Good Shepherd who loves us unconditionally. Yet You desire for us to walk in obedience to Your commands with a joyful heart. Help us to get our hearts right and let Your light shine on us always.
This is an excerpt from Made to Shine by April Rodgers – a devotional book released by DaySpring publishing. Learn more about this book, or shop other books & devotionals from DaySpring.