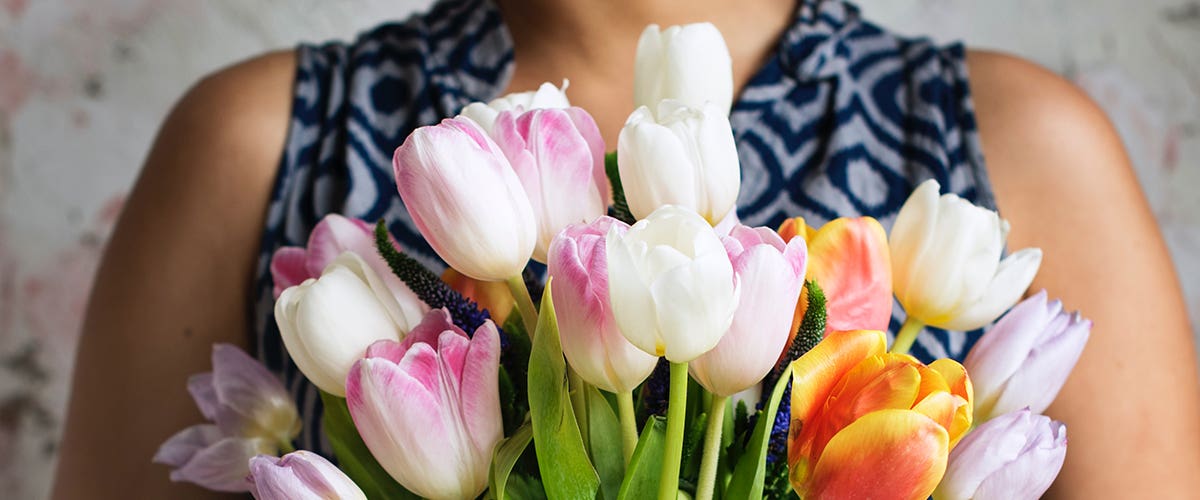 This article was originally published on DaySpring.com in honor of Ministry Appreciation Month in October of 2017. Though live speaking events aren't happening around the country at the present moment, we still believe that this message will resonate with Christian women today.
I recently got invited to speak at a casual event, just an opportunity for women in a particular city to come together for an evening of conversation and connection. And, yes, of course dessert. Even so, at the last minute I still considered giving in to my fear. Letting someone else do it. Handing the microphone right over.
But then I remembered one little phrase: you're not the only one. You see, I had been telling myself that the other women at the event would have it all together. Their hair would be freshly highlighted, lip gloss perfectly applied, and their lives (as well as kitchen cabinets) would be in proper order. They would show up overflowing with good cheer and never once think about hiding behind the cupcake tower. Unlike me.
Thankfully, Jesus had been showing me that we are all more alike than different. We are all broken. We are all beautiful. We are all in need of grace. We are all glory reflectors. We are the paradox people.
So I accepted the invitation to speak and now the big moment has arrived. I step away from the cupcake table and up to the microphone so I can share my heart with the women who have been brave enough to show up too. I say something like this to the crowd:
Look around this room.
You're not the only one who has struggled with an addiction.
You're not the only one whose heart has been shattered by a divorce.
You're not the only one who is worried no one will like you.
You're not the only one who wonders if God is still listening.
You're not the only one who desperately needs a night away from dirty laundry and loud children.
This is what community means—it's saying even if the specifics of our lives and stories are different, we both understand what it means to be human and we choose to do that with each other rather than apart.
I also share that I've begun saying "You're not the only one" in another way too. I have said it to myself with capital letters, "You're not the Only One." In other words, "You're not Jesus." Last time I checked no one else on the planet is either.
This is excellent news because it means we don't have to save the world. We don't have to be perfect. We don't have to take care of everything and everyone all the time. There is only One who can do those things, and he's quite good at them. It also means there is Only One who is truly deserving of our glory and our honor and our praise. Our lives are not about us. They are about Him. Yes and amen.
I eventually step on the stage to hug necks and, of course, find the coffee and cupcakes again. The frosting alone is worth not letting the lies and fears win.
So just in case we're facing something hard or scary in our lives today, I'll whisper the truth one more time: you're not the only one. And the only One who can do the impossible is always with us. We've got each other too, the whole unseen sisterhood stretched out through history—an imperfect and unstoppable force.
This post is an excerpt from bestselling author Holley Gerth's book, Fiercehearted: Live Fully, Love Bravely. Find out more at fiercehearted.com.
Looking for more inspiration? Check out our Devotional Library and be sure to sign up for our e-newsletter to receive free articles, updates from our Ecard Studio as well as exclusive deals.