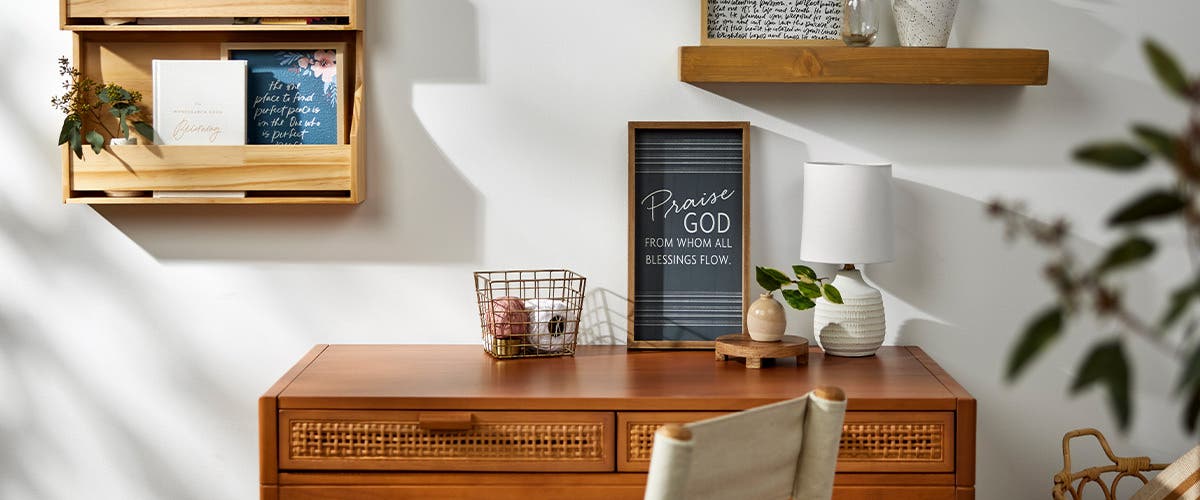 When I moved back to Nashville in July 2021 from Northwest Arkansas, I knew I needed a mindset shift when it came to my home. After moving to Arkansas in March 2020 and being quarantined in my apartment by myself for the better part of two years due to Covid-19, home no longer was synonymous to me with comfort, rest, or peace. As someone who has always enjoyed being at home, and who now works fully from my home office, I realized it was important to me that my home felt like a haven, a place of safety and a refuge. It was time for a reset, a time to create the sanctuary my soul longed for.
So how did I approach seeing my home as my sanctuary? The first thing I did was pray. I walked around my 600 square foot apartment every morning, asking God to protect my home and establish it as a place of peace. I desired peace not only for myself, but for those who came through my door: old friends, new friends, family, and even the maintenance man when he came to fix my leaky sink. At first, moving back to the city after living in the country for the first time ever was anxiety producing for me – I wasn't used to the sirens, the soundtrack of traffic and horns and shouts, and the hustle and bustles that surrounded me. I asked God to be my comfort in my apartment, to help me feel at ease where I was. It became a morning routine, praying and listening to worship music to start the day in my home. This ended up being a wonderful habit of daily self-care, and a way to focus on my mental and spiritual health. And after praying every day for nearly six months…I realized my home had truly become my haven. When I came home from running errands, or spent the workday in a busy coffee shop, or even had dinner with a friend, every time I opened my front door I breathed a sigh of relief. I feel God's presence with me at home, and I know that there I am safe, and I am loved.
The next thing I did to establish my refuge was to organize my apartment in a way that brought me joy. I struggled with depression and anxiety when I lived in Arkansas, and I decided to look at each piece of wall art, each knick-knack, each throw pillow, blanket, and book I brought across state lines. It sounds extreme, but I realized a lot of these material objects were pulling me back to that dark time, reminding me of when I longed to be anywhere but home. Taking inventory of the items in your home that may carry negative memories for you and donating or selling those will give you the opportunity for a fresh start – a renewed haven. When I thrifted, bought, and found items that brought a smile to my face, were serene and peaceful colors, or just felt like me, my journey to my home as a haven felt like my journey to coming home to myself.
The last thing I intentionally did to create a sanctuary within my home was to invite others in. I don't have a very big apartment, I don't have the money or time to cook lavish meals, and I have a feisty calico cat that does attack people sometimes. But I also knew that, after being alone in my old apartment for a long time, inviting others in would bring a new rhythm, energy, and joy to my space. It isn't always perfect – sometimes I'm tired and a little crabby when a new friend comes over to eat dinner together, sometimes I don't make enough food and we have to run out to get more, sometimes we don't feel very talkative and scroll through Netflix instead. But the Lord has met me there with each dinner, each movie night, each crafting evening. When I open my home, laughter, community, and friendship are fostered there.
If you'd like to make your home a sanctuary, start by reconnecting with the Creator. Our God is a God of peace, comfort, and rest. When we seek Him in our desire for our homes to be places of peace, He will meet us there. Your haven ultimately finds its foundation in Him, a refuge for us all. Spending time in this haven, a home that feels like peace and rest, will be a wonderful way to take care of yourself, and a beautiful place to connect with your Heavenly Father.
3 Ways to Begin to Establish Your Home as a Sanctuary
1. Pray Ask God for your home to be a place where you feel at peace, safe, and free to be yourself. Make this prayer a rhythm, an anthem, and you will see how your feelings on your home transform.
"The Lord hath heard my supplication; the Lord will receive my prayer." – Psalm 6:9
"Evening, and morning, and at noon, will I pray, and cry aloud and he shall hear my voice. He hath delivered my soul in peace from the battle that was against me: for there were many with me." Psalm 55:17-18
2. Intentionally decorate: Donate, sell, or give away items that might carry negative memories or just don't feel like you. Use your décor as a way to foster a sense of calm.
"I will both lay me down in peace, and sleep: for thou, Lord, only makest me dwell in safety." – Psalm 4:8
"But be not thou far from me, O Lord: O my strength, haste thee to help me" – Psalm 22:19
3. Invite others in: Fill your home with life, laughter, and the energy of others. It doesn't have to be perfectly planned or amazingly executed for it to fill up your heart and remind you that your home can be a solace for not only yourself, but also for others.
"Let, I pray thee, thy merciful kindness be for my comfort, according to thy word unto thy servant." – Psalm 119:76
Find peace, comfort, hope, strength, gratitude, rest, joy, grace, and renewal in the word of God. You can shop home decor and other resources to help make your house a sanctuary from DaySpring today.