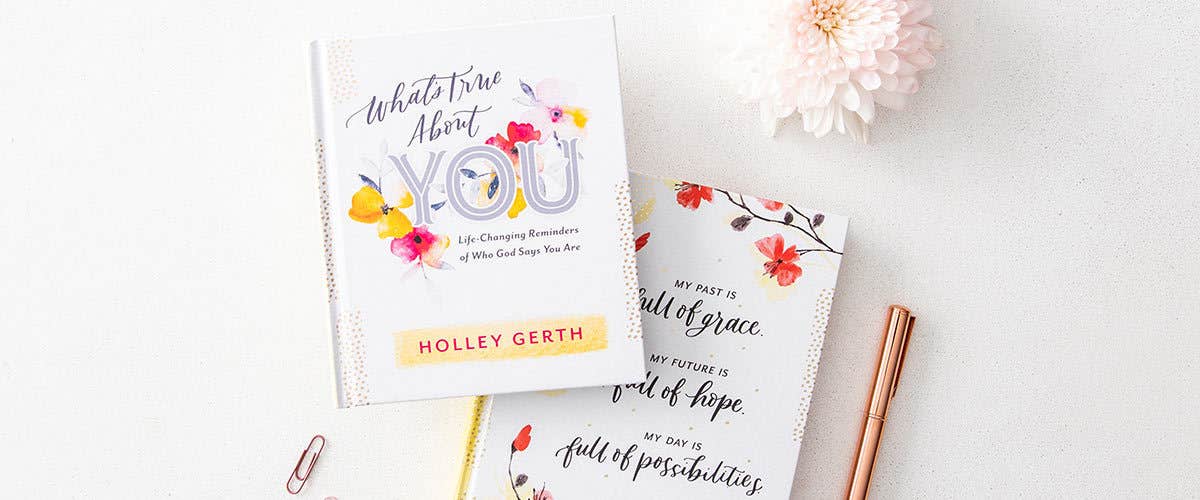 Below is an excerpt from What's True About You written by Holley Gerth, a longtime friend of DaySpring for more than 20 years. This book was carefully crafted with you in mind – to bring you hope, greater confidence, and life-changing encouragement.
I cry out to God Most High, to God who will fulfill His purpose for me. (Psalm 57:2 NLT)
God, our lives are not random or by chance. We are created and called by You. When it seems our plans go wrong, when our circumstances don't make sense, when we can't see what's next, remind us that You are in control, and there is greater purpose behind it all. Give us the courage to trust You, to place ourselves in Your hands even when we don't understand.
Amen.
The question, "What is my purpose?" comes to our hearts in unexpected moments during our lives. We long to believe our time here on earth is significant. And we often look to people or positions to help us fill the void that lingers as we search for answers. But still the question in our souls remains.
This morning two verses caught my attention: "The Pharisees and the experts in the law rejected God's purpose for themselves." (Luke 7:30 NIV). In contrast, "David had served God's purpose in his own generation" (Acts 13:36 NIV).
What's the difference? The Pharisees and teachers of the law insisted on living their way. By their rules. Their standards. Their righteousness. But David was a man who chose to live God's way. The Pharisees were focused on appearing to do big things for God. David was intent on spending every little moment of life with God.
In other words, it turns out our purpose is actually a Person. Our reason for being is God Himself. Living with purpose simply means living with God. We don't have to find our purpose someday, somewhere. Instead we can simply love the One who loves us right now, right here.
Want to read more? Grab What's True About You today. It's full of Truth-filled pages that will bless your heart and remind you that God cares about you – your desires and disappointments, your challenges and dreams. For more ideas and inspiration, check out our article library.
Looking for more inspiration? Browse our entire Devotional Library and sign up for our e-newsletter to receive free articles, updates from our Ecard Studio as well as exclusive deals.