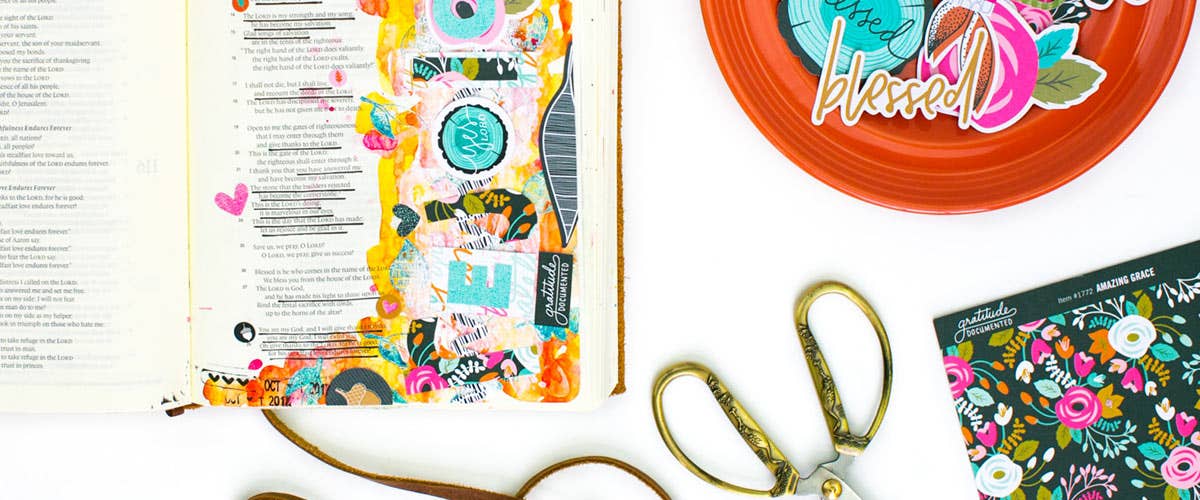 Have you ever felt like a hot mess? Felt like everything around you is a mess? What do you do? I used to stop EVERYTHING and cleanup every bit, tidy it up, and put it all in hyper order. If I couldn't clean up a relationship mess, a health mess, or a situation mess, I would clean my house spotless, tear apart my pantry and reorganize, go through my closets and color code every piece of clothing, sharpen my pencils, make charts and lists, and put dividers in my art carts.
But lately, God has been teaching me to just stop. Maybe let the mess remain and seek Him first. I confess it hasn't been by choice. Honestly because of limitations, I couldn't go into hyper drive and organize everything in sight. Here's what I found though, when I seek Him first, the mess loses it's grip on my sanity. God's Spirit floods in, and I can even find myself praising Him in the middle of it all. My eyes shifted from the things of the world to the things of eternity.
I didn't start out this tutorial with this message in mind only pieces of it; but as I progressed through creating, I made a horrible mess of it. And then God started showing me all He is doing in my life. Teaching me to stop spinning and find peace despite what I see and feel. I am not grateful for messes yet (I still hope to return to a really organized, clean house one day); but I can find places of praise in the midst of the messes. I am learning to let go and let God. Keeping my eyes and heart dependent on Him for my well-being and not circumstances or things of this world. I think I am making progress in the Kingdom of God school.
Psalm 118:24
This is the day the Lord has made; let us REJOICE and be glad in it.
Let's journal truth friends!
Organizing Supplies: For those of you who are stampers, you know you can make any stamp water resistant by using embossing powder to "seal" the color in with a melted coating. I did not have embossing ink available to me but any "sticky" ink will do. I am using Versa Magic Multi-surface chalk ink and the new Illustrated Faith Gratitude Documented clear stamps for this journal entry.
I am creating an ombre effect with my stamping ink by using two colors.
Applying my first color, I did not ink the whole stamp with the dark color.
Next I added the lighter teal color. Stamping the image. Before moving on with additional stamps, I sprinkled on the embossing powders – a combination of clear and gold sparkles.
Moving the embossing powder off the Bible is a bit awkward but doable. Just tilt your Bible, sliding the Bible mat out and tapping off the extra sprinkles onto your mat. You can easily bend the mat to funnel the sprinkles back into your dish.
I arranged my clear stamps in a scattered pattern so I can use them as they are placed on the acrylic block each time. All you need to do is rotate the block for each imprint. You can see the second imprint here below the first.
Note: I recommend NOT leaving loose embossing powder on the pages in between stamps. Tap off the extra embossing powder each time. The embossing powder left on the page after you "tap off" will be secured to each pigment of the impressions and won't interfere with additional stampings. I did not heat the embossing powder until I was completely done stamping.
I like to keep my clear stamps free of pigment so a quick clean with a baby wipe does the trick when I am done stamping. I used a special embossing heat gun to melt the sprinkles into the ink of the stamp impression. You can see the impressions change as heat is added and the crystals melt. Next I washed my premixed yellow watercolor on the page. The areas with embossing resist the watercolor! A bit of orange. I wish I had left my water coloring light handed but, alas, not my strength. It's pretty but ends up being a problem when I want to add my lettering.
I started by cutting out rectangles. I lined them up to see if the size would fit. Nope! I trimmed them down and started cutting out my letters. I think what I love most about this method is no two letters will be the same. And my letters will never look like yours. Totally personal.
When I got impatient with the air dry method of my watercolor, I risked using my craft heat tool to dry the remaining wet spots. It wasn't too hot so it did not interfere with the embossing technique.
But…. then I realized, the letters don't stand out against my watercolor background. I wish now I had made a two page spread but I was too committed to my initial idea. Sadness. Enter, brilliant Heather Greenwood and her "just add white paint".
Alas… I was still not satisfied with the letters on top of the area and even a bit sad that I had covered up the leaves so much.
So what's a girl to do?
Bow her head and pray, "Lord, what do you want to show me in this mess?"
I grabbed ALL my supplies, tried not to wish I had just used two pages and left my watercolor area alone. I started layering and playing. Reminding myself the whole way:
We are to look forward as His children, not back. This isn't about the finished page. This is about Jesus.
Then I thought of the difficult circumstances we find ourselves in… Scripture talks about praising Him in ALL circumstances.
Circumstances and people are layers and layers of mess, color, and texture. I am layers of mess, colors, and textures; but when I seek Him first, allow the Spirit of God to come in, His voice rises to the top of the layers and messes in praise and trust.
Yep, not about the finished page!
I rearranged and rearranged. Thanking Him for loving me in my mess and for teaching me to be ok with messes. To let go and let God. Praising Him for making even the ugly messes rise up in thanksgiving.
I used a clear craft glue to secure it all down because there are lots and lots of layers. Tab. Umm…. favorite part. Gratitude Documented does not disappoint friends. But which one? More die cut pieces and stickers. Love to trim the stickers and pieces so they run off the page. Underlining all the words the Lord illuminated for me in the passage. Oh…. but that tab area. And little stickers next to special truths. Date stamp.
Layers are beautiful things friends because they hold special meaning to the artist. Messages from the Master Creator that only you understand. They may mean little to others but the message to the artist is priceless.
And the mess that is me — the mess that is rejoicing in the midst of each moment — even the ugly ones rises up in praise!
As always, please share your messes, Bible journaling pages, stories, and heart with me by tagging me on Instagram @designsbyamybruce. Nothing makes my heart sing more than being part of your creative process. I love our Illustrated Faith Family and so does the Lord.
Looking for more Bible Journaling resources? Check out our entire selection of journaling Bibles and supplies. And, for more inspiration, view the Bible Journaling category of our devotional library and sign up for our e-newsletter to receive free articles, updates from our Ecard Studio as well as exclusive deals.