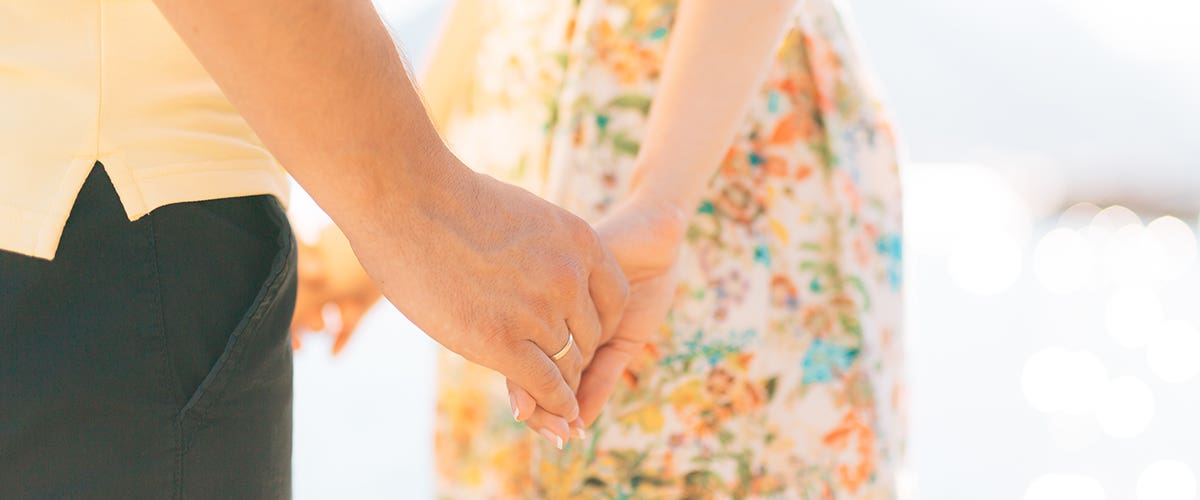 You've probably heard about the different traditional gift "themes" that represent each year of a wedding anniversary. You might even know a few of the most popular traditional anniversary gift themes offhand, such as silver for your 25th anniversary, rubies for your 40th, and gold for your 50th. But, have you ever known anyone who actually followed it? I've always loved the way my friend, Kristen, and her husband give each other traditional gifts on their anniversary—on their first anniversary he gave her a Bible with her married name on it, the second year he bought her a cotton dress to wear for their anniversary dinner. For their third anniversary, Kristen bought him a nice leather journal and she sent him an edible fruit arrangement for their fourth. After 15 years of traditional anniversary gifts, they're still going strong—and each year they have so much fun picking out a gift for one another. While the anniversary gift list provides a general gift theme for each year, they always have fun being creative and end up giving each other really meaningful and memorable gifts.
If you're stumped and looking to find an anniversary gift that's truly meaningful, we've got you covered! We've compiled what we call The Ultimate Year-by-Year Anniversary Gift List just for you. Wishing you a happy anniversary—and many more!
Year-by-Year Anniversary Gift Guide
First Anniversary - Paper
Write a love letter.
Buy a great marriage book or journal. Take time to sit down and write down some of the amazing, wonderful things about being together.
Second Anniversary - Cotton
If you're crafty, start a patchwork cotton quilt together made of your clothing. Add a square each year. One day it will be a great family heirloom.
Buy your spouse an article of clothing.
Third Anniversary - Leather
Shoes or boots.
Buy a leather-bound Bible and try to read through it together before your next anniversary.
Fourth Anniversary - Fruit/Flowers
Go to your local ethnic market to find exotic fruits to try together.
Dip some strawberries in chocolate—yum!
Fifth Anniversary - Wood
Our wall decor is the sweetest!
Buy some wood and build something together.
Sixth Anniversary - Candy/Iron
Buy your spouse their favorite childhood candy.
Chocolate is always a good idea.
Seventh Anniversary - Wool/Copper
Give your spouse a nice wool sweater.
Buy your spouse a copper key chain and have it engraved.
Eighth Anniversary - Pottery/Bronze
Go to a pottery studio and create a piece together.
Give your spouse the Mr. and Mrs. Gift set—complete with mugs!
Gift her a beautiful piece of jewelry.
Ninth Anniversary - Willow/Pottery
Plant a weeping willow tree together.
Fill a ceramic mug with his/her favorite candy.
10th Anniversary - Tin/Aluminum
Fill a cookie tin with memorabilia from your first 10 years of marriage.
11th Anniversary - Steel
Get your spouse a stainless steel travel mug and have it personalized to read "Best Wife Ever"/ "Best Husband Ever."
12th Anniversary - Silk/Linen
Buy your husband a silk necktie/scarf or linen shirt/dress.
Get these cute linen hand towels for your bathroom.
13th Anniversary - Lace
Make a batch of Oatmeal LACE cookies for your husband.
Splurge on a piece of beautiful antique lace.
14th Anniversary - Gold Jewelry
Order a small cake from your local bakery and have it decorated with gold.
Buy her a piece from the DaySpring Jewelry collection.
15th Anniversary - Crystal
Order a crystal paperweight and have it personalized with a sweet or funny message.
16th Anniversary - Coffee/Tea
Make a coffee date with your spouse and present them with a faith-filled mug.
Wake him or her for an early morning tea time.
17th Anniversary - Wine/Spirits
Write a wish or "toast" to your spouse and put it in a frame. When they see it each day, it will be such a nice daily affirmation of your love.
18th Anniversary - Appliances
Buy your spouse a really great coffee maker or another gadget you know they will enjoy.
19th Anniversary - Jade
Buy your spouse a jade plant for their desk.
Husbands, buy your wife a piece of jade jewelry
20th Anniversary - China
This is referring to dishware, but why not do something more adventuresome for your 20th?
It's a little unconventional, but take a trip to a large city and visit a China town—enjoy the people, food, and the culture.
Don't forget to buy a souvenir!
21st Anniversary - Fire
Surprise your spouse with a candle-lit dinner; afterwards, light a Chinese lantern and send it up in the sky.
22nd Anniversary - Water
Get out on the water in a canoe, eat at a restaurant on the water, buy an outdoor fountain to enjoy together.
23rd Anniversary - Air
Have a huge balloon bouquet delivered to your spouse or buy a bunch at your local grocery store.
Splurge on a sunset hot air balloon ride.
24th Anniversary - Stone
Order a custom garden stone.
Get a couple's hot stone massage.
Does your spouse enjoy gardening? Add some garden stones to his or her masterpiece.
25th Anniversary - Silver
Give your spouse a special keepsake necklace. We have beautiful options from Tim & Demi Tebow to help you Live Your Faith.
26th Anniversary - Art
Have a local artist paint a picture of you two.
Take art lessons together.
27th Anniversary - Music
Get tickets to a concert.
Decorate with lyrics from his or her favorite worship song with our Lyrics for Life wall décor.
28th Anniversary - Linens
Have fun redecorating your room or bathroom together.
29th Anniversary - Tools
Garden tools, home improvement tools, kitchen tools—the sky's the limit!
30th Anniversary - Pearl
With its pearl charm, this Wrapped in Prayer Necklace is perfect.
Take your husband out for oysters…hope you find a pearl in one of the shells!
31st Anniversary - Travel
Take turns planning a couple fun weekend getaways over the course of year 31.
32nd Anniversary - Bronze
Get a bronze door knocker engraved with your last name.
Gift her a beautiful piece of bronze jewelry.
33rd Anniversary - Iron
Wives, get your husband a monogrammed branding iron for the grill.
Husbands, buy your wife a beautiful monogram of your last name.
34th Anniversary - Food
Take a cooking class together.
Surprise your spouse with a trip to a restaurant they have wanted to try…but haven't yet.
Cook your spouse's favorite dinner as a nice surprise.
35th Anniversary - Coral
Buy a piece of coral-colored clothing or jewelry for your spouse.
36th Anniversary - Antiques
Go to a flea market or antique store together and buy a piece together.
37th Anniversary - Books
Read a book together - DaySpring has a large collection to choose from.
38th Anniversary - Blessings (some lists call this one luck)
Create a list of all the many ways God has blessed you through your sweetheart.
Surprise your spouse with little "blessings" throughout the year…
39th Anniversary - Laughter
Write your spouse an anniversary card reliving all the funny memories you shared over the years.
Make it a date—surprise your spouse by bringing home takeout and a funny movie to watch together.
40th Anniversary - Ruby
Take an Autumn trip to the Appalachian Mountains and visit Ruby Falls in Chattanooga, Tennessee.
41st Anniversary - Office/Desk
Have your spouse's office redecorated or get them a comfortable new desk chair.
Have some photos taken of the two of you and frame them for the office.
42nd Anniversary - Clock/Watches
A clock is a timely reminder after 42 years (sorry, bad pun!).
43rd Anniversary - Entertainment
Give your spouse tickets to a sporting event or concert.
If your spouse has been wanting to take up a new hobby, gift them with the necessary supplies.
44th Anniversary - Electronics
Buy your spouse an electronic picture frame and fill it with pictures of the two of you over the years.
Take your spouse to an electronics store and see what catches their eye—then surprise them by buying it for them.
45th Anniversary - Sapphire
Buy your spouse something sapphire blue.
Rent a sapphire blue convertible for the day and go cruising!
46th Anniversary - Games
Gift your spouse with a new game that requires only two players or break out some games that have been sitting on the shelf for years.
Make game night a part of your weekly routine.
47th Anniversary - Garden/Plants
Have your local plant nursery come spruce up your beds.
Find an older couple (maybe from your church) who are no longer able to garden—bless them with a beautiful potted arrangement that's easy to care for and thank them for being a wonderful example of lasting commitment.
48th Anniversary - Home Improvement
Find a family in need of a repair to their home and offer to pay for the work to be done.
49th Anniversary - Copper
Create a romantic atmosphere with string lights made from copper wire.
Have a one-of-a-kind jewelry piece made from copper, and have her initials engraved on it.
50th Anniversary - Gold
CELEBRATE!!! Have a 50th anniversary party, maybe renew your vows, and consider going back to the area where you had your honeymoon.
51st Anniversary - Photos/Cameras
Gift your spouse with a photo album full of photos from your life together and take a stroll down memory lane.
52nd Anniversary - Bath/Spa
Gift your spouse with some nice lotions, body wash, and perfume or cologne.
Consider getting a couple's massage at a local spa.
53rd Anniversary - Plastic
Give each other gift cards (they're made of plastic!) and go out shopping together.
54th Anniversary - Glass
An item like one of our beautiful candles in glass jars would be the perfect gift for 54 years.
55th Anniversary - Emerald
Buy your spouse something emerald green!
56th Anniversary - Day
Have your spouse write down what they would do on their perfect day…and then make it happen!
57th Anniversary - Night
Have a moonlit picnic and do some stargazing with your sweetheart.
58th Anniversary - Breakfast in Bed
Surprise your spouse with breakfast in bed served on this wood serving tray.
59th Anniversary - Charity
Make a weekly date to volunteer together at your church, the local hospital, or a local school.
60th Anniversary - Diamond
Take your spouse to a baseball DIAMOND and watch a game.
Husbands, buy your wife a piece of diamond jewelry she'll enjoy.
Remember: while it's fun to look at themes and come up with fresh, new ideas on how to celebrate wedding anniversaries, let's not forget to celebrate marriages all year round. Let's lift up our spouses daily through prayer, encouraging words and thoughtful actions.
Looking for more inspiration? Browse our entire Devotional Library and sign up for our e-newsletter to receive free articles, updates from our Ecard Studio as well as exclusive deals.