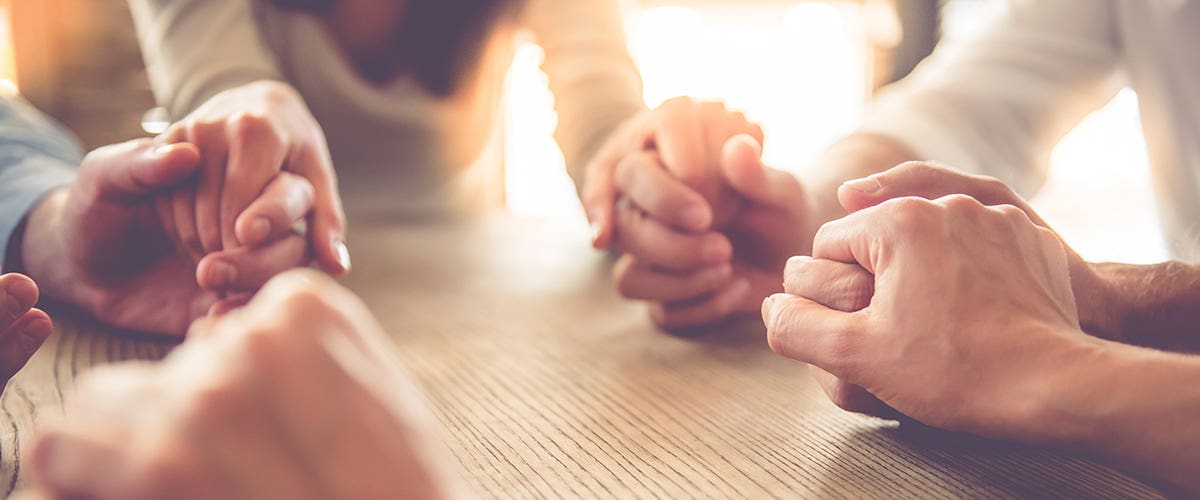 At noon the sky became extremely dark. The darkness lasted three hours. At three o'clock, Jesus groaned out of the depths, crying loudly, "Eloi, Eloi, lama sabachthani?" which means, "My God, my God, why have you abandoned me?"
Some of the bystanders who heard him said, "Listen, he's calling for Elijah." Someone ran off, soaked a sponge in sour wine, put it on a stick, and gave it to him to drink, saying, "Let's see if Elijah comes to take him down."
But Jesus, with a loud cry, gave his last breath. At that moment, the Temple curtain ripped right down the middle. When the Roman captain standing guard in front of him saw that he had quit breathing, he said, "This has to be the Son of God!
In the temple, the heavy thick veil separated the Israelites from God's presence, separating the Holy from the unholy. Upon the death of Jesus, the chasm between our Holy God and us was bridged. Now all mankind has the opportunity to come before the throne of God in praise and prayer. To be able to have access to God is an amazing privilege.
A few years ago, I was a stay-at-home soccer mom and wife of a High School basketball coach, living comfortably in suburbia. I could not have dreamed that, in a few short years, we would be selling everything we owned and moving with our three children to the dusty Sahara desert in Mali, Africa.
Before we moved to Mali, my heart was so heavy, troubled, and anxious about taking my three small children overseas, especially to an impoverished and unstable country. Through much prayer and crying out to God, asking Him to either close this door or give me His complete peace, He responded by washing me with His peace "that surpasses all understanding." (Philippians 4:7) As I prayed and begged for safety for my children, God gave me a dream of my daughter running down a dirt street with African kids her age. She was happy, laughing as her long curls were blowing in the wind. She was safe. You know, God didn't have to give me that dream or any ounce of peace, and because of who He is, I would have needed to obey Him. But He is loving and gentle, and He knew what I needed to take the next step. Over the next year, we were able to joyfully sell everything we owned and move our family to West Africa to serve the Lord with gladness and confidence, knowing this was His plan for our family. What a privilege it is to pray.
Living in West Africa is hard. The temperature in my kitchen often reaches 104 degrees as I prepare meals for my family, plus a few more often gathered around our table. Everything is always covered in a film of red dirt; floors, furniture, dishes, clean laundry hanging on the line. People of all ages line the streets begging for money. Driving is dangerous, and the chaotic traffic is bumper to bumper with the motorbikes constantly weaving in and out. The police often stop us for no reason except that we are not Malian. The darkness and the oppression can be overwhelming at times, but we can always pray, and in the middle of darkness and discouragement, He always lifts and encourages our hearts.
As soon as I drive out of my driveway, I start praying that the police won't see me, that I won't hit any people walking up and down the streets or the motos flying by my car. I pray for the blind man that we see begging on the same street corner every day, who is being led around by a young school-aged girl. I pray for the young ragamuffin boys who swarm our car at every stoplight, holding up their tin cans, begging for a coin. I pray against the lies that they believe, the chains that have them bound, and for God to do an absolute miracle in this city. What a privilege it is to pray.
When I share stories about living in West Africa, people often say, I couldn't do what you do. But let's be honest...I can't either. I am an introvert, and evangelism is at the bottom of my spiritual gift list. The thought of walking into someone's tiny, crowded home by myself, leading a bible study in their language, and eating mysterious food with my hands, sounds completely impossible, but God...
In 2 Corinthians 12:10, it says, "For the sake of Christ, then, I am content with weaknesses, insults, hardships, persecutions, and calamities. For when I am weak, then I am strong." Miraculously, I have experienced the hand of God give me precisely what I needed, at just the right moment, to live in obedience. It is only because of God's grace that I or anyone on our team can do the work.
One afternoon, I was driving over to my closest friend's home. I dearly love this woman and her family, but I was getting frustrated with myself because I didn't just want to be friends. I didn't move to Mali just to be friends. I wanted her to meet Jesus, and I had a deep desire to share the truth with her. Discouragement overwhelmed my heart because I felt so inadequate and really didn't know what to say.
As I was driving to her house, I prayed an honest, last-ditch effort prayer to my heavenly Father. I basically told Him that He knew I was bad at evangelism because He made me this way! So, if He wants my friends to hear about Jesus, He's gonna need to speak through me and give me the words! I gave up trying to do it on my own and begged for His help.
I arrived and sat down to the familiar smell of traditional rice. My sweet friend offered me hot tea and immediately started asking questions about what I believe. She continued asking question after question, and the answers came easily as I was able to share the gospel with her. I left her home overwhelmed and shaken because I had just experienced the miracle of the Holy Spirit, using me to reach His people. I couldn't boast about how great I was at the ministry; I knew better. I could only speak of the greatness of God and how He immediately, gracefully, and lovingly answered my prayer, and in my weakness, His strength shined bright. What a privilege it is to pray.
This last year, I had the opportunity and open door to read the bible with a different group of ladies in Mali. I've consistently prayed that God would reveal himself to them in a real way. Then, one of them dreamed that Jesus was standing in front of her, in all white and with a bright light surrounding Him. Then, five months later, her sister had a dream of Jesus, too! She dreamed that He was calling for her and told her to "follow Him!" Today, these two ladies are still Muslims, but clearly, God is pursuing their hearts in a personal way. I continue to pray that as we read the bible together, their eyes would be open to seeing Jesus; that He is the way, the truth, and the life.
The fact that God is revealing himself to these ladies and other Malians through personal dreams and speaking to them through His word is proof that He actually doesn't need our help. He's got this. But, oh, what a joy it is to be a part of what God is doing among Muslims; to know and love these people, see their faces when they read the bible, watch their lives being transformed, and what a privilege it is to pray for them.
Will you pray with us?
~ Bethany (Sites) Cole
Bethany her husband Brandon and their three children; Ellie, Jackson & Selah are DaySpring's ministry partners and serving in Mali, Africa along with Jason & Melissa McMahan and their four children; Lincoln, Noah, Addie & Josiah. Bethany is the daughter of DaySpring employee, Marsha Sites-McKeegan.
Join their prayer team: Email Bethany at cole.bethany@gmail.com to request to be added to the Mali Hoops "Update & Prayer Request email list"!
Looking for more inspiration? Browse our entire Devotional Library and sign up for our e-newsletter to receive free articles, updates from our Ecard Studio as well as exclusive deals.