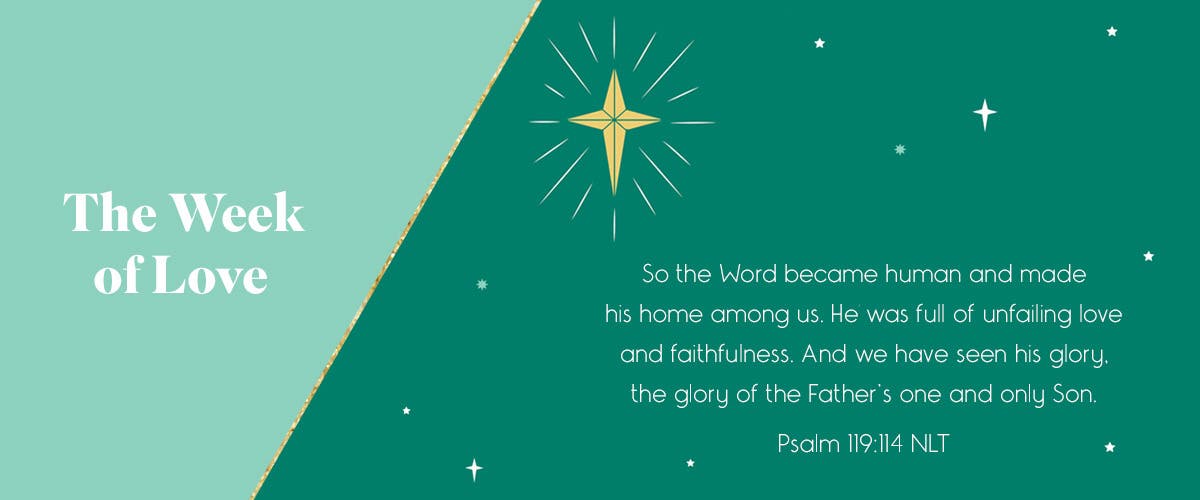 So, the Word became human and made His home among us. He was full of unfailing love and faithfulness. And we have seen His glory, the glory of the Father's one and only Son. (John 1:14 NLT)


If you are using an advent wreath, light the purple candle of hope (last week's focus) and the purple candle of love. Notice how two candles bring greater light than one.


You have heard it said, well actually, sung...all you need is love. And it's true all we need is love, if that love is from above. And if that love is self-sacrificing and redeems all. And if that love is patient, kind, protects, trusts, hopes, and perseveres.


I'm not talking about an emotion, a feeling, or even a choice. I'm talking about a person. One who walked the earth fully man and fully God. One who came to a manger, went to a cross, rose from the dead, and ascended into heaven with a promise to return one day.


Love is found in Jesus.


He came not to be served, but to serve. He is the ultimate example of love. How to live love, give love, and be love one to another. His love led to complete sacrifice for you and for me.


While He walked the earth, a group of highly religious men wanted to stump him with a question. They asked, what is the greatest commandment? To which Jesus replied:


"You must love the Lord your God with all your heart, all your soul, and all your mind." This is the first and greatest commandment. A second is equally important: "Love your neighbor as yourself." Matthew 22:37-39 NLT


Love God and love others. Simple but not easy.


This week as you think about love, remember He loved us first and that is all the power we need to love one another.


Who can you serve with love this week? Acts of love can be a kind word, a smile, a hug, doing the dishes, or leaning in and listening to someone's story.


In this together,
Candace
Looking for more inspiration? Browse our entire Devotional Library and sign up for our e-newsletter to receive free articles, updates from our Ecard Studio as well as exclusive deals.