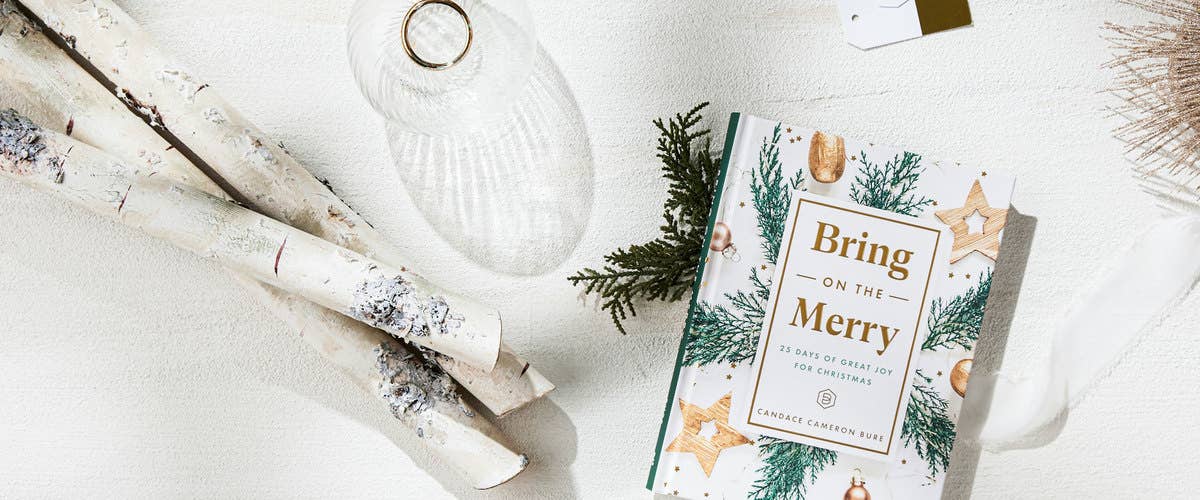 I've always wondered what it was like to be Mary. A young woman, unmarried, not ready to have babies (is anyone really ever ready?), not ready to carry the responsibility and burden of giving up her body, her time, and her life for the sake of another. But when the angel visits her and tells her of her weighty task, she responds: "Yes, I see it all now: I'm the Lord's maid, ready to serve" (Luke 1:38 THE MESSAGE).


It's hard to imagine responding with that level of willingness and confidence in God's good plan. Around the holidays, we often get swept up in our own expectations, hopes, and dreams. We want our holiday parties to feel effortless—beautifully presented food, natural conversation, a white elephant exchange that balances fun with a healthy hint of competition. We scour stores for the perfect gifts that will make our loved ones feel seen and appreciated. We stay up all night wrapping gifts, nibbling on cookies, and drinking hot chocolate by the fire. Our hopes and expectations surrounding the holidays are not all bad—in fact, they often circle around making others happy. But at the end of the day, what if we are missing the true joy of Christmas?


When Mary heard from the angel on that fateful day, the purpose of Christ's coming was clear: Mary had a vision of service and a life marked by sacrifice. She gave herself to this life and painted a beautiful picture for women today to follow after.


It's most important to notice that while Mary's response seems almost supernatural, what she did was extremely natural. She carried and gave birth to a child. It's something that billions of women have done. It's so important for us to notice this because it points to what is actually important. It's not the magnitude of what she does—a great achievement or a skill that surpasses everyone else. She doesn't out-host or out-speak or out-gift anyone else. Her life is not marked by incredible accomplishment or clout. She is honored because of her obedience and willingness to say yes. Mary models a heart that is willing to serve and give her everything to a God who loves her.


The beauty of Mary's life is that we have access to that same incredible joy. In the midst of this crazy holiday season, what do you sense God nudging you to say yes to? Where do you feel a gentle tug to respond, "I'm ready to serve"? Maybe you're thinking about partnering with an organization like the Salvation Army or Compassion International—two fantastic nonprofits that my family supports—to help meet needs of people around the world. Or maybe there's someone in your neighborhood who is in need. Are there opportunities in your town to volunteer to serve people who are sick, lonely, or hurting? Or maybe there's someone within your own family who is hurting this season. Is there someone who needs an extra dose of care or service this Christmas? Maybe your spouse is in desperate need of encouragement, or your child is in need of an afternoon alone with Mom.


However you feel God tugging on your heart, know that a life of simple service is a life that is honored by God. After the angel visits Mary, she tells her cousin Elizabeth about the encounter. Elizabeth responds enthusiastically with "Blessed are you among women!" (Luke 1:42 NKJV). That is the beauty of giving up your own expectations and hopes for the simple steps of obedience laid out by Jesus. Blessing! Joy! Fulfillment! This Christmas, keep your eyes open for moments where you, too, might willingly respond, "I see it all now: I'm . . . ready to serve."


This is an excerpt from the new Christmas devotional Bring on the Merry: 25 Days of Great Joy for Christmas from Candace Cameron Bure.