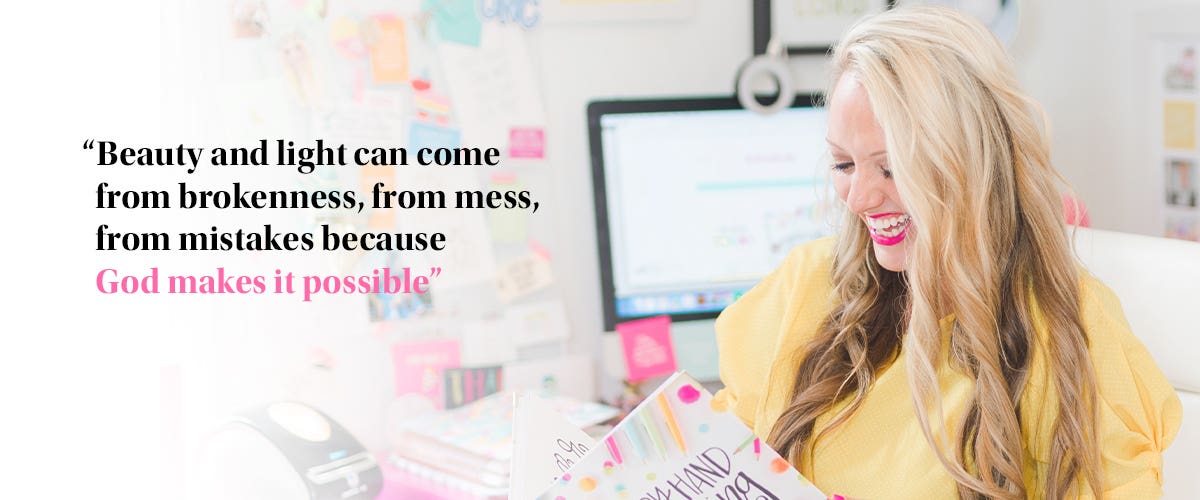 I see this in my work as a calligrapher. Though I write pretty things for a living, I spell things wrong, I constantly mess up, I write the wrong number for an address, draw an ugly letter, or smear wet ink — I'm especially good at that last one!
Early on in my business, I was too cheap to throw all the colorful scrap paper away because it was still beautiful despite the flaws. I started running all of my calligraphy mistakes through my office shredder and out came the most beautiful confetti you've ever seen. Once it was all mixed together, it was so colorful, so happy, and so fun you could barely see the flaws anymore — or if you could, they only made the confetti more beautiful.
I started sprinkling my homemade confetti into orders that people placed online and spreading happiness through my handwriting. Each time someone opened their order, it felt like a party and that confetti was just my calligraphy trash living a happier life.
Confetti is the scrap paper, the colorful mistakes, the broken pieces that were cast aside that have been repackaged and given a brand new job — a job that just so happens to make other people happy. Confetti repurposed brings joy like a person who chooses to shine anyway.
I don't get down on myself when I mess up anymore; I get excited about the confetti I get to make. I am no longer ashamed of my past or my story because now I can use it to help other people. My story, which like the scraps of my calligraphy mistakes, has been made beautiful in His time. God helps me share this confidently, to shine my light so others can see His glory.
Sometimes out of our greatest pain comes the most beautiful purpose. We do not have to be owned by our mistakes, by our divorces, by our failures, by our wrong decisions, our missteps, or the hard parts of our story. God does not waste our pain. If you will let Him, He can turn our trials into our testimony, our mess into our message, and yes, of course, our mistakes into confetti.
I am living proof.
In the same way, let your light shine before others, so that they may see your good works
and give glory to your Father in heaven.
Matthew 5:16 (CSB)
Check out Maghon's full product collection here. Looking for more inspiration? Check out our Devotional Library and be sure to sign up for our e-newsletter to receive free articles, updates from our Ecard Studio as well as exclusive deals.