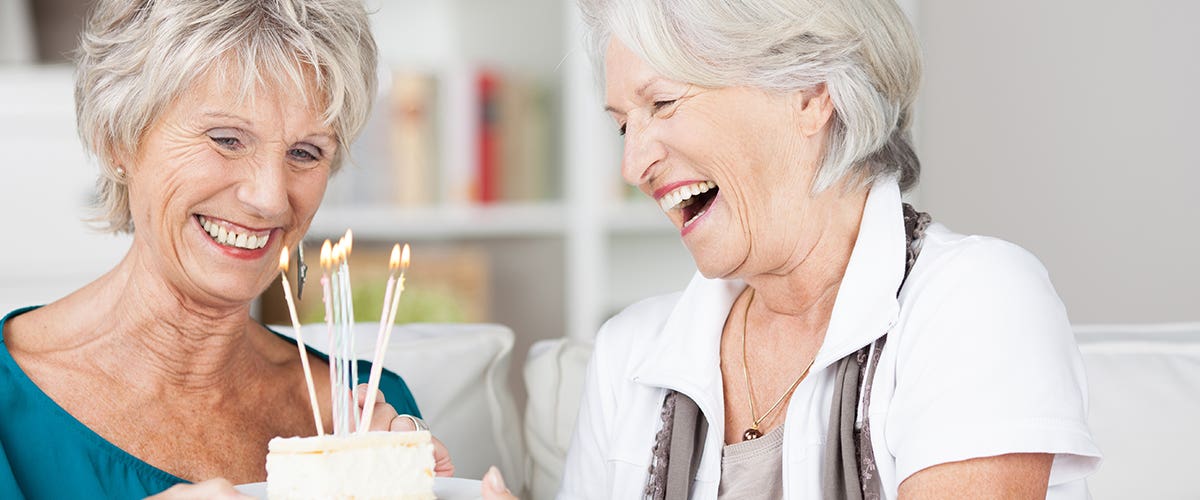 We've all been there – a looming birthday that's just around the corner and it's a BIG one. For some reason it gets stuck in our heads that when we turn 30 we should be married, or when we turn 60 we should be ready to retire.
But who says what any age is supposed to look like? We each have our own journey to take, and as life often reminds us: "A person's heart plans his way, but the Lord determines his steps." Proverbs 16:9 CSB
When a loved one is nervously approaching that magic milestone number – whether or not their expectations are met – let's point them toward the One Who treasures them at every age, and remind them where their true worth lies.
Paul reminds us in 1 Thessalonians 5:11 CSB how important it is to, "encourage one another and build each other up." Instead of jumping on the bandwagon of negative jokes about aging, why not be an encourager instead? Remind others to reflect on the journey that has brought them to this place in life, to celebrate the blessing of today, and to look forward to the future with hope and joy. Not only will you help your loved one to recognize what a blessing a milestone can be, but you'll shine God's light for those who gather to celebrate.
Here are a few ideas for commemorating special birthdays. Keep in mind that these can be used to celebrate any milestone (or any year in between!):
30: Create a 30-Year Journal – Choose a lined journal that's just right for the birthday boy or girl. Then starting with their birth year, list each year of their lives, leaving a few blank pages in between. Encourage them to keep the journal close, and record any memories they recall (or stories they've heard!) from specific years they've lived. It's a wonderful way to help someone see how their journey has unfolded, and how God has worked through the circumstances of their lives. Add a special inscription to remind them of His faithfulness:
"You reveal the path of life to me; in your presence is abundant joy; at your right hand are eternal pleasures." Psalm 16:11 CSB
40: Commemorate four decades! Find photos, music and memories from their childhood, teens, 20s and 30s. Play a little trivia about current events from those years OR make your own trivia questions based on the birthday boy or girl's life. See which guests can answer the most! Set out a jar for adding memories – encourage friends and family to write about the ways they've seen God's hand in this special person's life.
"I remember the days of old; I meditate on all you have done; I reflect on the work of your hands." Psalm 143:5 CSB
50: Put together a "50" album! This could be 50 blessings, 50 favorite verses, or 50 things we love about you! Start a few months early. Ask family and friends to contribute via email or snail mail. It's a keepsake that'll remind them how much they're loved, and bless them for years to come.
"May the Lord bless you and protect you; may the Lord make his face shine on you and be gracious to you; may the Lord look with favor on you and give you peace." Numbers 6:24-26 CSB
60: Host a gathering of different people from different stages of his/her life – childhood friends, family, coworkers, and neighbors. Social media can help you reach out to loved ones from the past. Whether it's a big surprise party or a simple open house, they'll be delighted to reconnect and see the impact they've made on others through the years. It's a great way to remind them of all the ways they shine!
"In the same way, let your light shine before others, so that they may see your good works and give glory to your Father in heaven." Matthew 5:16 CSB
There are so many ways to make a milestone extra meaningful for someone you love. Ask God to show you specifically how you might lift them up. Show them how they've impacted the world for the better; celebrate all there is to look forward to in their lives; and remind them of the One who sustains them - no matter what their age!
But those who hope in the Lord will renew their strength. They will soar on wings like eagles; they will run and not grow weary, they will walk and not be faint." Isaiah 40:31 CSB
Looking for more inspiration? Browse our entire Devotional Library and sign up for our e-newsletter to receive free articles, updates from our Ecard Studio as well as exclusive deals.