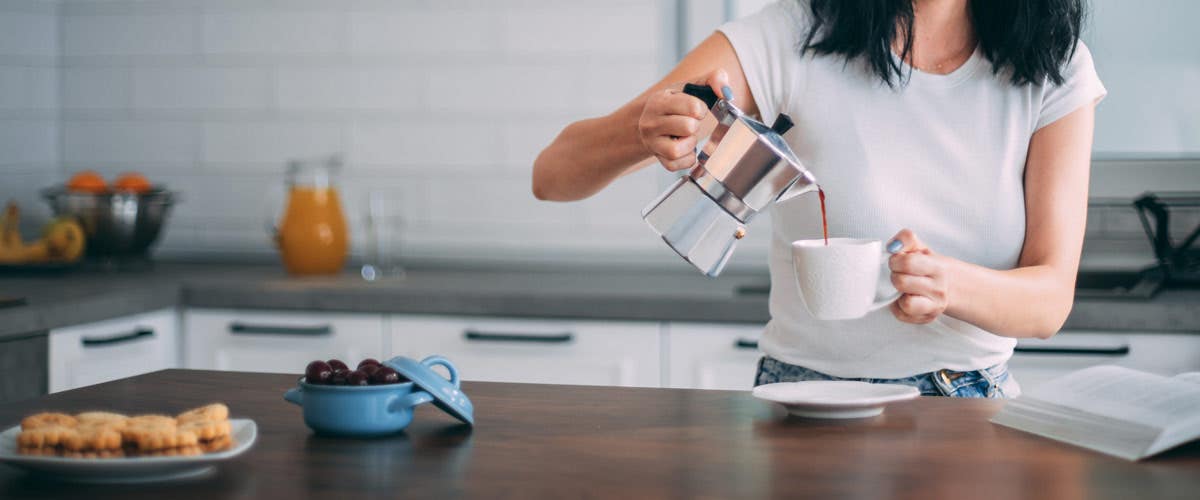 It was a tiny house in a questionable neighborhood in my college town. The furniture was all secondhand, as were the eclectic collection of pots and pans in the kitchen. The art hanging along the walls consisted of various prayers and Scriptures in fading fonts matted and framed many years before. The stairs creaked under the worn carpet, the sunroom doors never fully shut, and the washing machine teetered when it ran. In a word, you could say it was modest, and in another, you could say it was home.


I moved in right before my third year of college after an application, interview, and deposit, excited to be a new resident and leader at this mission house. The house was shared daily with two roommates, and weekly with our entire campus church body for Bible studies, family-style dinners, and the occasional fire pit sing-along session. It stood as a safe zone for anyone needing a space to talk, be encouraged or prayed over.


Our home had a true, open-door policy—any time, day or night, as long as someone was home, anyone with a need was welcome. This sounded lovely, but practically, I had no idea what I was in for. As the year continued, our Bible study sessions lingered late into the night, freshmen looking for a break from cafeteria food and roommates would unexpectedly come over for dinner, guests would show up to talk over big life changes, fears, doubts and wonders about the future. There was even the occasional midnight emergency and house guest recovering from trauma, needing space from normal life to heal. Our house became the safe haven and home it was meant to be and I loved it.


But here's the thing, living this way went against my nature. After the late-night chats were finished, I would look at my planner with anxiety over the sheer number of tasks and assignments to be completed before morning classes came. After feeding extra friends, I would look at the empty fridge and my bank account balance and wonder how I might afford it again the next week. At my worst, these thoughts would creep in while I was meant to focus on the people in front of me. I was a planner, a perfectionist, a responsibility first kind of girl who didn't go-with-the-flow all that easily. To have people continually present wasn't convenient or comfortable.


As much as my heart knew that God wouldn't look down on me for setting a few boundaries, still the age-old Christian question rang through my mind in moments of tension, "What would Jesus do?" The answer was always LOVE first.


God was teaching me what it means to have a heart for hospitality—to be a person that chooses to make space for others and even more, to welcome them with love, even and especially when it's inconvenient. Because of that experience, I have learned that hospitality is less about having the perfect setting to make people feel at home, but rather about becoming a safe place for others— to be a person with their heart set on helping others understand how much God loves them.


It felt like a radical sense of generosity and humility was meant to be my new normal. I needed to change my mindset from one of scarcity to one that understood God was a Father of abundance, trusting He would provide all I needed—whether that was time, energy, words, a fully stocked refrigerator or otherwise. The words of John 3:30 became very prominent in my internal monologue—"He must become greater, I must become less." This season wasn't meant to be about me. The more I surrendered, the more I felt my heart change.


Over time, what I began to call, "holy interruptions" became less of an annoyance because they weren't a distraction from the important things, they were actually an opportunity to do the most important things—to be who God calls us to be—light-bearers and messengers of His love.


In the years since I lived in our little mission house, especially in 2020, my door doesn't swing open quite as often, and my dining table isn't quite as full every evening, but I try to hold my heart open—clinging to the principles I learned within that time:
Love first.
Become a safe place for others.
Make a conscious choice to approach people with a heart and mind set on letting them know Someone out there loves them.
Become so expectant of a holy interruption that you make margin for it. God will help you prioritize what is most important.
Remember that your time, talent and treasure aren't yours to keep. You have been blessed to become a blessing.
These, and so many more, are pieces that make up a hospitable heart. We aren't going to live it out perfectly (trust me, I don't). But if it helps, just remember that with every 6-hour phone call, every texted prayer, every time we pull our neighbor's trashcan out of the street back to their house, every backyard or driveway conversation from evening until it's dark, every Saturday morning video chat, and every other moment we make a choice to love first, we're actually saying, "I love you," back to a Father whose very presence has whispered the same to our hearts since time began.
Looking for more ideas on how to live with a heart of hospitality this season? Check out our entire selection of hospitality articles in our devotional library. And be sure to browse through our hospitality gifts including inspirational décor, serving dishes and wall art. Sign up for our e-newsletter to receive free articles, updates from our Ecard Studio as well as exclusive deals.