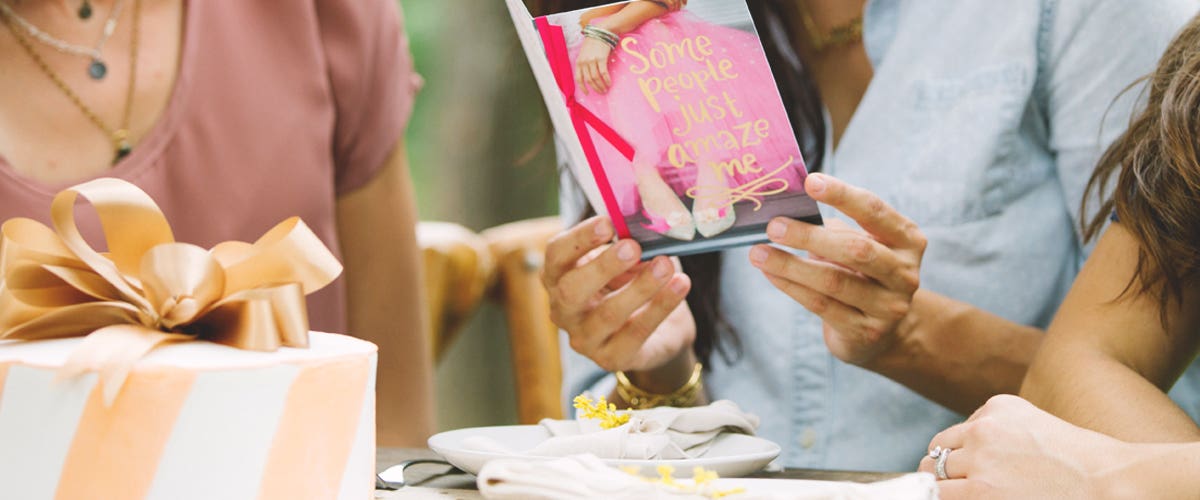 Just think - how many birthday dinners, baby showers, weddings, and retirement parties will you attend this year? Sometimes it seems as if we drive from one occasion to the next, trying to remember who is celebrating what this time, oh and, are they having a boy or a girl? And sometimes it feels like we show up, bring a dish, sing Happy Birthday, grab a piece of cake, and head home without ever having inviting God to the party.
This year, we want to help you #liveyourfaith as you make your celebratory rounds. Let's praise Him, rejoice in Him, and thank Him for all the wonderful, amazing things He has done for us, our friends, and our family each time we celebrate!
Need some ideas? Here are a few ways to live your faith as you celebrate each exciting event God brings your way.
Write a heartfelt card. Let the guest of honor know how truly grateful you are to God for placing such a beautiful human being in your life, and that you are filled with joy to see what He is doing in theirs. Just one simple sentence like "you are so important to me" and your signature can have such an impact.
Decorate with Scripture. Decorate the cake with a favorite Scripture and set the table with Christian décor. Add subtle touches to the room to help set the tone for rejoining in the Father as you celebrate.
Pray. Before bringing out the cake, gather the guests to pray. Thank God for His hand in the occasion and ask Him to continue to bless your friends and family throughout the years to come.
Play Christian music. Nothing sets the mood more than a little background music. Put a play list together of your favorite worship songs and play it as guests mingle.
Choose an inspirational gift. Give gifts that will inspire the recipient to continue to praise God, even after the celebration is over. For example, think about gifting Baby's First Bible at your next baby shower instead of diapers, or a Christian Journal at your next wedding instead of the go-to toaster.
Whether it is a major occasion or a simple everyday get-together, we should always remember to make a joyful noise, praising God, and rejoicing in Him! Know someone celebrating soon? Send them a Christian Ecard today, so they too can remember to thank God for this amazing time in their life.
Looking for more inspiration? Browse our entire Devotional Library and sign up for our e-newsletter to receive free articles, updates from our Ecard Studio as well as exclusive deals.