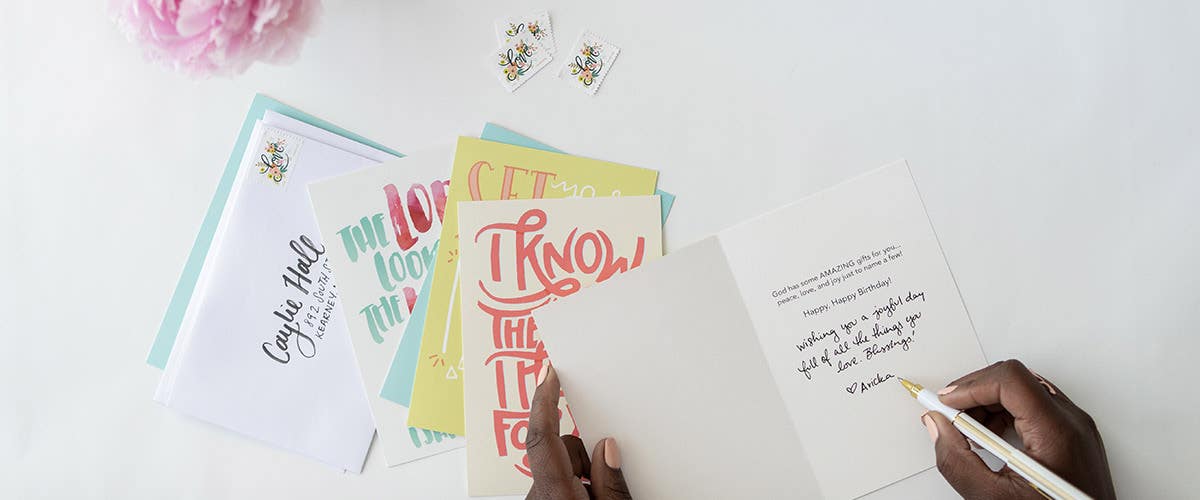 Sending a card is quick and easy, so it's often easy to forget the incredible impact it's likely to have on the receiver. It could brighten a gloomy day, lift the spirits of someone struggling, or even provide lasting memories beyond the current season.
God has blessed me with supporting, loving, encouraging people on all sides, and I have twenty five years of greeting cards to prove it. Below are some small, but memorable moments that have impacted me, even years later, all because of a greeting card.
The Cookie Recipe I'll Keep Forever
My great grandmother sent me a greeting card out of the blue one day when I was in middle school. There was no special occasion, just a "Thinking of You" card, but on the inside, she included a handwritten cookie recipe that she wanted me to have because I'd really enjoyed them. She passed away when I was 14, and there's so much time that I wish we could have had together, but I have the cards with her loving messages in her sloping cursive handwriting, and I have her cookie recipe.
The Childhood Memories I'll Never Forget
When I was little, I was watched during the day by my "Nanny", who had also watched my mom growing up. She played with me, sang songs with me, put my handprints in concrete on her front porch, and loved me like I was her own. When we moved away, she would send birthday cards and make banana nut bread for Christmas, and give me a big hug every time we saw each other. On my 18th birthday, I got her birthday card in the mail, and inside were drawings I'd done as a toddler, little scribbles and doodles. There were pages of childish marker drawings with notes written on the back: "Jordan drew these on x day", "Today Jordan said ___ and it was so funny!", etc. She had been archiving my childhood as I grew, and one day decided to gift that all back to me. On my 24th birthday, I got a call from her while my family was out at dinner – her hands were hurting so badly she could no longer write cards, but she still remembered to call and wish me a happy birthday.
The Most Meaningful Words I'll Never Let Go Of
My dad is a man of very few words. He is the kindest, most generous person I know and he has a huge heart. On the day of my high school graduation, we had family staying with us and lots of festivities going on throughout the day, so I was surprised when my dad stopped me with a card and a box. He had written me a letter about being proud of me, being my dad, being excited for what was to come. Because he's a man of few words, this card meant more to me than I could even put into words. I cried while reading it, and if I re-read it today, I'd probably cry again. It's still tacked up to my bulletin board in my old room (along with so many other cards from loved ones during different seasons), and it is a treasure to me.
To you, sending a greeting card may seem too simple, but to the receiver, it could make a lasting impact for years to come.
Looking for more inspiration? Browse our entire Devotional Library and sign up for our e-newsletter to receive free articles, updates from our Ecard Studio as well as exclusive deals.