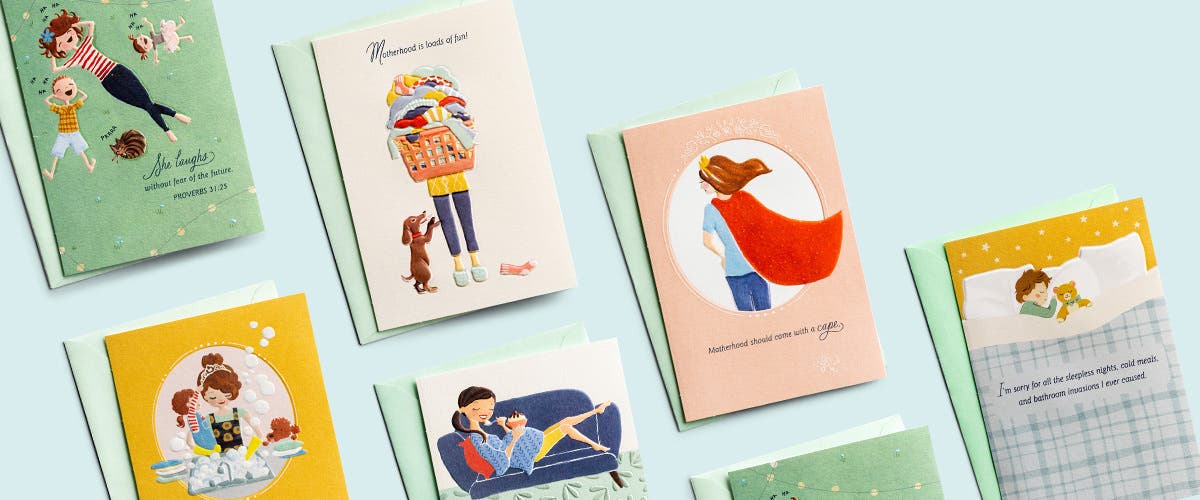 Motherhood is beautiful, hard work. It's long days and sleepless nights and messy clothes and belly laughs and loads and loads of laundry. It's something to be cherished and celebrated and encouraged year-round, and this is where the idea for the new DaySpring card line Hey Momma! emerged.
A small group of DaySpring designers were having lunch together one day, sharing their hearts on life and motherhood and encouraging each other in the process, and they dreamt up a line of cards that could be shared mother-to-mother. There's nothing more gratifying than when another mom says to you, "Hey! You're doing a good job," or "You're doing amazing. You should know that."
Hey Momma! came about as a way to encourage other moms with Christ-centered words and encouragement. The team came together and everyone connected to the heart of the line on a personal level – the ideas grew, the words flowed, the illustrations turned out beautifully to reflect the heart behind it all – creating a tool for moms in community to encourage one another.
There's so many different facets of being a mom like patience and unconditional love. You get a glimpse of the unconditional love that God has for us in motherhood, because no matter what your children do, you love them anyway. God comes alongside us, just like we come alongside our children, and loves no matter what.
We asked the talented designers who created this line "What are your favorite cards in the collection, and why?" and this is what they had to say!
Alisa Hipp – Senior Designer, Greetings: I really love the mommy that's laying down with her kids, looking up at the lights. There's a cat there too. Because it just reminds me of my family, and it reminds me of those magic mommies out there that just go all-out for their kids. They make their kids' lives magical. They build forts with them and make them fancy food. That's my favorite one.
Stephanie Henry – Art Director, Greetings: So, my favorite card, or the one I can relate to the most is the one of the mom with the grocery cart. The little girl is hanging off the front of the cart and the other is standing in the aisle screaming, holding her teddy bear. I think every mom has gone to the grocery store with her kids at some point and had that experience, where they're just trying to get down the aisle. So I can relate to that. I stopped grocery shopping with Rhett because of that. I just couldn't wait to get out. So grocery pickup is a God-send!
Amber Roderick – Illustrator & Associate Designer, Greetings: Probably the stair one! I had a ton of fun drawing and designing it. It just reminded me of all the silly things I used to do as a kid. Me and my brother had a blast making hot-dog bombs, or gathering frogs together - we were nuts. I really like that when you open the card there's this little cat face that's down in the corner, just so the reader knows the cat survived too.
Jeanette McIntyre – Art Director, Gifts: I would probably have to say that one with the mom holding the laundry basket. It's kind of exaggerated with tons of laundry and with the dog seeking her attention. I think most moms have had a situation similar to that. It's happened to me. One time I was in a situation where everyone wanted a piece of me –my husband, my daughter, my dog. I hope I was able to capture that kind of common experience with this card, so moms can know that they're not alone!
You can shop the entire Hey Momma! collection here. Looking for more inspiration? Check out our entire devotional library. Also, sign up for our e-newsletter to receive more devotionals, neat ideas, Ecard Studio updates and exclusive deals.