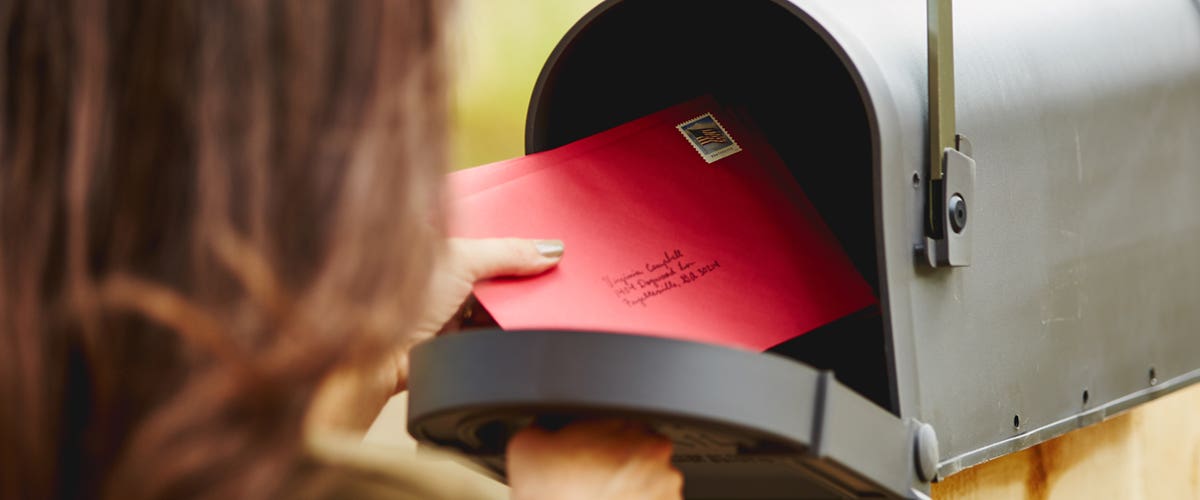 Just picture it - you're walking to your mailbox to get your daily dose of bills, oversized marketing postcards and holiday catalogs when you pull out that big red envelope. And, even at first glance, the colorful envelope brings a smile to your face as you open it to find a sweet, handwritten message from a well-wishing loved one who just wanted to brighten your day.
We all know how appreciated and loved we can feel when someone sends us a handwritten card. And, since Christmastime can come with a great deal of emotions, there's no wonder why 65 percent of Americans send Christmas cards. As Christians, it's a way for us to reach out to those who are having a difficult holiday, celebrating their first Christmas as a grandma, or having a hard time dealing with the separation of their long-distance family. It's a sure, proven way to share God's love.
The problem comes when we add "send Christmas cards" to the bottom of our ever-growing holiday to-do list. There is no doubt that this time of year comes with a hustle and bustle like no other. Many of us are darting here and there trying to find the perfect gifts, then there's Christmas parties, school programs, church potlucks - the list goes on and on.
That's why, at DaySpring, we are inviting you to throw a "Get It Off Your List" Christmas card party. Think about it - there's no reason why you have to write your Christmas cards in as close to the holiday as possible. In fact, getting it off your list early will give you more time to spend with each card so you can think through each recipient, pray for them, and write a personal, heart-warming message that will impact them way more than a simple "Merry Christmas." And, while you're doing it, why not have a little fun with your friends? Here's how:
1. Create your guest list. The size of the guest list is up to you. For a smaller, more intimate setting, invite 4-to-6 of your closest friends, or you could make it a bigger celebration by inviting all the women of your church to stop by. (pssst…this could also be a nice idea for your weekly church group gathering)
2. Send them a free Ecard. Let them know that life is "snow much fun chillin with friends" and invite them to your "Get It Off Your List" Holiday Card Party. Remind them to bring their Christmas cards.
3. Send your guests little reminders. As we've discussed, this time of year is busy, busy, busy. You may need to reach out 7 days before the event to remind your guests to start making their Christmas card list including names and addresses. Then 5 days before the event, remind them to pick out their Christmas cards and to bring their stamps.
4. Set the scene. Many of your guests will still be in the October-leaves-pumpkin-Thanksgiving mind frame. And, that's okay! But, it might take a little work to get their heads wrapped around the Christmas season. Decorate with Christmas lights, pull out your nativity scene, make hot cocoa in Christmas mugs, serve Christmas cookies and play your favorite Christmas songs. They'll be ready to write their Christmas cards in no time.
5. Throw in some fun crafty ideas. Decorate your table with festive pens, fun Christmas stickers, paper pieces with a favorite Scripture on the back to tuck inside the cards, Christmas Stamps with a stamp pad and acrylic block. Check out our entire Illustrated Faith collection to find fun, new inspiring ways to jazz up your Christmas cards this year.
6. Mail them. Ready to send? If so, have everyone gather together and pray over the cards before you send them off. Then, load up and drive together to the post office to drop them off. Still a little early to send Christmas cards? Gather them up and let your guests know that you will send them out for them on an agreed-upon date.
7. Mark it off your list. Take a deep breath, and mark "send Christmas cards" off your list. And, give yourself a pat on the back for providing a way for your friends to do the same.
We'd love to hear about your "Get It Off Your List" party, so be sure to take some snapshots and share with us on Facebook - tag us @dayspringfans and use the hashtag #offthelist. Looking for more ways to prepare for the busy season ahead? Check out 6 Ways to Prepare for the Holidays.
Looking for more inspiration? Check out our Devotional Library and be sure to sign up for our e-newsletter to receive free articles, updates from our Ecard Studio as well as exclusive deals.