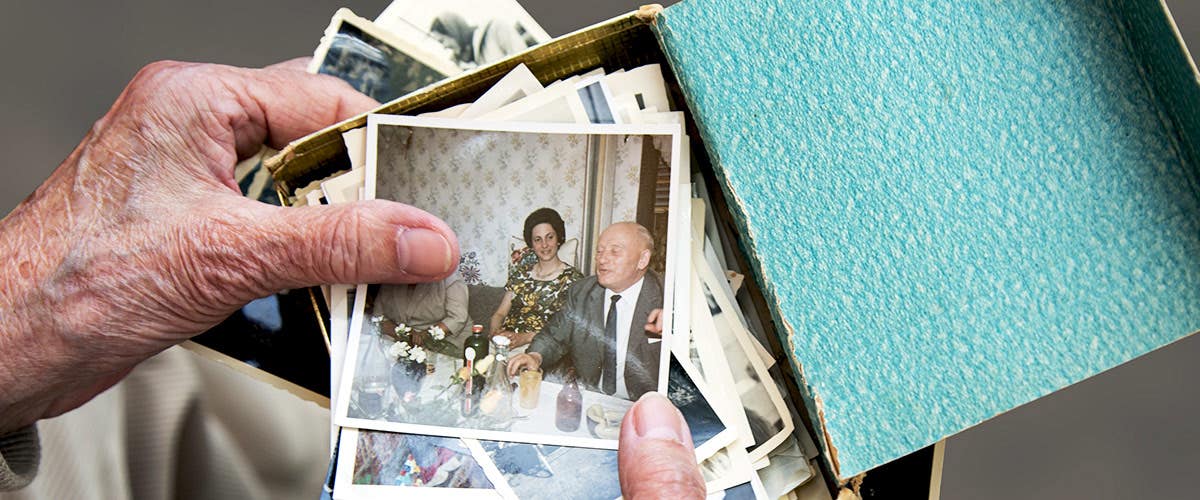 My Grandpa, Hollie Brookshire, came into this world on a cold December morning close to Christmas. And he slipped Home in the early morning hours of Father's Day 2014.
Whether we're celebrating our dads, stepdads, brothers, sons or other father figures in our lives, these men need to hear what a difference their love makes.
The day he passed my husband and I curled up in chairs in his room watching the in-and-out of his breath. I leaned my head against his pillow because we've always napped side-by-side on the couch. Then I flipped open my iPhone and scrolled through pictures of us together. At the beach. At the holidays. At breakfast–a tradition of ours for twenty years.
And as I did so, peace swept over me. My heart felt full and satisfied the way you do after a good, full meal. The room filled with something holy and happy. The phrase "inexpressible joy" popped into my head. So I looked it up in Scripture…
Praise be to the God and Father of our Lord Jesus Christ! In his great mercy he has given us new birth into a living hope through the resurrection of Jesus Christ from the dead, and into an inheritance that can never perish, spoil or fade. This inheritance is kept in heaven for you, who through faith are shielded by God's power until the coming of the salvation that is ready to be revealed in the last time. In all this you greatly rejoice, though now for a little while you may have had to suffer grief in all kinds of trials. These have come so that the proven genuineness of your faith — of greater worth than gold, which perishes even though refined by fire — may result in praise, glory and honor when Jesus Christ is revealed. Though you have not seen him, you love him; and even though you do not see him now, you believe in him and are filled with an inexpressible and glorious joy, for you are receiving the end result of your faith, the salvation of your souls. 1 Peter 1:3-9 NIV
My Grandpa loved God's Word. He handed out thousands of Gideon Bibles during his lifetime. He even made sure his shirt always had a little pocket on the front so he could have one ready. I watched him hand them over to waitresses and clerks, nurses and new acquaintances. He had a way of making people fall in love with him…and in love with the God he loved.
After I read the Scripture and felt the joy and peace settle in, I told my husband, "I think we can go get a few hours sleep. He's okay and he'll be here tomorrow." Just as we got up, the nurse from the previous shift came in even though he was supposed to be off an hour and a half earlier. For what seemed like no reason at all he said, "I think you should stay."
So we went to the car to get pillows and prayed for my Grandpa under a wide, starry Texas sky. When we came back in, we stood by his side and told him how much we loved him, how proud we were of him. And in a few breaths, he went Home. I laid my hand on his chest and said, "Well done, good and faithful servant." I imagined Jesus saying just the same on the other side and then adding, "Enter into the joy of your Lord."
It felt like holy ground, like sacred space, like a place to mourn and dance all at once.
So many gifts…that we came this weekend instead of next week, that he whispered my name earlier that day, that the peace and joy came in first like a welcome Home committee, that the nurse told us to stay.
Do I mourn? Oh, yes. But do I do so without hope? No, not for a moment.
He spent his life sharing the Word of life. And it was in the back of his Christian bookstore that I felt the calling to be a writer. I think for the rest of my life when I have a pen in my hand or a keyboard in front of me, I'll feel him smiling over my shoulder.
He called me "H.E." I called him Poppi, hero, friend. And when I go Home, I hope his voice is one of the first I hear calling my name. We'll split a piece of heavenly pie and drink coffee and talk about how good God is. Always. And it might just take forever to name all the ways…
For more encouragement from Holley Gerth, visit holleygerth.com.
Looking for more inspiration? Check out these related articles:
What the Father Says About Fathers
10 Prayers to Pray Over Your Husband
Looking for more inspiration? Browse our entire Devotional Library and sign up for our e-newsletter to receive free articles, updates from our Ecard Studio as well as exclusive deals.