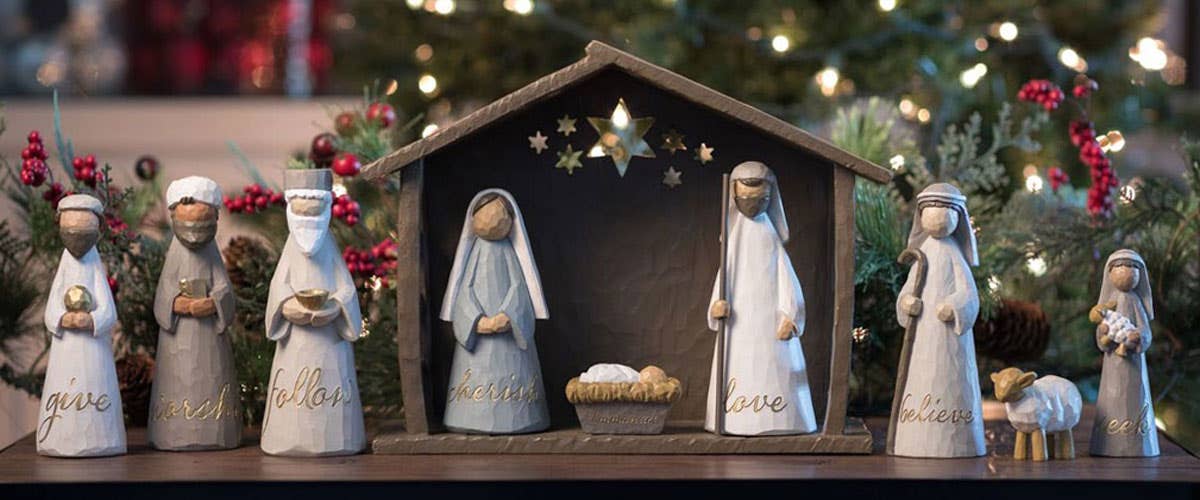 Cozy blankets. Simmering hot chocolate. The warmth of the fire. Our senses are delighted with the traditions of the season. Growing up, my favorite memories centered around moments that were eagerly anticipated. I remember cut-out leaves filled with gratitude that led to paper chains counting down to Christmas. We always had a family decorating party, taking turns placing the star on top of the tree. Cookies were baked using a hand-written recipe passed down from generations before, and of course we dressed in our best to attend a candle light Christmas Eve service. Every single one of these customs was done in anticipation and preparation for the big day-the celebration for our most Holy King.
As a mom, I know it is now my privilege and responsibility to facilitate these memorable moments for my children. I delight in watching their eyes twinkle when we light the tree-a symbol of the light of the world! They pull out my nativity and arrange each figure with gaze upon the Savior. We bake cookies and deliver them to neighbors, hopeful that our small act of kindness will spark conversation about the Lord. Daily advent activities are also enjoyed, as they not only make the anticipation swell, they also serve as continual reminders about the true purpose of it all!
While my desire is to point my children to Jesus 365 days a year, there is something about this sacred season that makes the impact even greater. As all 5 senses are delighted, memories become concrete. The aroma of peppermint or the sound of a bell quickly reminds our hearts about the Joy that came to the world. I truly believe engaging in play with our children becomes even more important in solidifying learning about the Savior. I know it is essential to make the most of this amazing, annual opportunity to teach them truth.
As we develop and engage in fun traditions, our customs and beliefs are passed on from generation to generation. Having resources that my children both enjoy and anticipate from year to year is an absolute blessing. By using a Shepherd, searching for Jesus along with his and his trusty sidekick, or a nativity scene that is grown piece by piece, I can point my children to the Savior through interactive, exciting activities that they anticipate and look forward to year after year. I love that they ask when the Shepherd, affectionately called Shep by my girls, is coming back or when they can set up the nativity. I pray they will carry these traditions in their hearts and one day share them in their homes.
This article was written by Erica Stidham, a Mary & Martha Director. Mary & Martha was founded in 2007 and is a division of DaySpring Cards Inc. At Mary & Martha, we design products to open the doors of hearts and homes to a Creator who stands and knocks. We believe that women of faith are world-changers. Whether at home or work, millions of women are building their ministry and extending their influence each day. Our prayer is to come alongside world-changing women to bring beauty and faith to her home through our products, and confidence and courage to her heart through an incredible business opportunity. We were created for community, to open doors for one another. With each purchase, our hope is that women everywhere feel more confident opening their own doors, sharing their faith, and building their ministry. You can view their website at www.maryandmartha.com.
Looking for more inspiration? Check out our Devotional Library and be sure to sign up for our e-newsletter to receive free articles, updates from our Ecard Studio as well as exclusive deals.