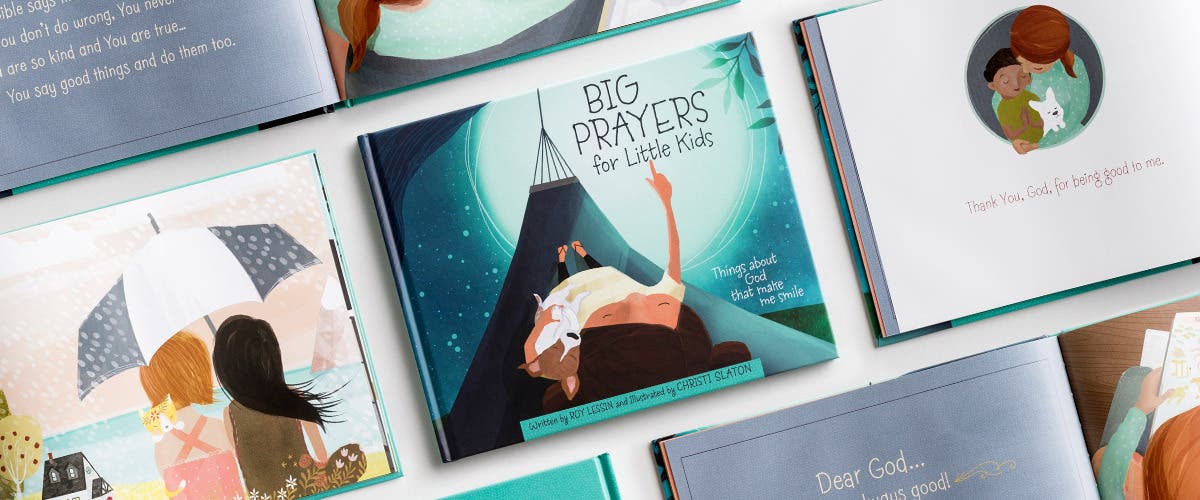 At DaySpring, we love sharing our hearts for the Lord and equipping others to experience and express the life-changing message of God's love. We do this through creating products for life's big (and small) moments – a greeting card to share with a friend during a hard time, a mug embossed with a verse that brightens your day, a children's book written to share the love of God with little ones. We truly mean it when we say that there is heart and love and prayer that goes into each and every product DaySpring creates, and we want to share our stories and the heart behind the products with you.
Big Prayers for Little Kids is one of these products, created out of a love for the Lord and sharing that message with others. Through engaging rhyme and endearing illustrations, Big Prayers for Little Kids introduces children to eight of God's attributes in a very simple, loving, and memorable way. This DaySpring children's book is helping little hearts to know God's big heart of love.
Roy Lessin is a co-founder of DaySpring and has been a senior writer for DaySpring over 30 years. Before launching into a successful career in writing, he served as a missionary and a director of Christian education. Roy has written numerous books, devotionals, and greeting cards over the years, and continues to be an active Bible student and teacher to all he meets. During his personal studies over the attributes of God, he had an idea for a new book – "What if we took the attributes of God and condensed the idea down into words that a child could comprehend?" This is where the idea for Big Prayers for Little Kids was born, but it was only the beginning.
Roy worked diligently on the content for Big Prayers for Little Kids, taking eight different attributes of God and writing them in a way that a child would understand. He made each page rhyme so that it was easy to remember and fun to read out loud. Each chapter includes a promise about who God is, a rhyme explaining His character, a prayer for the child to pray, and a beautiful illustration. He wanted to create a book that would teach a child about God in an easy-to-understand way, and that might also impact the person reading it to the child. He had a book full of beautiful words about God, but no illustrations to go with it!
Roy has been an active and engaged mentor to so many at DaySpring over the years, and one of the people that he has been able to get to know over the last eight years is Christi Slaton. Christi is the Senior Creative Director of Design here at DaySpring. She is a talented artist and respected leader here, and during the time that Roy was writing his children's book, Christi was harboring dreams of illustrating a children's book. Roy told her his idea and she immediately started dreaming up sketches to meld seamlessly with his words in a way that tells the story of God's character in a beautiful way. The two worked together, putting together the artwork and story, the DaySpring Publishing team got involved, and now Big Prayers for Little Kids exists as a way to teach your little one about their all-knowing Heavenly Father as they discover how deeply He loves and cares for them.
Want to read more? Grab Big Prayers for Little Kids and shop from the rest of our Children's Books today.
Looking for more inspiration? Browse our entire Devotional Library and sign up for our e-newsletter to receive free articles, updates from our Ecard Studio as well as exclusive deals.