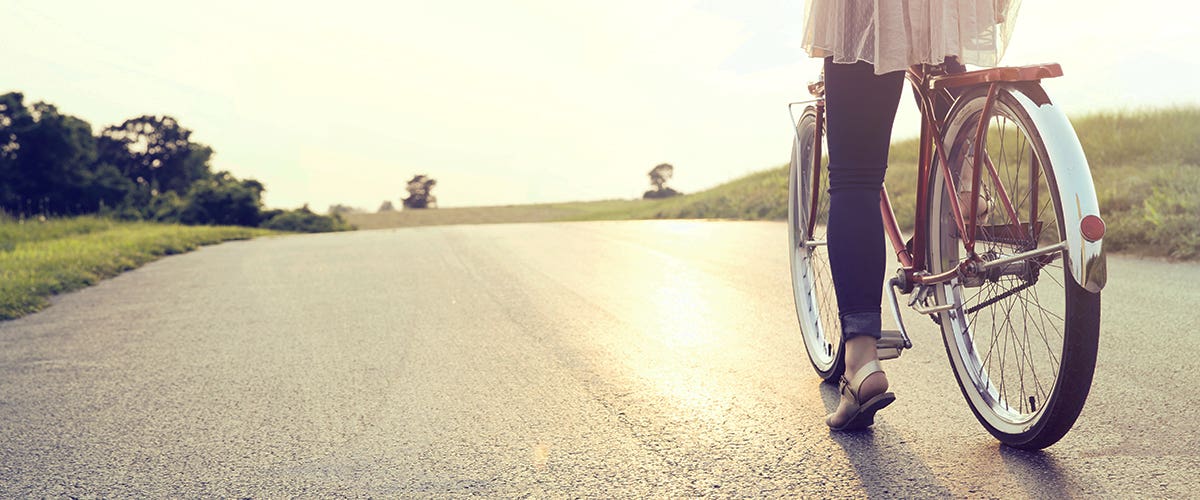 Perhaps you could use some courage. You may not be down to your final heartbeat, but you may be down to your last paycheck, solution, or thimble of faith. Each sunrise seems to bring fresh reasons for fear.
They're talking layoffs at work, slowdowns in the economy, flare-ups in the Middle East, turnovers at headquarters, downturns in the housing market, upswings in global warming, breakouts of terrorist cells. Some demented dictator is collecting nuclear warheads the way others collect fine wines. A strain of swine flu is crossing the border. The plague of our day, terrorism, begins with the word terror. News programs disgorge enough hand-wringing information to warrant an advisory: "Caution: this news report is best viewed in the confines of an underground vault in Iceland."
We fear being sued, finishing last, going broke; we fear the mole on the back, the new kid on the block, the sound of the clock as it ticks us closer to the grave. We sophisticate investment plans, create elaborate security systems, and legislate stronger military, yet we depend on mood-altering drugs more than any other generation in history. Moreover, "ordinary children today are more fearful than psychiatric patients were in the 1950s."1
And fear feels dreadful. It sucks the life out of the soul, curls us into an embryonic state, and drains us dry of contentment. We become abandoned barns, rickety and tilting from the winds, a place where humanity used to eat, thrive, and find warmth. No longer. When fear shapes our lives, safety becomes our god. When safety becomes our god, we worship the risk-free life. Can the safety lover do anything great? Can the risk-averse accomplish noble deeds? For God? For others? No. The fear-filled cannot love deeply. Love is risky. They cannot give to the poor. Benevolence has no guarantee of return. The fear-filled cannot dream wildly. What if their dreams sputter and fall from the sky? The worship of safety emasculates greatness. No wonder Jesus wages such a war against fear.
His most common command emerges from the "fear not" genre. The Gospels list some 125 Christ-issued imperatives. Of these, 21 urge us to "not be afraid" or "not fear" or "have courage" or "take heart" or "be of good cheer." The second most common command, to love God and neighbor, appears on only eight occasions. If quantity is any indicator, Jesus takes our fears seriously. The one statement he made more than any other was this: don't be afraid.
Siblings sometimes chuckle at or complain about the most common command of their parents. They remember how Mom was always saying, "Be home on time," or, "Did you clean your room?" Dad had his favorite directives too. "Keep your chin up." "Work hard." I wonder if the disciples ever reflected on the most-often-repeated phrases of Christ. If so, they would have noted, "He was always calling us to courage."
So don't be afraid. You are worth much more than many sparrows. (Matt. 10:31 NCV)
Take courage, son; your sins are forgiven. (Matt. 9:2 NASB)
I tell you not to worry about everyday life—whether you have enough. (Matt. 6:25 NLT)
Don't be afraid. Just believe, and your daughter will be well. (Luke 8:50 NCV)
Take courage. I am here! (Matt. 14:27 NLT)
Do not fear those who kill the body but cannot kill the soul. (Matt. 10:28)
Do not fear, little flock, for it is your Father's good pleasure to give you the kingdom. (Luke 12:32)
Don't let your hearts be troubled. Trust in God, and trust also in me…. I will come and get you, so that you will always be with me where I am. (John 14:1, 3 NLT)
Don't be troubled or afraid. (John 14:27 NLT)
"Why are you frightened?" he asked. "Why are your hearts filled with doubt?" (Luke 24:38 NLT)
You will hear of wars and rumors of wars, but see to it that you are not alarmed. (Matt. 24:6 NIV)
Jesus came and touched them and said, "Arise, and do not be afraid." (Matt. 17:7)

Jesus doesn't want you to live in a state of fear. Nor do you. You've never made statements like these:
My phobias put such a spring in my step.
I'd be a rotten parent were it not for my hypochondria.
Thank God for my pessimism. I've been such a better person since I lost hope.
My doctor says if I don't begin fretting, I will lose my health.

We've learned the high cost of fear.
And Jesus' question is a good one. He lifts his head from the pillow, steps out from the stern into the storm, and asks, "Why are you fearful, O you of little faith?" (Matt. 8:26).
To be clear, fear serves a healthy function. It is the canary in the coal mine, warning of potential danger. A dose of fright can keep a child from running across a busy road or an adult from smoking a pack of cigarettes. Fear is the appropriate reaction to a burning building or growling dog. Fear itself is not a sin. But it can lead to sin.
If we medicate fear with angry outbursts, drinking binges, sullen withdrawals, self-starvation, or viselike control, we exclude God from the solution and exacerbate the problem. We subject ourselves to a position of fear, allowing anxiety to dominate and define our lives. Joy-sapping worries. Day-numbing dread. Repeated bouts of insecurity that petrify and paralyze us. Hysteria is not from God. "For God has not given us a spirit of fear" (2 Tim. 1:7).
Fear may fill our world, but it doesn't have to fill our hearts. It will always knock on the door. Just don't invite it in for dinner, and for heaven's sake don't offer it a bed for the night. Let's embolden our hearts with a select number of Jesus' "do not fear" statements. The promise of Christ and the contention of this book are simple: we can fear less tomorrow than we do today.

1. American Psychological Association, Jean M. Twenge, PhD, December 14, 2000. https://www.apa.org/news/press/releases/2000/12/anxiety.aspx
This is an excerpt from the Fearless: Imagine Your Life Without Fear written by Max Lucado. To read an exclusive Q&A with Max Lucado, click here. You can find more resources on courage and the Word of the Year 2019 in our Article Library.
Looking for more inspiration? Browse our entire Devotional Library and sign up for our e-newsletter to receive free articles, updates from our Ecard Studio as well as exclusive deals.