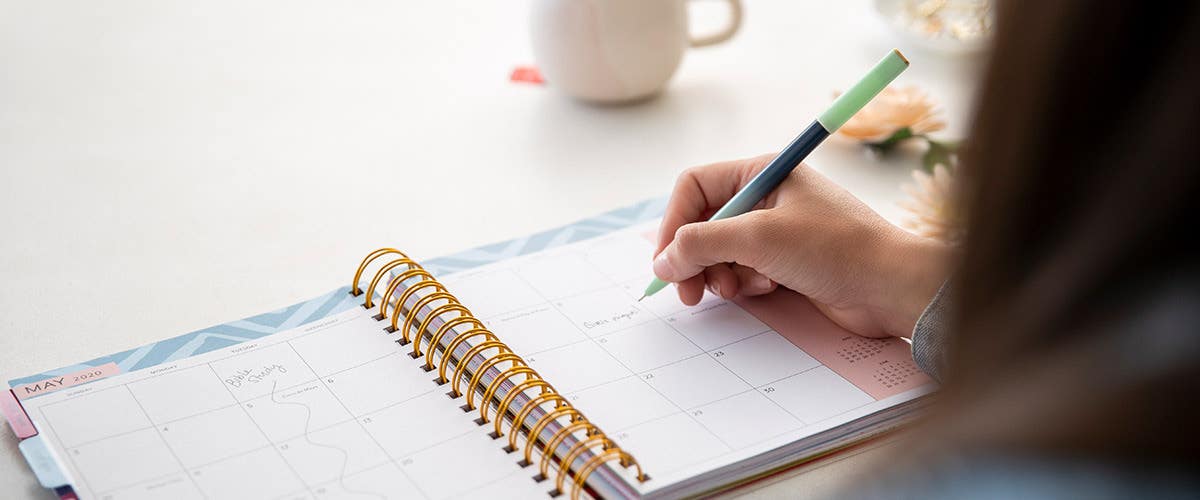 Looking back at the year 2020, we never could have imagined that the last year and a half have turned out this way – that our current realities would be so far from what we expected them to be just a few months ago. But this season has been the most convicting, yet lovely reminder that we are not the ones in control and that God's plans are so much greater than anything we could imagine for ourselves. I am reminded daily of all the ways that this season has been a blessing in disguise – my "plans" completely thrown out the window, but with the promise of sweet blessings from the Lord in their place.
Commit your activities to the LORD, and your plans will be established. (Proverbs 16:3 CSB)
Keeping in mind that God's plans are greater, it has felt especially strange to have a calendar free of the usual activities and plans that we would normally be filling our days with. Flipping through the pages of my planner over the last year, I've crossed out wedding showers, my brother's college graduation, pre-marital counseling sessions, book club meetings, Easter Sunday celebrations with my family, a show at our local theater, girl's nights with friends, a volunteer event, and so much more. So many events I'd been so looking forward to have been postponed, rescheduled, or cancelled altogether.
But an empty calendar today doesn't mean that our calendars will be empty forever. One day in the (hopefully) not-so-distant future, we will be putting book clubs, Bible studies, soccer games, weddings, and all the life events in between back into the pages of our planners. But before that day comes, there are still things that we can do right where we are to remember these days. Below are a few ways that I myself and others have decided to re-purpose our planners if life doesn't look as normal as we would have hoped. Let us know how you're using yours!
Growing Deeper in Your Faith
I got a Chronological Bible for Christmas last year, so as my planner started to empty out, I started keeping track of what passages I was reading daily there instead. I'll always be able to look back and see what I was studying at the time! Many people have taken this time to jump into a new Bible study or devotional, keeping track of what they're studying and their takeaways within the days of their planner. If Bible study overwhelms you, or you're just not sure where to begin, you could even just start by looking up some of your favorite Scriptures and writing one daily in your planner. Any time spent in the Word is time well-spent, so use your planner to help you dig even deeper!
Remembering This Season
The evening after the first day I spent working from home due to COVID-19, I started a journal so I wouldn't ever forget all of the thoughts and feelings of this strange time. I've been very consistent in writing in it every day – filling the pages with news updates, little joys, what I feel God is teaching me, life updates, and just the random thoughts of a girl spending all of her days at home with her dog. You can do the same thing with your planner! At the end of each day, write down one memorable thing that happened that day, 3 things you're grateful for, or your highs and lows for the day. Anything that will help you remember this time, how you were feeling, and what God was doing in your life! I believe that someday when we look back on these things, it will be incredible to see the growth that took place here.
Just Doing Life
Did you find yourself a working-from-home and homeschooling mom during this season? Use your planner to keep track of all of the Zoom and Skype and Facetimes that happen throughout your week. You might be using this time to do a major home project or work through some health goals. Track them here! You can even use the pages of your planner to keep track of the cards that you're sending! Birthdays, anniversaries, graduations, and other big or difficult life moments are so different right now – sending a card is always a good idea!
No matter how you choose to spend these days, you're doing it just right. We can't plan, control, or predict the future, but we know Who does, and He will be right there with you every step of the way.
Looking for more inspiration? You can find curated resources and inspiration to bring you hope for today in our new Digital Resource Library. Browse our entire Devotional Library and sign up for our e-newsletter to receive free articles, updates from our Ecard Studio as well as exclusive deals