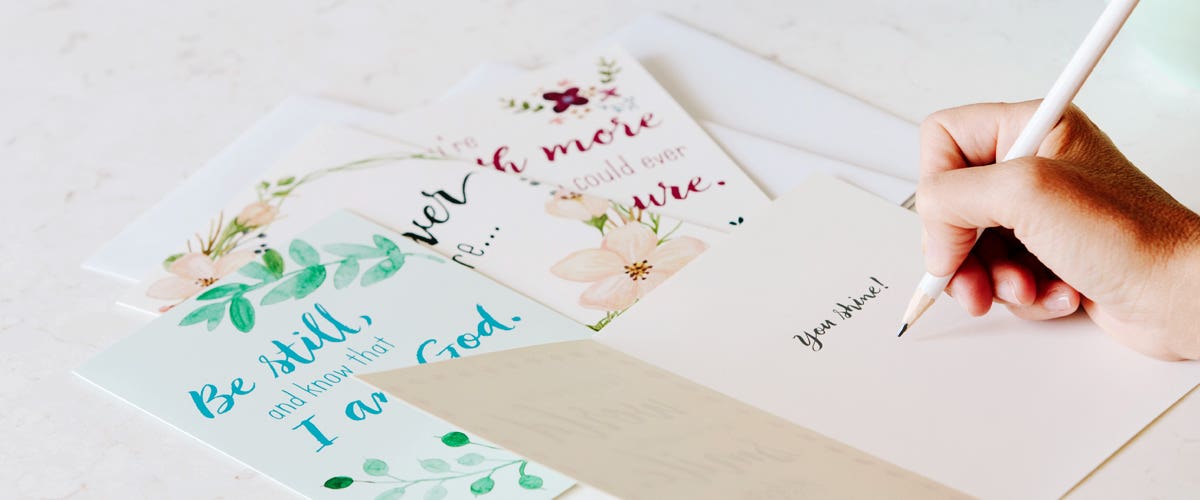 Most of us jump at the chance to celebrate an exciting event in a loved one's life. Having a birthday party? We're there. It's your wedding day? We're on the front row. Graduating? We are cheering from the stands.
We also tend to come through in the hard times. Facing a devastating diagnosis? We pray for healing. Struggling with finances? We do what we can to help with the load. Lost a job? We help search for other opportunities.
So, the question is, why do we wait for exciting events, or hard times, to encourage our loved ones? After all, these are our people - the ones we lean on, the ones we walk with on this journey called life. These are the people we trust with our darkest secrets and wildest dreams. So, why not reach out and love on them, remind them of how much God truly treasures them right where they are in their day-to-day lives. During a time when gathering together isn't possible, let's use this time to encourage our people from right where we are.
In 1 Thessalonians 5:11 ESV, it says to "encourage one another and build one another up." Then in Hebrews 10:24 ESV, it says "let us consider how to stir up one another to love and good works." And Hebrews 3:13 CSB tells us to "encourage each other daily, while it is still called today, so that none of you is hardened by sin's deception."
Scripture clearly calls us to lift each other up - and it calls us to do it on a daily, continual basis. God wants us to join arms, encourage each other and confront each other in love. He smiles when He sees us leaning on each other, sharing our hopes, struggles, joys, good days, bad days and everything in between. Are you relying on your Christian brothers and sisters to speak His loving Words to you? Are you speaking His love into those around you? Or, have you been keeping your relationship with your Loving Father to yourself? If so, spend some quiet time with Jesus and ask Him who you might need to encourage. Ask Him to open the doors each day - not just on eventful days - to show you who might need to hear what words of encouragement. And, then simply follow His lead.
Maybe it's time to check in on that new mom, start making plans for that lunch date you've been meaning to schedule and the small group dinner you want to host when things go back to normal, or simply call a friend to let them know you care. You may even find that your friends need a little more encouragement on an average weekday than they do on their birthdays.
Looking for more inspiration? Check out our Devotional Library and be sure to sign up for our e-newsletter to receive free articles, updates from our Ecard Studio as well as exclusive deals.