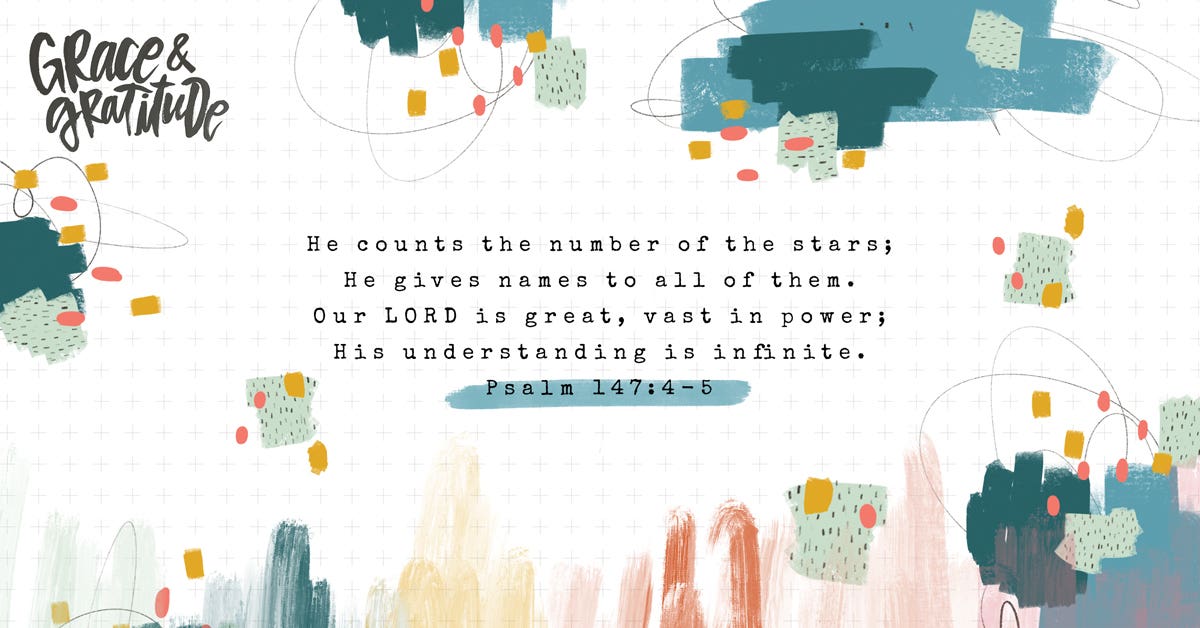 God's creation is so incredibly vast, human minds can't comprehend the enormity. We can process parts of it at a time, but as a whole, it's immeasurable. He not only created more stars in the heavens than we can count, He has given each one a name. There are galaxies, nebulas, planets, and the earth. Earth inhabits billions of people, and, like the stars, God knows each of us by name. He even knows the number of hairs on our heads. It seems we should feel infinitely small in the bigger, overall picture of His creation, yet His love is so enormous, we actually feel special. That's because, in His sight, we are.
He has also put eternity in their hearts, but man cannot discover the work God has done from beginning to end. (Ecclesiastes 3:11 CSB)
He counts the number of the stars; He gives names to all of them. Our LORD is great, vast in power; His understanding is infinite. (Psalm 147:4-5 CSB)
God even knows how many hairs are on your head. (Matthew 10:30 NCV)
When I observe Your heavens, the work of Your fingers, the moon and the stars, which You set in place, what is man that You remember him, the son of man that You look after him? (Psalm 8:3-4 CSB)
Father God, it's hard to imagine that, with the entire universe at Your fingertips, You see me. You know me. What a gift! Your love fills my heart to overflowing. Amen.
This is an excerpt from 100 Days of Grace & Gratitude by Shanna Noel and Lisa Stilwell. If you are enjoying this series, consider purchasing a copy of this book to bless someone that could use daily words of encouragement. Shop all DaySpring Books and Devotionals.