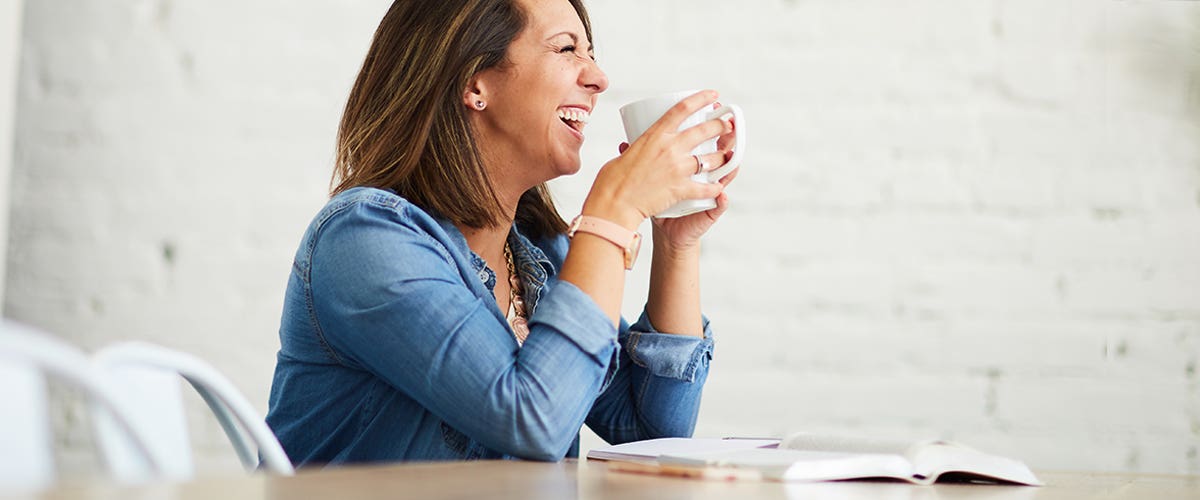 The word 'joy' appears in the Bible close to 200 times. It is abundantly clear that God wants us to allow this experience into our lives. But joy and happiness are two different things. Happiness is a feeling that can come from joy—but the contentment of experiencing true joy from God happens at a deeper level. Joy is found within the heart, and joyfulness is something He offers us as reward for our steadfastness. When we live our lives as He requires, we're allowing Him to fill us with joy. If this is a gift that happens within you, how can you experience more joy in 2023?
The precepts of the Lord are right, giving joy to the heart. The commands of the Lord are radiant, giving light to the eyes. (Psalms 19:8)
Joy Comes from Him
When we allow God's presence to fill our hearts every day, we are given joy in return. When we rejoice in Him, peace and contentment are His reply. We can experience His joy simply by allowing Him to give it to us. Pour your heart out to God, and tell Him everything. Tell Him your fears, your sorrows, your worries—ask Him to help you. Don't let embarrassment stand in the way. Perhaps you feel you need to ask His forgiveness for something, or ask for His guidance in a situation you can't handle alone. That's what He wants from us! But, also share your excitement with Him—tell Him what is providing happiness, enjoyment, and reason to celebrate. Thank God—rejoice in Him and meditate on the gifts He has given you. You wouldn't skip sending a thank you card after a birthday party—so why would you leave your praise out of your, well, praise? When you open up to Him, you build your faith and gain all He has to offer.
Rejoice in the Lord always. I will say it again: Rejoice! Let your gentleness be evident to all. The Lord is near. (Philippians 4:4-5)
Joy Comes from Others
While He is the One to bring you joy, there are others who can be part of that. Lean on those who remind you of His truth. When you have a support system within your church, you will find constant reminders of the joy He has to offer. Spend time together to experience the joy of community and companionship. Bible journaling parties create the opportunity to praise Him in fellowship, soaking up the pure delight in His Word. If you are experiencing a difficult time, accept a friend's offer of support. Just as you wouldn't try to weather the storm without His guidance, you can find the joy of support when you reach out to your family and friends. Find joy in the people in your life. You never know when they, too, may need the joy of friendship.
You Can Choose Joy
Choosing joy may seem difficult, especially if you are experiencing a challenging time in your life. Whether illness, the trials of marriage, loss of a loved one, or stress are bringing you down, look to Him for the guidance and support you need to bring joy into your life. Choosing joy means trusting in the Lord. He will always provide the strength you need, and your joy will come with it.
Ruth, a young Moabite, suffered the losses of her husband, father-in-law, and brother-in-law. Ruth, her mother-in-law Naomi, and her sister-in-law Orpah were left without husbands to provide for them. Naomi decided it was time to return to her home, even though she had been gone for ten years. When she left, she urged Ruth and Orpah to stay with their people in an attempt to spare them hardship. Life in Israel would have been difficult for two widowed Moabites, and the chance of remarrying would have been slim. Orpah turned back, leaving Naomi to travel alone. But, Ruth showed her love and devotion to Naomi—and trust in Naomi's God—when she chose joy and followed. This decision set her on the path of building a relationship with God and receiving true joy from Him.
God led Ruth to Boaz, a generous man who provided food and acceptance—and ultimately love and a child. This wasn't by chance. Because of the faith Ruth showed, joy was part of His plan for her.
May the God of hope fill you with all joy and peace as you trust in Him, so that you may overflow with hope by the power of the Holy Spirit. (Romans 15:13)
Three Strategies to Experience Joy in 2023
1) Find joy in His Word. Spending quiet time in His Word every day will remind you that He has it under control. Turn to your favorite Scripture and let the words wash over you—God knows where you're headed and how you're getting there, so leave it to Him. Look back at your favorite Bible stories and rediscover how He brought joy to the lives of the people in them. See how their faith and trust in the Lord brought them unmatched joy? That's what God has in store for you, too.
2) Experience joy in every day. From an unexpected meeting with an old friend to the exciting first giggles from your little one, every day has joy to offer. He's packaged it all up for you to discover as you move through life. You never know when He may have a surprise hiding around the next corner. Look for the joy in every interaction, every day—it's bound to be there.
3) Create joy for others. When you create joy for others, you're also creating joy for yourself. The simple gesture of buying coffee for the person in line behind you may brighten their day far more than you know. Can you see how God is creating the joy He intends for the people around you? This is so much bigger than you or the person beside you. He uses us all to build joy in each other's lives. It's a glorious snowball effect, and He has put it all into motion.
How Joy Might Look in Your Life:
> Hosting a virtual Bible journaling party to rejoice in Him together
> Starting each day with prayer and quiet contemplation of the things He has made possible
> Taking up a new hobby using the gifts He has given you
> Admiring God's miraculous power on a hiking or camping trip
> Offering kind words to friends—or strangers—to spread joy to others
> Appreciating the relationships God has provided you
Rejoicing in the Lord daily will bring the peace of a joyful life, so choose joy and watch how you are blessed by Him. Revel in the joy He provides, because it is His gift to you. You can hold joy within your heart even when you're experiencing a difficult period in your life. He will see us through the tough times and good times alike. So open your heart to the joy He has to offer, and spread it to those around you.
Looking for more inspiration? Check out our Devotional Library and be sure to sign up for our e-newsletter to receive free articles, updates from our Ecard Studio as well as exclusive deals.