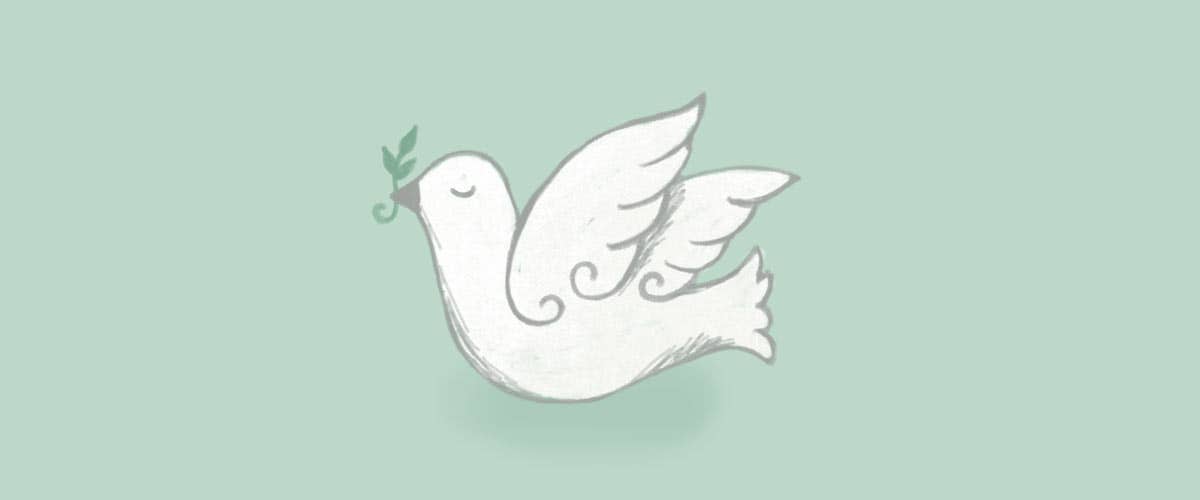 "After this I saw a vast crowd, too great to count, from every nation and tribe and people and language, standing in front of the throne and before the Lamb. They were clothed in white robes and held palm branches in their hands. And they were shouting with a great roar, "Salvation comes from our God who sits on the throne and from the Lamb!" Revelation 7:9-10 NLT
Revelation 7:9-10 is a reminder to us that the Lamb that shed His blood and died is the Lamb that was buried; the Lamb that was buried is the Lamb that was raised from the dead; the Lamb that was raised from the dead is the Lamb who is in heaven receiving the praises of those who have been redeemed.
In the book of Revelation, the people who are in heaven are there because of the blood of the Lamb - Revelation 7:14, 12:11.
It is His blood, and His blood alone, that makes it possible for us to carry the hope of heaven in our hearts. To say that we must do something to merit a place in heaven is to say that the blood of Jesus is not sufficient. When Jesus said, "It is finished" the price of our redemption was fully secured…three days later, when Jesus rose from the dead, our hope of heaven was fully assured. The hymn writer, Edward Mote, understood this truth when he wrote, "My hope is built on nothing less than Jesus' blood and righteousness."
The hymn writer, Lewis E. Jones, penned these faith inspiring words, "There is power in the blood of the Lamb." Our faith can also add— there is power in the blood to forgive, to cleanse, to redeem, to justify, to sanctify, to give us access to the Father, and there is power in the blood to provide a place for us in heaven. The blood has the power to do it all, or it has no power at all!
"Faith is the recognition that Christ has really done everything for me." –Andrew Murray, a South African pastor and author who wrote over 240 books in the 1800s.
It is the voice of doubt that whispers, "I wonder if I will make it?" It is the voice of faith that declares, "I will be in heaven because Jesus is there, because the blood of the Lamb is there, because He has said he has prepared a place for me there, and because it is His will for me to be where He is." (John 14:3)
Our hope is based upon the character of God and the truth of His Word. Our future hope in heaven is not wishful thinking. It is grounded in His promise, "The one who comes to me I will not cast out." The voice of hope does not say that our home in heaven "might be," "could be," or "should be," but rather it says that our home in heaven "will be!" What will be? Your inheritance in Christ will be, your reserved place at the marriage supper of the Lamb will be, and your life forever with Him will be.
How blessed you are to have the blood of Jesus as your only hope of heaven. What a glorious and certain hope you have! It is the blood of your Savior, it is His blood upon the mercy seat of heaven, it is the blood of His atonement, and it is the blood of your High Priest who even now is interceding for you.
Any other option would fail you, any other hope would leave you desolate, and any provision other than His blood would lead you to despair. Because God is the God of hope, it would be impossible for Him to promise you a future that was hopeless. Even though your future is unknown, and the realities of heaven are yet unseen, all is safe in His care, and you are secure in His keeping. As His believing child you can rest in the certainty that He is for you and not against you. Every day your heart can carry a great anticipation for what Your Heavenly Father has ahead.
Prayer
Father, I thank you with all my heart for the Lamb, Your Son, who is my hope of heaven—the Lamb who was slain before the foundation of the world, who now lives at Your right hand, who has overcome sin, death, and Satan, who is upon the throne, who is the light of the heavenly city, who will receive His bride at the marriage supper, who holds the names of those who are recorded in the book of life…the Lamb who is worthy to receive all blessing, and honor, and glory, and power forever and forever. Amen!
You were not redeemed with corruptible things, like silver or gold, from your aimless conduct received by tradition from your fathers, but with the precious blood of Christ, as of a lamb without blemish and without spot. He indeed was foreordained before the foundation of the world, but was manifest in these last times for you who through Him believe in God, who raised Him from the dead and gave Him glory, so that your faith and hope are in God. 1 Peter 1:18-21 NKJV
This article is the fourth in a 4-part Easter devotional series entitled "The Blood of Jesus" written by Roy Lessin, co-founder of DaySpring. To read more from Roy, you can follow his Facebook page Meeting in the Meadow or click here to view the entire series.
Looking for more inspiration? Check out our Devotional Library and be sure to sign up for our e-newsletter to receive free articles, updates from our Ecard Studio as well as exclusive deals.