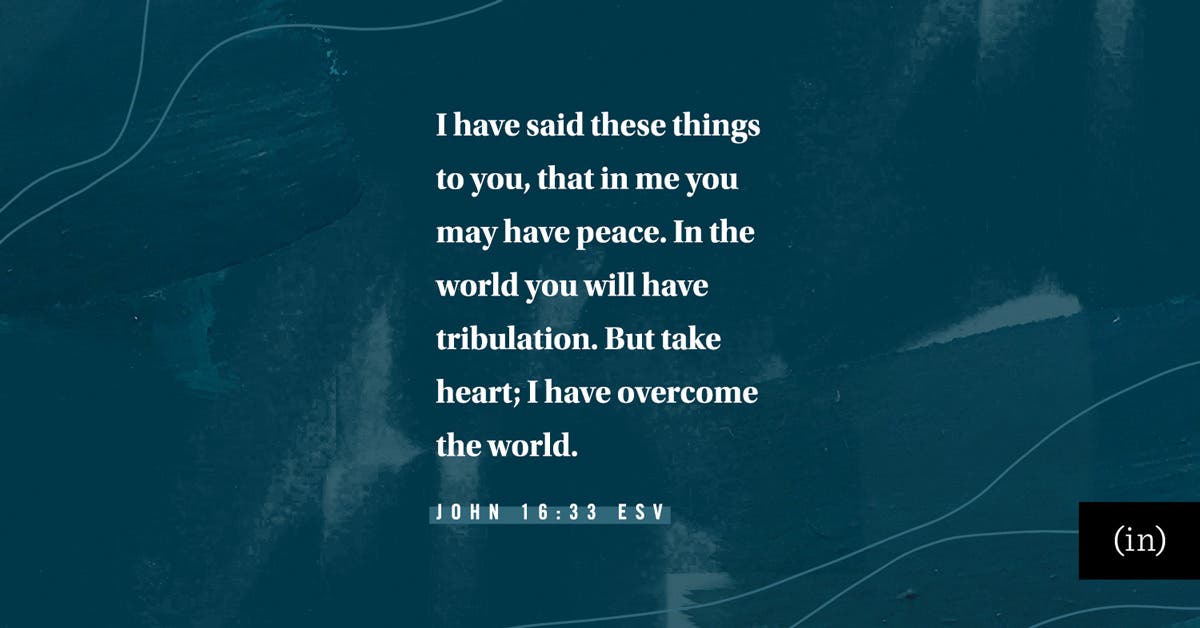 I have said these things to you, that in me you may have peace. In the world you will have tribulation. But take heart; I have overcome the world. (John 16:33 ESV)
The door slammed hard. The ringing vibrations shook the walls, tilting frames this way and that. I went after my son, pounding my fist on the door he had just whipped shut in my face. My forehead fell effortlessly against it as I jiggled the knob, and tears came—hot and hopeless tears. I turned my body and leaned my back against this barricade blocking me from my teenager. Everything felt impossible.
Some things just can't be fixed. Some relationships can't be forced. Some health issues don't have answers. Some circumstances can't be changed. The temptation in the unfixable places of our lives is to do just that—fix. The temptation is to gather more information, talk to more people, try another method. We are so desperate to make things better. We want peace, solutions, clarity, direction, unity. We want things to go or be a certain way. It is excruciating to live in the tension of what was and what is to come. I hate it. I want things fixed—NOW. I don't like living in the middle. I don't like that I can't make things different than they are.
And here, in the middle of tension, are Jesus's words to us: "Take heart; I have overcome the world." Take heart. Could there be more beautiful words? Two words that call my eyes and attention to the heavens, to hope, to the true Fixer. Take heart.
My friend, when you are in a situation that is completely defeating, take heart. When you can't make people change, take heart. When you can't fix the problem, take heart. Jesus has overcome the world.
In the most impossible moments, instead of fixing, wait outside the door.
Prayer:
Lord, I'm here. I'm waiting outside the door, fists balled and tears falling. This moment feels absolutely impossible, and I'm waiting for You to show up and fix it all. Except that's not what You said You'd do. You asked me to wait, trust, and hope. You summed it up in two tiny words that together are powerful: take heart. "Take heart, I have overcome ... and so will you." Thank You, Lord. Help me hang on to the peace those words bring. Amen.
This is an excerpt from Take Heart: 100 Devotions to Seeing God When Life's Not Okay by (in)courage - a devotional book now available on DaySpring.com. Learn more about this book, or shop other books & devotionals from DaySpring.