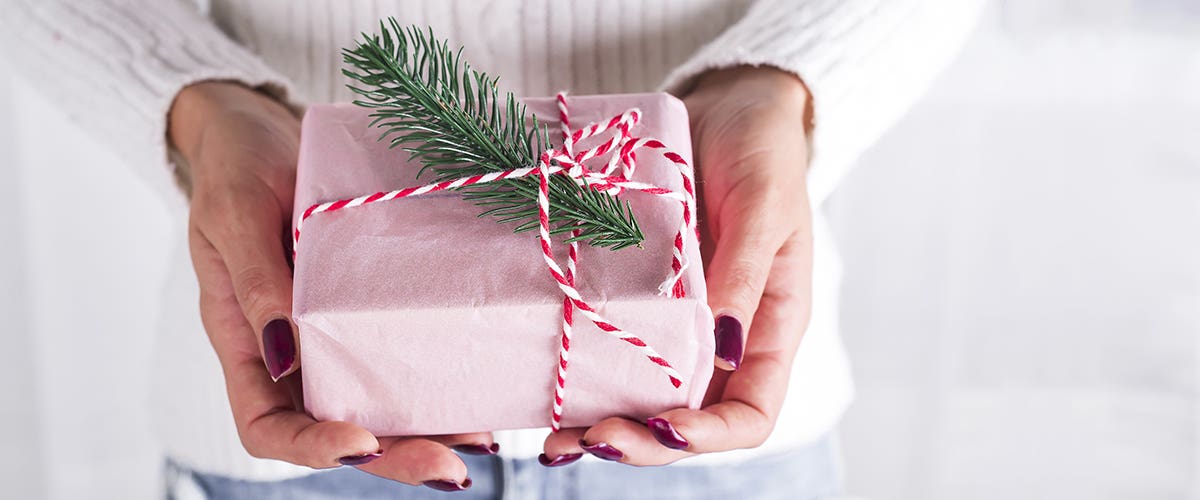 Anyone out there thinking about those little Christmas gifts yet?
You know the ones. Gifts for teachers, coworkers, neighbors…the people who've touched your life this year? You want to bless them in a special way, but it can be tough to come up with something new and meaningful every Christmas!
That's why we've put together some simple, gift ideas as well as free printable gift tags to help you package up just the right sentiment for these oh-so special partners in life.
Practical and Personal Gifts
First of all, if you're in a time crunch (and who isn't these days?) it's helpful to find several of the same type of thing that you can tailor a little for each recipient. As you consider ideas, try to put yourself in their shoes. Do you need another trinket to dust off? Or would you love to have a simple (practical!) token of encouragement instead? Start with something basic (maybe some daily desktop inspiration), get one for each person on your list, and then personalize each to add a special touch.
Gifts for the Senses
There's nothing wrong with a plate of Christmas cookies or a jar of your famous jam. But if that's always been your go-to gift, try challenging yourself to share something new! Instead of tempting their taste buds (and let's face it, some folks are trying hard to be healthy!) explore some other senses. Something wonderful-smelling, colorful and bright, or soft and cozy can be just as delightful.
Share A Good Word
Even if you don't know where a recipient is on his or her spiritual journey, choose a verse that expresses your gratitude for them or reflects the meaning of the season—and incorporate it into your gift with Prayers to Share. You never know how their hearts will be blessed by God's Word.
With that in mind, here are a few small gift ideas and scriptures that might enhance them:
Shine Your Light with Candles:
Wrap a delicious-smelling candle in a piece of tissue paper and tie with a colorful ribbon. Candles make a wonderful gift for almost anyone, and are a great way to point to Jesus, the Light of the World.
And the light shines in darkness. John 1:5
Containers Brimming with Inspirational Thoughts:
Whether it's a classic mason jar or mug, basket, box or bag, a container can be used again and again.
>Choose a mug that features an uplifting message and fill it with homemade potpourri for a coworker.
>Decorate a jar for a teacher and fill with "why-we-love-being-in-your-class" notes from students.
>Create a meaningful prayer box with décor from our Illustrated Faith collection.
>Consider one of our fun and colorful tote bags and pouches—gifts that can go anywhere!
Every good and perfect gift is from above. James 1:17
Frames Filled with Encouraging Words:
Sometimes it just takes an uplifting word or image to point us toward God's love and away from daily discouragement. Shop our online card collection or make several color prints of an encouraging Ecard. Place cards or prints in frames, top with a bow and inscribe a personal message on the back. Your recipient will find daily encouragement wherever he or she places your gift (and frames can be re-used for photos later!)
May the God of hope fill you with all joy and peace. Romans 15:13
Journals and Devotionals to Inspire:
A small journal or devotional book is a gift that can be enjoyed all year long, and there are plenty of styles for men and women. It's easy to create a meaningful gift from an uplifting journal or notebook—place a bulk journal order, a box full, tie a ribbon around each, and personalize with a card or homemade gift tag.
The Lord bless you and keep you. Numbers 6:24
Putting a little thought into our Christmas gifts doesn't require a lot of extra time or money. It just takes a heartfelt desire to share the love of Jesus and a few practical steps to make it happen. As with everything in our lives, it's best to start with prayer. Let's lift up the people we'll be reaching out to this holiday season, and ask God how we can help to bless them in meaningful, memorable ways.
Looking for more inspiration? Check out our Devotional Library and be sure to sign up for our e-newsletter to receive free articles, updates from our Ecard Studio as well as exclusive deals.