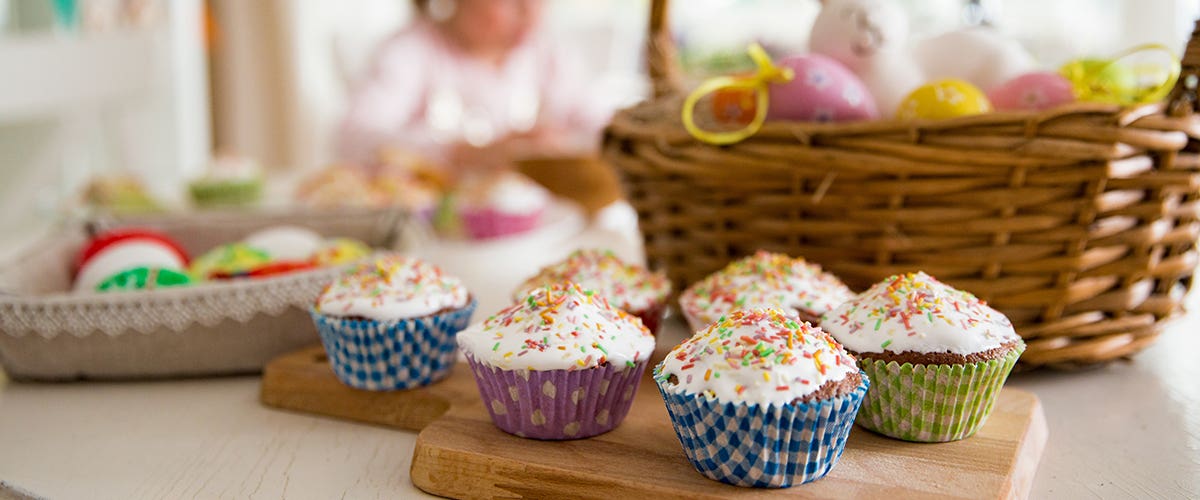 With my family, I never know what's about to happen. A few years ago, I pulled up to my parent's house on Easter Sunday to witness my pre-teen nephews hanging from trees in the front yard with their new machetes, just hacking away. The next year, I pulled up to find my 65-year-old mother circling her house in her new utility vehicle with three grandkids strapped in the back seat with their arms in the air like it was the rollercoaster ride of their lives. And then last year, I showed up to find the neighbor's full-grown turkey roaming the yard as my nieces and nephews tried to collect its fallen feathers (using gardening gloves and plastic grocery bags). And, just think, I'm adding two toddlers to this scene! Though I'm no stranger to holiday stress, it may seem more difficult to shine God's light throughout the stresses of the Easter season.
Yes, in my world, holidays are action-packed with family, kids, utility vehicles, last years' fireworks, heated political debates and even an occasional attack turkey. And, even though I wouldn't change it for the world, it's a lot to take on and many times, I find myself stressed out at the situation just trying to manage to get through the holiday without getting hurt.
While I might be dealing with a special case, we all know that family can be stressful. Over the next few days, families will be gathering to celebrate Easter and with that comes pressure—whether it be pressure to deliver the perfect holiday meal or pressure to get along with that one family member who drives you crazy or pressure to not yell at your niece who's been banging on the piano for the last hour and a half.
This year, I invite you to join me in approaching Easter differently. Let's be present in the moment, worshiping, loving and praising Jesus for His sacrifice and His unfailing love. And, all the while, let's share His joy. Because, God doesn't just call us to "manage" stressful situations, but also to shine His light through them (Matthew 5:16 NIV).
Here arefour ways to shine His light in the midst of holiday stress:
1. Recite Scripture. Even in our busiest moments, we can control our thoughts—so why not fill every empty second with Scripture about the risen Lord? Luke 24: 5-6 (NIV) states "Why do you look for the living among the dead? He is not here; he has risen!" 1 Peter 1:3 (NIV) states "Praise be to the God and Father of our Lord Jesus Christ! In his great mercy he has given us new birth into a living hope through the resurrection of Jesus Christ from the dead." Both of these are great verses to keep in mind throughout the special day. Recite these Scriptures to yourself, or share them with others who may need a reminder to work through the stress and focus on the meaning of Easter.
2. Pray. Let's breathe this year. Just the simple act of finding a quiet place to spend a few moments in prayer with Jesus can refocus our thoughts and get us back on track.
3. Bible Journaling. Bible journaling is a fun, faith-filled activity that can bring adults and kids to the table to focus on the Word while working with stickers, washi tape, stamps and paint.
4. Share the Love. 1 John 3:15:16 (ESV) states, "By this we know love, that he laid down his life for us, and we ought to lay down our lives for the brothers." Maybe it's time to extend a little grace to someone in your family. Let them know they are loved and open your heart to forgive and forget.
All in all, let's prepare our hearts this Easter to remain focused on the celebration of the risen King. Let's ask God to help us shine His light through all the stress that comes with holiday celebrations and to glorify Him in all our ways in the upcoming weekend and throughout our lives.
Looking for more inspiration? Browse our entire Devotional Library and sign up for our e-newsletter to receive free articles, updates from our Ecard Studio as well as exclusive deals.