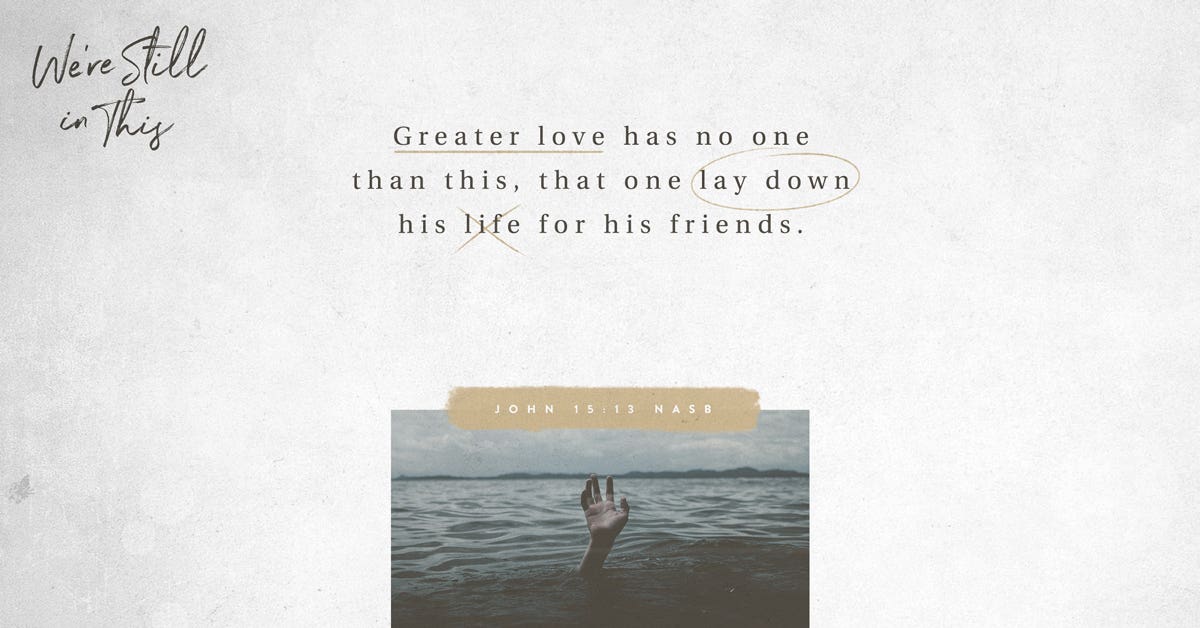 Greater love has no one than this, that one lay down his life for his friends. (John 15:13 NASB)
Jesus was the ultimate example of sacrificial friendship for each of us – all the way to the cross. He willingly gave up His life so that we could gain life in Him. Jesus' sacrifice is the foundation of our faith. Without Jesus laying down his life for his friends (us) we would have no hope (John 15:13). In fact, we are friends of His: "I have called you friends" (John 15:15 ESV). So what is friendship without sacrifice? If Jesus modeled sacrifice in friendship, shouldn't we?
In Scripture we find another example of sacrificial friendship through Jonathan and David. Both were true friends bound together by their relationships with God. "Jonathan loved him as himself" (I Samuel 18:1 NASB). However, there was a problem: Jonathan's father, King Saul, hated David and sought to kill him. Jonathan would put his life at risk and jeopardize his relationship with his own father by showing his commitments to David because he knew God's plan was for David to ascend to the throne, not himself as culture would have it. Jonathan's ultimate commitment was to God, not to tradition or culture. And David was committed to being obedient to his Lord. Both friends pointed the other toward God and away from pride.
Pointing your friend to God instead of to each other is such a valuable lesson to take from the friendship of Jonathan and David. Even when one has to sacrifice a "rightful place of privilege" because you know God has chosen your friend instead of you. Or current-day example: your friend gets the job and you don't. Have you invited God into the easy and the hard of your friendships?
Tangible Takeaway:
Have you ever had a friend sacrifice for you like Jonathan and David? Are you overwhelmed with joy for Jesus' sacrifice for you? We can learn from Scripture that sacrifice is an underlying core principle of friendship. How can you lay down your life for your friends today?
This is an excerpt from We're Still in This by Susan Goss. We are coming to the end of our We're Still in This series. If you have enjoyed this series, consider purchasing a copy of this new devotional book to continue diving deeper into the topic of Biblical relationships, or shop all DaySpring Books and Devotionals here.